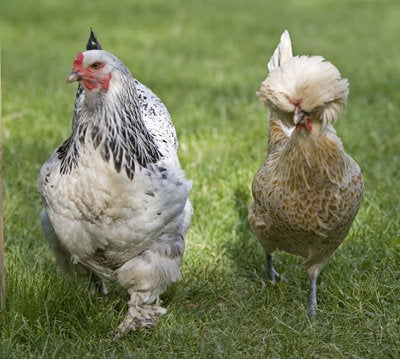 Erik Knutzen and Kelly Coyne started keeping chickens in their Echo Park backyard a little more than a year ago. The two are co-authors of "The Urban Homestead," a handbook for city dwellers who want to live off the land as much as possible, and the couple were interested in taking their urban farming experiments a step beyond harvesting artichokes, blueberries and zucchinis. So last summer they purchased four chicks, and now they are obsessed.
"I used to think it would be so great to bring the laptop outside and just watch the chickens and work," Knutzen said. "But I can't get anything done when I'm out here because I can't take my eyes off the chickens. They are hypnotic."
Any urban dweller interested in living green has good reason to keep chickens. They reduce garbage by eating your leftovers mixed in with their feed, and they will pick off those irritating caterpillars destroying the vegetable garden. Their poop is an excellent composting aid, and they will even trim your grass and weed for you, if you let them. Added benefits: farm-fresh eggs right from the backyard and the amusement of impressing friends with an interesting new pet -- and for many it is a pet, not a future entree.
Read the full story here.
Related
Popular in the Community