But his failure to prosecute Wall Street executives for causing the collapse of the housing market ushered in an era of populist rage that cleared the path for a demagogic reality-TV star to take the Oval Office, according to Jesse Eisinger's new book, The Chickenshit Club, which hit shelves on Tuesday.
"If they had, the history of the country would be different," Eisinger, a veteran financial reporter at ProPublica whose investigation on shady crisis-era Wall Street practices won a Pulitzer Prize in 2011, told HuffPost by phone. "We would think of the financial crisis differently, think of the Obama administration differently; there would be a sense that the government was legitimate. There would be a sense of accountability after the crisis, the reforms would be tougher."
He added: "I don't think we would have Donald Trump as president."
The book traces Department of Justice impotence on corporate crime back two decades. In 2000, the dot-com bubble burst, and the sudden deflation of highly valued early internet firms increased scrutiny over companies' books across industries. At Arthur Andersen, the Chicago-based accounting giant that for nearly nine decades had been one of the nation's top auditing firms, troubles began to mount. In 2001, the firm settled with the Securities and Exchange Commission for making false and misleading statements about Waste Management Inc. In 2002, the company found itself in the middle of telecom giant WorldCom's $3.8 billion fraud scandal.
That year, President George W. Bush, eager to steady a quivering economy, signed an executive order establishing the Justice Department's Corporate Fraud Task Force. The team of prosecutors would ultimately bring down Enron in what became the world's most infamous accounting-fraud scandal. But before toppling the energy-services company and sending its top executives to prison, DOJ investigators would snag another big fish, catching Arthur Andersen shredding its audits of Enron. In June 2002, the world's fifth-biggest accounting firm effectively shut down after a conviction for obstructing justice.
The conviction rippled through the corporate world as Arthur Andersen laid off thousands of employees. The shock wave inspired a fierce backlash from corporate lobbyists and defense attorneys. They launched a PR campaign that painted prosecutors as overly aggressive cowboys willing to put people out of work and destabilize markets. Groups like the U.S. Chamber of Commerce funded appeals of the conviction all the way to the Supreme Court, and in 2005, the high court unanimously ruled against the Justice Department.
The court found that prosecutors failed to properly convey to the jury the laws Arthur Andersen broke ― essentially letting the firm off on a technicality, Eisinger argues. "Today, prosecutors remain reluctant to indict large corporations for fear of driving them out of business," Eisinger concludes early in his book. "Andersen had to die so that all other big corporations might live, free of prosecution."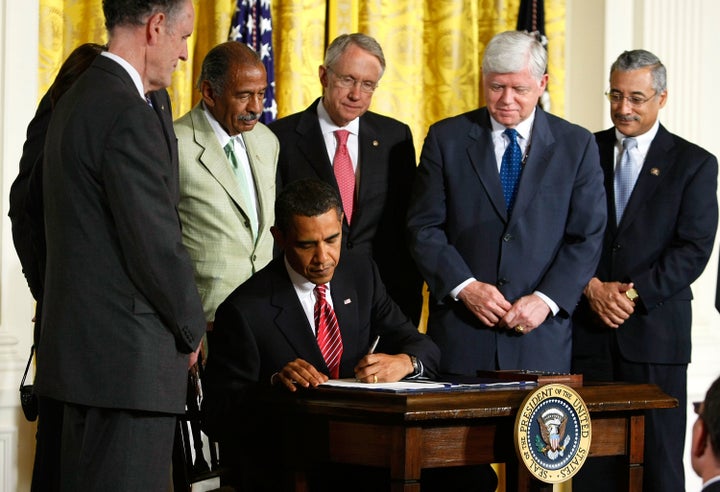 Changes to the way the Justice Department treated white collar crime came into sharp relief after the 2007 financial crisis. The Corporate Fraud Task Force of 2002 boasted nearly 1,300 fraud convictions by the time Obama replaced it in 2009 with the Financial Fraud Enforcement Task Force. The new entity combined the efforts of the Justice Department, the Department of Housing and Urban Development, the Securities and Exchange Commission and the Treasury Department, in what then-Treasury Secretary Timothy Geithner promised would "act aggressively and proactively in a coordinated effort to combat financial fraud." But, lacking the focus or prosecutorial muscle of its predecessor, the task force turned out to be what critics called "a clearinghouse of information and resources to facilitate enforcement by other government agencies." One former Justice Department official derided it to Eisinger as "the turtle."  
The book takes its name from an address then-U.S. Attorney James Comey gave in 2002 to a fresh-faced crop of elite Justice Department recruits. Before becoming the best-known FBI director since J. Edgar Hoover, Comey oversaw the Southern District of New York, a federal jurisdiction with domain over Wall Street. The district has long served as the premiere assignment for prosecuting corporate wrongdoing, with a magnetic attraction to some of the country's most ambitious young legal minds. In the speech, Comey warned against joining the "chickenshit club" ― his shorthand for prosecutors who only pursue cases they're almost certain to win. Justice, he argued, came of taking on violators for whom the system seems rigged, not picking off easy targets.
One of the book's best examples of Comey's unheeded advice comes in the form of another figure famous today for his public disputes with the new administration: Preet Bharara, who served as the U.S. attorney in Manhattan from 2009 until Trump abruptly fired him in 2017. Bharara earned a reputation as the "sheriff of Wall Street" for prosecuting crooked hedge fund managers and insider trading cases. But as Eisinger describes it, the nickname was overblown. Compared with financial giants' reckless mortgage security trading, insider trading amounted to a "two-bit, low-level crime that has nothing to do with the systemic corruption on Wall Street," he said.
"In the wake of the worst financial crisis since the Great Depression, right in Preet's backyard, when banks that he and his office were supposed to police made egregious mistakes and acted recklessly and, I think, committed crimes up and down, the fact that they didn't prosecute is a scandal," Eisinger said. "The argument that they looked and didn't find anything isn't persuasive. They either didn't look very hard, or they didn't dedicate enough resources."
It's easy to feel cynical about the broader legal system outlined in The Chickenshit Club. And at a time when the Justice Department faces a shrinking budget, the idea of a well-funded task force sniffing around potential dead ends for corporate crime is difficult to imagine. The first stages of a corporate criminal probe are typically carried out by a law firm hired by the company under investigation. For example, in 2008 ― two years after its CEO became the first top executive on Wall Street to own a company stake worth $1 billion ― Bear Stearns hired a law firm to probe the collapse of its mortgage-related hedge funds. Later that year, company, on the brink of bankruptcy, was sold to JPMorgan Chase at a fire-sale price.
The Democrats have very few differences from the Republicans now.

Jesse Eisinger
"The great secret to corporate criminal prosecution is that we have privatized and outsourced it to the companies themselves," Eisinger said. "In doing so, they're taking cues from the client of the company, and the client of the company is going to be studiously incurious about following investigative threads that might lead to the CEO or board rooms. Instead, they point the finger at a middle manager or someone expendable, and that's the person who gets indicted by the general government."
It's a revolving-door system. Those same law firms poach Justice Department prosecutors, with offers of far higher salaries than the government can afford. That makes the Justice Department just a middling step in the pipeline between elite law schools and big firms, which is true regardless of politics these days. Firms like WilmerHale and Covington & Burling lean Democratic, while Jones Day leans Republican.
"The Democrats have very few differences from the Republicans now," Eisinger said. "They're both drawing from the same elite legal culture, they're all essentially clerking from the same judges or the same courts. … They're all drawing from the same well with just little gradations in difference on ideology, mainly around social issues."
There are steps that would help. Salaries for Justice Department prosecutors top out around $150,000. That makes offers nearing seven figures from private firms hard to resist for someone in a costly city like New York or Washington. Eisinger recommended raising salaries for such public servants to $400,000.
"The reality is you have a couple kids in New York City, and you do have great needs if you want to live an affluent life," he said. "We should not say that you should live a life lacking in status or material wealth if you want to serve the government. That's not the way to get the best service."
To its credit, The Chickenshit Club presents a stable of heroes, too. There's Kathy Ruemmler, the former deputy director of the Enron Task Force who delivered the government's closing arguments in the trial that convicted former Enron executives Kenneth Lay and Jeffrey Skilling and later went on to become Obama's White House counsel. And there's U.S. District Judge Jed Rakoff, who argues to this day that government enforcers lack a backbone when it comes to indicting corporations. And Benjamin Lawsky, New York state's former head of the Department of Financial Services, who, absent indictments, fined big banks hundreds of millions of dollars and forced dozens of employees to resign.
For all the failures of the Obama administration, the Trump White House threatens to be "an order of magnitude worse," Eisinger said. Already, Attorney General Jeff Sessions has made street crime and drug enforcement higher priorities than corporate misdeeds. White House officials indicated that antitrust approval of AT&T's merger with CNN-owner Time Warner may hinge on personnel changes at the network, whose aggressive reporting has drawn Trump's ire. Plus, Trump refused to sell his personal business, raising concerns that the Justice Department could become a tool to reward or punish the president's partners and rivals.
"We're going to have a kleptocratic administration that looks the other way at corporate crime and hands the federal government over to corporates for all sorts of malfeasance," Eisinger said. "I anticipate the worst Department of Justice in our lifetimes."
Calling all HuffPost superfans!
Sign up for membership to become a founding member and help shape HuffPost's next chapter
BEFORE YOU GO
PHOTO GALLERY
Obama's First 100 Days