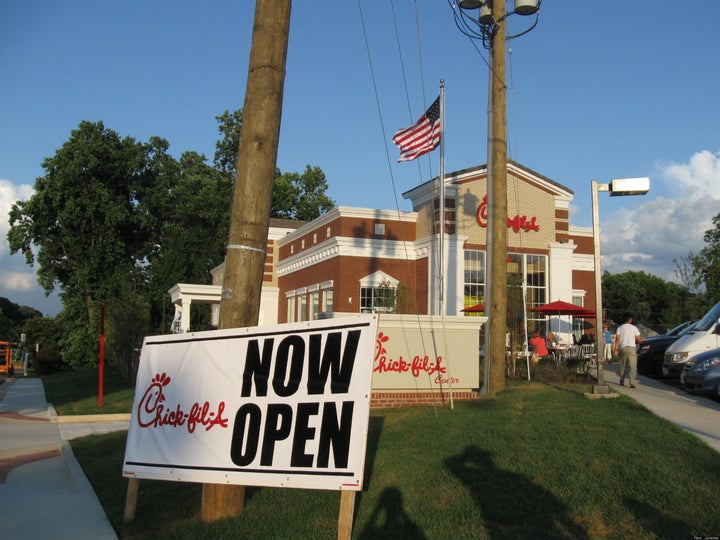 ...the restaurant chain, known nationally as a family-held Christian business that does not open on Sundays, was barred late last month at the demand of Campus Ally Network, a pro-gay campus group.

"Last week, Chancellor [Una Mae] Reck ordered a review of the suspension. The review was completed today, and based on a more complete understanding of the facts, Chancellor Reck ordered the end of the suspension. At this time, Chick-fil-A is a full-service food provider for IU South Bend with no restrictions," said Ken Baierl, IUSB's director of communications and marketing in a written statement.
Religious groups claimed that the school was infringing on religious liberties.
The controversy came to light when it was revealed that the chain would be donating food to events sponsored by pro-family groups. The question of whether or not consumption of one of the chain's infamous fried-chicken-on-white-bread sandwiches indicated complicit support of anti-gay causes soon vexed many. As the New York Times reports:
"Does loving Chick-fil-A make you a bad gay?" said Rachel Anderson of Berkeley, Calif. "Oh, golly, human beings have an amazing capacity to justify a lot of things." Ms. Anderson has been with her partner for 15 years. They married in California during the brief period when same-sex marriage was legal in 2008. They have 7-year-old twins. A visit to her spouse's family in North Carolina always includes a trip to the chicken chain.

But as she learns more about the company, Ms. Anderson is wavering about where to eat when they travel to Charlotte in April.

"I'm going to have to sit with this a little bit," she said.
"Let me be clear: Chick-fil-A serves all people, and values all people," he said. "Providing food to these events -- or any event -- is not an endorsement of the mission, political stance or motives of this or any other organization."
What do you think? To Chick-fil-A, or not to Chick-fil-A? Weigh in below.

Calling all HuffPost superfans!
Sign up for membership to become a founding member and help shape HuffPost's next chapter