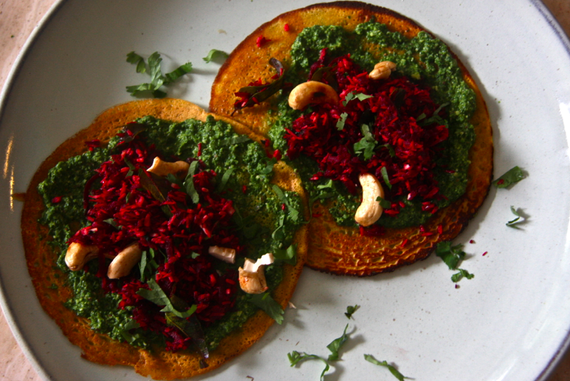 For years, I'd forgotten all about these chickpea flour pancakes my grandmother makes called pudlas, not realizing they were so easy to make and were super healthy. A few years ago, my friend who moved to Bombay made me rediscover them -- all the healthy Bombay-ites call them chillas -- and that's when I realized chillas and pudlas are the same thing and that these spiced savoury pancakes can be made with chickpea flour or ground mung beans, and they're much more simple to make than rotis.
That said, pudlas aren't the thing I turn to first or ever, and I realized that's probably because they lack something. So it finally dawned on me that rather than having chutney and yoghurt on the side as a dip, these pancakes needed the work ready and done, they needed completion, they needed a facelift -- they needed toppings! So here's one of my favorite combinations... one of the dishes I'll be serving at my next event -- yoga and evening brunch under the Shard!
Makes around 8-10 small pancakes
Pancakes
200g chickpea flour
1 tablespoon natural yoghurt
1 tablespoon ginger, garlic and chilli paste
Pinch turmeric powder 1 teaspoon sea salt
2 tablespoon coriander leaves, chopped
220ml water
Beetroot curry
200g, 2 beetroots, grated
2 teaspoons coconut oil
1⁄4 teaspoon cumin seeds
1⁄4 teaspoon mustard seeds
1 teaspoon sesame seeds
10-12 curry leaves
1 tablespoon ginger, garlic and chilli paste
1⁄2 green chilli, finely chopped, optional
1⁄4 teaspoon salt
handful chopped coriander
1 tablespoon coconut flakes
handful,10-15 roasted cashews
Coriander chutney
50g coriander leaves 2 cloves garlic
1 green chilli
15g peanuts
juice of half lime
1⁄2 teaspoon cumin powder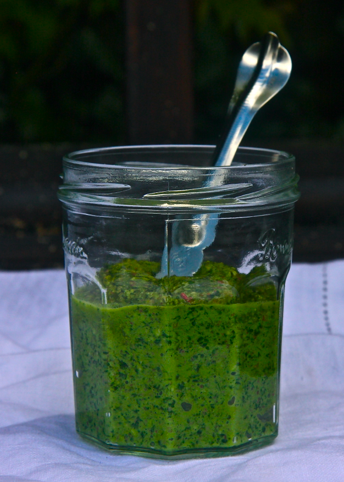 You can prepare the chutney in advance by blending together all the ingredients. Leave aside.
To make the beetroot curry, place the oil in a pan on low heat and once the coconut oil has melted, add the cumin and mustard seeds. When the cumin seeds are brown and mustard seeds start to pop, add the sesame seeds and curry leaves. You can now add the ginger, garlic and chilli paste as well as the chopped green chillies for extra flavour and spice. If you don't have a paste, you can add freshly grated ginger and garlic. Stir and let this cook for a minute before adding the grated beetroot. Stir this mixture for 5-10 minutes and then add the coriander and cashews. Stir in the coconut flakes right at the end and leave a handful for sprinkling on top when serving.
To make the pancake batter, using your hand, thor- oughly mix all the ingredients together in a mixing bowl until a smooth consistency is reached. To cook the pudla, take a medium, non-stick frying pan and place over a medium heat. Allow pan to warm for a couple of minutes. Then pour a large spoonful of the batter on the pan and spread evenly in circular clockwise motions using the back of the spoon, pressing very lightly so that no gap is created whilst making the pancakes. Adding a few drops of oil on the sides of the pancake will allow it to cookwell. Let the pancake cook for a couple of minutes on one side and then using a spatula flip and cook on the other side for a further minute. The pancake is cooked when a little browned on each side. Spread a thin layer of the coriander chutney, add a couple of spoons of the chilli beet and serve.