People stay away from pasta for a bunch of reasons. Some fear its high carbohydrate count, while others keep it off their plates to maintain a gluten-free diet.
A new product called Banza is working to change the game. It looks like pasta, feels like pasta and tastes like pasta, but unlike pasta, it is made from chickpeas and boasts a high protein count. In fact, when it comes to nutrition, Banza objectively defeats traditional spaghetti. Have a look:

Chickpeas are naturally protein packed; half a cup of the little beans contain nearly 20 grams of the muscle builder. That's equivalent to the amount of protein found in a 3.5 oz serving of eye round steak. The chickpeas also add a hearty amount of fiber to the pasta, a nutrient that is shown to increase feelings of fullness (among a host of other benefits), meaning you'll be able to eat a serving without immediately seeking a second helping.
Brian Rudolph, who created the pasta with his brother Scott, thinks Banza can "change pasta forever, for the better." "We're still yet to find a reason why anyone would eat regular pasta when they could eat Banza instead," he wrote in an email to The Huffington Post. The mission behind Banza is clear: To serve a gluten-free, high-protein alternative to a health-conscious market. And just like in the pasta aisle at the grocery store, Banza comes in a variety of shapes.

We tasted the chickpea noodles for ourselves, and while the flavor is not identical to pasta's, it still makes the cut. The noodles are a bit chalkier than standard spaghetti -- a little less slippery. But this is nothing that can't be masked by your favorite sauce. On its website, Banza is described as "delicious pasta without the guilt." There is something about eating a meal rich with nutrients that makes a person feel better eating it. Plus, the pasta-bilities (sorry, had to) for dressing up the dish are virtually endless.
For example, you might whip up a butternut squash carbonara with Banza.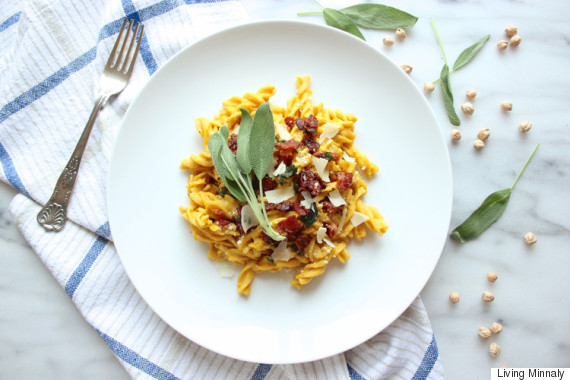 Get the recipe from Living Minnaly here.
Or this simple penne primavera.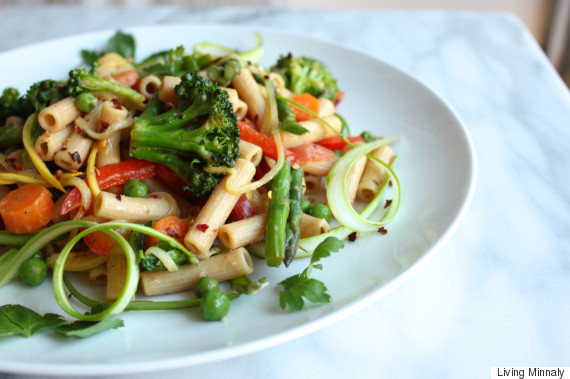 Get the recipe from Living Minnaly here.
Really, this chickpea pasta can be doused with any kind of sauce you favor. Banza can be purchased online and is expanding to supermarkets nationwide. It's clear Banza is coming at the right time. People are hungry for pasta alternatives. Between "Miracle Noodles" and "Zoodles," chickpea pasta will likely find its place in the stomachs of many Americans.