The great response I received to last week's quick and healthy plant-based Southwest Salad post made me realize just how many people out there are, like me, looking for quick, go-to recipes!
Let's face it, whether you're literally on your last leg, like me, or you've been working all day, you just don't want to spend hours in the kitchen. But if you still want to eat healthy, delicious and plant-based, then this is the perfect recipe for you.
This is one of the yummiest dishes for the amount of time it takes to assemble and cook -- a mere 15-20 minutes, max! This meal can be made wheat- and gluten-free just by using brown-rice pasta (or omitting pasta), and the greatest part is that you only need to use (and wash!) one pan. I like adding the small amount of pasta -- 1 cup -- as I find having the familiar comfort of a little pasta in a dish makes it easier for people transitioning over to a plant-based way of eating, especially teens, and children.
Canned beans and other 'quick' ingredients can be used for a 15-minute version,. But if you have more time and the inclination, I'll also provided a link to a more-from-scratch version.
For example, you can soak chickpeas overnight and/or cook/freeze them, make the polenta from corn grits and chop all the vegetables fresh. Decide what works best for you. But, if you're like me, some days it just isn't going to happen unless it's quick and streamlined!
Whether you're vegan, vegan-ish or you just want one plant-based recipe each week for a Meatless Monday, this is an elegant, easy recipe to add to your repertoire. It will help you to realize that it doesn't have to be difficult or time-consuming, and friends will still be impressed -- my family was!
What is so nutritionally special about this dish? For starters, chickpeas (or garbanzo beans) are high in fiber, containing 12.5 grams per cup. Nutritionists say we need to increase our fiber intake for optimal health. Chickpeas contain antioxidants, and because of the fiber and protein, help better regulate blood sugar, without all the saturated fat (zero grams!)!
What's not to like about that?! Read more about the health benefits.
Leafy greens like spinach and kale, and the other ingredients in this dish, including sweet potato, and onion help make Powerhouse Chickpeas a nutrient-dense meal.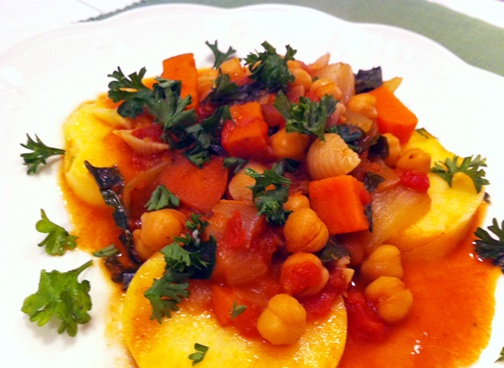 One-Pot Powerhouse Chickpeas!
1 onion, cup in large pieces
6 large button mushrooms, quartered
1 tablespoon olive oil (oil can be omitted, if necessary, and water can be used)
1 tablespoon hot curry powder
1 teaspoon cumin
½ teaspoon sea salt
2 cups filtered water
2 cans chickpeas, drained (or not!) (I used a low-sodium brand, organic Field Day) or 1½ cups of dried chickpeas can be soaked overnight and cooked for 1 hour
1 sweet potato, cut into small ½-inch squares (keep skin on)
2 cans stewed tomatoes, or 3-4 vine-ripened tomatoes, chopped, or ... I used a 26.48-ounce box of chopped 100 percent tomatoes (Pomo brand from Italy)
1 cup brown-rice pasta shells (I used Tinkyada brand to make it wheat and gluten-free, but any can be used)
2-3 cups of chopped kale (quicker version: use pre-washed spinach)
Pre-cooked polenta (I used Organic! brand), sliced into about 12 pieces
Optional: Chopped parsley to garnish & or 3-4 cashews or other nuts or seeds
In a large soup pot, add olive oil, onion, mushrooms, spices and sea salt, and saute for 2-3 minutes. Add the water, bring to a boil and simmer. Add chickpeas, sweet potatoes, tomatoes and pasta. Simmer, covered, for 7-8 minutes.
Stir in kale or spinach and layer top with sliced polenta, and simmer 5 more minutes.
Remove from heat, but keep covered until ready to serve. Then place 1½ slices of polenta on each dish and top with two good-sized ladles of chickpea mixture.
Garnish with parsley and 3-4 cashews or other nuts or seeds, if desired. This makes 8 generous portions.

Would you consider making this dish? Have something similar or ideas to make it better? Have you seen changes in your own health from adopting a more plant-based way of eating? Share your story here in my comments section.
For more quick and healthy plant-based recipes and tips, please sign up for my free monthly newsletter.

REAL LIFE. REAL NEWS. REAL VOICES.
Help us tell more of the stories that matter from voices that too often remain unheard.