For those of you who read MarcusSamuelsson.com or follow me on Facebook and Twitter, you know that I post a Meatless Monday recipe at the beginning of every week. But what you may not know is that Meatless Monday isn't just a clever hashtag -- it's a nonprofit initiative of The Monday Campaigns, in association with the Johns Hopkins' Bloomberg School of Public Health.

Going meatless reduces our carbon footprint and helps us lead the way towards climate change. Beyond that, it can cut our meat consumption by up to 15 percent and opens us to find alternative sources of protein. And one of the most incredible, often overlooked sources? Chickpeas.

According to PepsiCo (they've teamed up with the U.S. Agency for International Development to boost the production of chickpeas in Ethiopia), the water footprint to produce a kilogram of beef, pork, chicken and soybeans are 18, 11 and 5 times higher than chickpeas. That translates to 43 gallons of water to produce one pound of chickpeas versus 1,857 gallons of water to produce one pound of beef.

Believed to have first originated in the southeastern part of Turkey, chickpeas are an incredible source of vegetable protein (double the protein content of wheat), are rich in omega-3 fatty acids that boost heart health and provide a substantial amount of iron, potassium and enough vitamins that companies are looking to take some of the additional crops and make a ready-to-eat food product that the World Food Program has used to address famine in Pakistan.

So I ask, why don't we use chickpeas more? It's a highly versatile ingredient that can be made into dips, soups and breads, and can be roasted, stewed and even baked into cookies. I challenge you to find new ways to use this amazingly nutritious and inexpensive product and contribute to lowering our obesity problem as well as our carbon footprint. To help get you started, I've made a list, together with FoodRepublic.com, of my favorite ways to use chickpeas.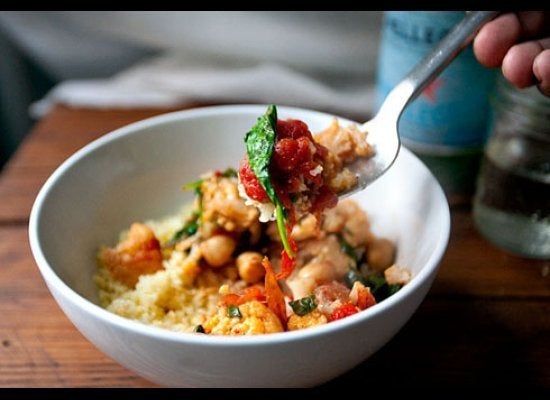 Chickpeas, the Other White Bean