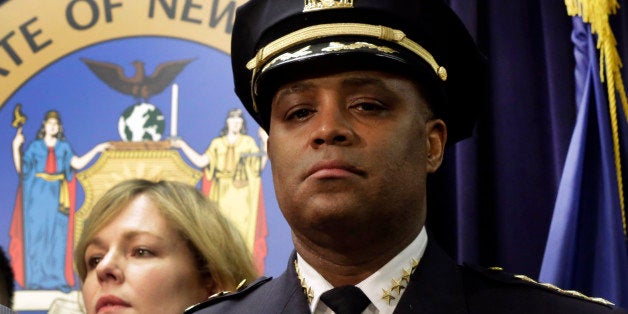 NEW YORK -- When Bill Bratton was sworn in as head of the New York Police Department in January, he pledged to improve relations between New Yorkers of color and "every member" of his department.
The abrupt resignation of the department's highest-ranking black official on Friday may make that task harder.
NYPD Chief of Department Philip Banks, a 28-year veteran of the force, walked away after rejecting a promotion. The Daily News, citing anonymous sources, reported that Banks feared the promotion "would bury him behind a desk."
Bratton told reporters on Friday that he and Banks never fought over policy, saying "we were very simpatico in the understanding that the culture of the department needed to be reshaped" -- a clear reference to tense relations with communities of color.
But some observers raised an eyebrow at the claim that Bank's resignation had nothing to do with the department's handling of race. "Most likely, his conscience took the best of him," said Damon Jones, the local representative of Blacks in Law Enforcement of America, a group that advocates for black officers. "I applaud him."
Bratton became commissioner amid outrage over the department's stop-and-frisk policy, which critics say inflicted disproportionate harm on young blacks and Latinos who had done nothing wrong. Mayor Bill De Blasio, who appointed Bratton, pledged to reform the practice. So far, he and Bratton appear to have made good on that promise, as the number of stop-and-frisk encounters has dramatically declined.
But Bratton's tenure has been marked by several other racially charged developments. In July, Eric Garner, an unarmed black man, died after police put him in a chokehold while attempting to arrest him for selling loose cigarettes. In response, Bratton announced that the entire department would be retrained.
The death drew attention to Bratton's policy of cracking down hard on petty offenses like pot possession and dancing in the subway. Critics say this "broken windows" strategy lands especially hard on people of color.
Until now, those critics have rarely included members of the city's political establishment. But Bank's resignation seems to have opened the floodgates.
"His departure from the department could not have come at a more delicate time,"said state Assemblyman Karim Camara (D), chair of the assembly's Black, Puerto Rican, Hispanic Legislative Caucus, in a statement. "There was no one better strategically placed to strike the necessary balance between respecting and yet also effectively protecting local communities."
"As elected officials who have fought for better police practices, we are extremely disturbed by news of the resignation of Chief Banks," city council members Jumaane Williams and Vanessa Gibson said in a joint statement. "Throughout Chief Banks' tenure, his leadership has played a critical role in helping to navigate difficult relationships between NYPD and communities of more color as we attempted to deal with chronic issues in policing. Whether it be the abuses of 'stop, question and frisk,' the misapplication of 'broken windows theory,' or local issues, Chief Banks has deftly held the line for the Department while having a responsive ear to all communities. Additionally, having Chief Banks involved in addressing the issues surrounding the death of Eric Garner really helped New York City avoid the racial tensions that occurred during the past two decades.

"The resignation of the highest ranking Black and Latino official in the department seems to provide a strong indication that much more work needs to be done within the NYPD," they added. "The administration must fully admit that there is a systemic issue within the NYPD that revolves around race and class in this city."

Calling all HuffPost superfans!
Sign up for membership to become a founding member and help shape HuffPost's next chapter