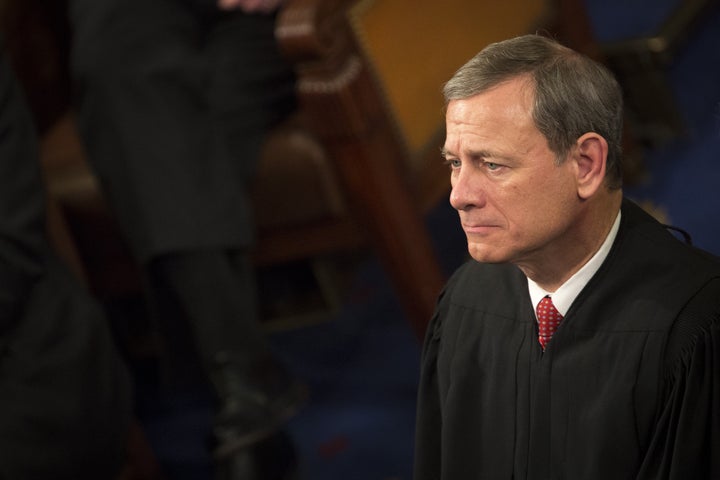 WASHINGTON ― Chief Justice John Roberts will no longer participate in a patent dispute at the Supreme Court involving a unit of Thermo Fisher Scientific Inc., after he realized he owns about $175,000 of stock in the company, the court said on Wednesday.
The eight-justice court is weighing whether genetic-testing kits made by Thermo Fisher-owned Life Technologies Corp infringed upon patents held by Promega Corp.
In a letter issued on Wednesday, Scott Harris, the clerk of the court, said Roberts belatedly learned that Life Technologies was owned by Thermo Fisher. The letter noted that "the ordinary conflict check conducted in the chief justice's chamber's inadvertently failed to find this potential conflict."
Roberts will therefore step aside, meaning only seven of the court's eight justices will decide the case, which was argued on Dec. 6.
Roberts' 1,212 shares are worth around $175,000 based on the current share price of around $145.
Supreme Court justices routinely recuse themselves in cases involving companies in which they own stocks, but each conducts its own checks for potential conflicts.
In 2015, Justice Stephen Breyer belatedly spotted a similar stock conflict in an energy case, but instead of recusing, he decided to sell off the stock to cure the conflict before continuing to work on the case.
Gabe Roth, the executive director of Fix the Court, a court watchdog that has called for justices to implement better conflict checks, seemed to note a pattern.
"This is the third instance in the last 15 months in which a justice initially missed a stock conflict and failed to recuse himself from a case as required by law," Roth said in a statement. "Why is it so hard for the Supreme Court to get this right?"
HuffPost contributed to this report.
Popular in the Community