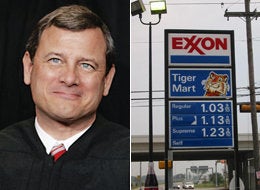 Yesterday, the Supreme Court heard oral arguments on how much money ExxonMobil should be forced to pay as damages for its Exxon Valdez oil spill 19 years ago. The Washington Post's Dana Milbank notes that Chief Justice John Roberts appeared "bothered" that Exxon might have to pay for its destruction:
What bothered the chief justice was that Exxon was being ordered to pay $2.5 billion -- roughly three weeks' worth of profits -- for destroying a long swath of the Alaska coastline in the largest oil spill in American history.
"So what can a corporation do to protect itself against punitive-damages awards such as this?" Roberts asked in court.
The lawyer arguing for the Alaska fishermen affected by the spill, Jeffrey Fisher, had an idea. "Well," he said, "it can hire fit and competent people."
Exxon's appeal of the biggest punitive damage award ever upheld in federal court led to a lively Supreme Court argument in which everything was open to dispute, from the significance of a 200-year-old case about robbery on the high seas to the world of modern maritime commerce in which a 1,000-foot tanker like the Exxon Valdez is considered a separate "business unit" in the organization chart of its corporate owner.

With Justice Samuel A. Alito Jr. not participating, a result of his ownership of Exxon Mobil stock, the possibility of a 4-to-4 tie was clearly present. A tie would affirm the appeals court's judgment in favor of a class of 32,000 fishermen and business owners, who stand to receive about $75,000 apiece from the $2.5 billion award. It was abundantly clear to everyone in the crowded courtroom that if the plaintiffs could just hold on to four votes, they would win the case.
Calling all HuffPost superfans!
Sign up for membership to become a founding member and help shape HuffPost's next chapter