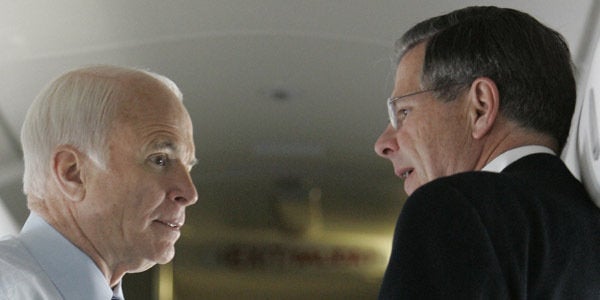 In 2005, Charlie Black, currently a chief strategist to Senator John McCain, wrote a pair of letters to federal officials aggressively defending Wayne Drizin, a convicted felon, disbarred lawyer, and failed brothel owner with substantial business ties to the controversial Iraqi exile Ahmad Chalabi.
The letters, obtained by The Huffington Post, were sent to a U.S. district court judge and the U.S. Justice Department's inspector general's office. They are scrupulously detailed and, at times, personal notes, praising Drizin and alleging that a conspiracy of zealous federal investigators was to blame for his legal woes.
At the time, Black was a consultant for e-Smart Technologies, a biometric security technology company that Drizin helped start. Drizin was mired in legal battles over his past convictions. The Republican insider and lobbying powerhouse went to bat on the founder's behalf.
Black's letters, however, were ultimately an exercise in poor judgment. After Drizin had a falling out with e-Smart, Black wrote that same judge a year later asking that his previous advocacy be expunged from the judicial record, an unusual move for such a high-powered figure.
But the episode, mainly because of Black's close proximity to McCain, remains politically relevant. In a separate interview on the matter with Aram Roston, author of "The Man Who Pushed America To War," Black claimed he had not realized the extent of Drizin's controversial past -- an assertion Drizin's lawyer denies.
To critics, Black's actions show the extreme lengths he would go for a business associate -- including calling on the Justice Department to investigate a U.S. attorney for framing Drizin -- only to reverse course as soon as the business relationship turned sour.
Moreover, the episode draws a spotlight back to Black's history of associations with questionable characters and firms, including the private contractor Blackwater USA and even Drizin's old business partner, Ahmad Chalabi.
In August 2000, Wayne Drizin was part of a team that helped develop a hardware system that merged biometric technology with secure smart card identification. The result was e-Smart Technologies Inc. The company, which claimed to be revolutionizing security systems, lost out on its initial contract with the Chinese government after a commerce official said that the deal could not go forward. But the future seemed promising.
Drizin, however, was a complicated character. While he had spent the preceding decade consulting companies on a wide-range of telecommunications issues, he also had a lengthy history of bizarre and criminal behavior. In the summer of 1980, he attempted to purchase the Mustang Ranch, a famous brothel in Nevada, announcing plans to hire an additional seventy prostitutes and build an airstrip for "johns" to fly to and from their respective appointments. The deal fell through.
But delving into the world's oldest profession wasn't the only quirk in Drizin's past. As Roston details in his book, Drizin was disbarred by the Florida Bar Association in the early 1980s, and charged with a felony in 1982 after bouncing a check. More bounced checks followed, until Drizin resurfaced in the news two decades later. In 2003, he was convicted of wire fraud for a scheme involving selling shares in company that claimed it had a cure for AIDS.
In between, Drizin struck up a relationship with the Iraqi exile Ahmad Chalabi. The two invested in high-risk schemes such as a 300-foot ultra-luxury cruise liner called the Nussilios, meant to cater to the super rich. The concept ultimately failed. An SEC filing, meanwhile, shows that Drizin orchestrated the sale of Welfin S.A., a Swiss-based merchant bank, to a group owned by the Chalabi Family in 1988.
According to Roston, Drizin promised to use his Chalabi ties to drum up business for e-Smart - the prominent member of the Iraqi National Congress having a wide-array of important international contacts. But Drizin's federal criminal conviction complicated matters. He had been placed on five years probation and was prohibited from traveling. And from 2003 through 2005, federal investigators, who claimed that Drizin and the company were misrepresenting its business conditions, targeted e-Smart, even arresting its CEO. The company's stock plummeted.
This is where Charlie Black came in. The Republican insider and lobbying heavyweight wrote letters to both the Justice Department's investigations division and the U.S. district court in Phoenix on Drizin's behalf.
In one, Black cites his experience as a lobbyist and political consultant in Washington DC for thirty years: "I bring to your attention a very unusual set of circumstances and request your serious consideration of an investigation by your office into this matter."
In another, to Chief Justice Stephen McNamee, Black touted his connections on Capitol Hill and his role as an adviser to Presidents Reagan and George H.W. Bush.
"Through my work with e-Smart, I have also come to understand the unique role and contributions of Wayne Drizin. He is the rare individual who can bridge the gap between conception, design and the actual invention and construction of the components of this complex configuration of hardware and software," Black wrote. "While I do not claim that the company cannot function without Mr. Drizin, I can say that the company's ability to continue to refine and develop its technology, to manufacture its components and to employ the e-Smart care effectively would be diminished substantially by his absence."
In his letter to the Justice Department, Black echoed Drizin's claims that he was the victim of a conspiracy of federal investigators. He said he hoped his letter would "serve as a catalyst for an investigation into the activities" of a U.S. attorney and two other inspectors, "who may have overstepped their boundaries in a methodical and strategic way."
Why would Black go out of his way on Drizin's behalf? He was, at the time, working as a consultant for e-Smart and would soon take on a larger role with the company. In addition, he had strong ties to Drizin's old business pal, Ahmad Chalabi. Indeed, Black and his firm BKHS had represented Chalabi's Iraqi National Congress in the lead up to the war in Iraq, helping its members get access to officials in Washington.
Did Chalabi alert Black to his old pall Drizin? Black told Roston that he had never made the connection between the two until it became public knowledge. And Kelly O'Meara, a spokesperson for e-Smart, told The Huffington Post that there had been no reason to doubt Drizin's past actions or character. "It never came up," she said. "Wayne was referred to the company through a very reliable person."
But the SEC filing by e-Smart made public the connection between Chalabi and Drizen and that came a year before Black wrote his two letters. And Drizin's attorney laughed off suggestions that the company and Black did not know about his client's history.
Either way, Black's advocacy soon became an embarrassment. Sometime in the spring of 2006, e-Smart and Drizin had a falling out, entering into a bitter legal dispute against each other over who owned the company's technology. Drizin, e-Smart alleged, had tried to maneuver his way to the top of the company and, when blocked, promptly stole what he could in order to start a identical venture with an e-Smart subcontractor.
"He was very blatant about it. He literally aligned himself with [the subcontractor] and persuaded some of the engineering staff to align with him. And for a period of time they literally held seven years of technology," said Maranda Fritz, e-Smart's attorney. "[Drizin] swore to the company that he would be vindicated [of his prior accusations], and it turned out to be not true. We had to back off and distance ourselves from Wayne. And when we tried to create that distance he tried to take over the company."
Drizin's attorney not only insists that his client was wrongfully convicted for his earlier charges of wire fraud, but adds that e-Smart used the issue as a red-hearing to push him out of a company that he helped build.
"He became the scapegoat," said Robert Ross, of Klass Helman & Ross. "Everybody in the world was supporting him when they were dependent on his capacities. And then there was a falling out and all of the sudden he became a guy every could trample around."
As the legal quarrel grew, Black was appointed to the board of e-Smart. And, just two days later, he took steps to distance himself from his prior advocacy on Drizin's behalf. Writing Judge McNamee yet again, he asked that his past statement be stricken from the record.
"Because of recent activities of Wayne Drizin, which contradict statements in both our declarations and his declaration to the Court, we deeply regret that we must retract our statements therein regarding Mr. Drizin," Black wrote.
For Drizin, it was an act of betrayal. "It is disingenuous in the extreme," Ross called it. "They have known the truth. They always have known the truth and that is why they supported of him earlier on. He never committed an illegal act. He was convicted of it. But people have been convicted of crimes they haven't committed."
For Black, however, it appeared to be a move of necessity, albeit one made out of embarrassment. Two years later, both he and e-Smart are still engaged in legal battles with Drizin. The company, according to Fritz, was "able to get a court order stopping them from using e-Smart's technology," but, she added, "the problem is, guys like that don't respect court orders."
The episode, in the end, constitutes a blotch on Black's record -- one that may be compounded as his other past clients are explored, creating potential political headaches for his candidate, John McCain. That client list compelled Black to leave his lobbying firm in late March. But he continues to serve on the board of e-Smart, even though the company is pining for contracts from the federal government his candidate could end up heading.
Black did not return a phone call requesting comment.
Support HuffPost
The Stakes Have Never Been Higher
Popular in the Community