Seventy years ago, the Administration of President Harry S. Truman released a groundbreaking report on the heels of the World War II Victory in Europe that sparked a scientific revolution in America. It was a document that put to work the technological, engineering and medical discoveries made during the conflict for peacetime uses. This in turn provided our nation a unique and significant opportunity for growth and in very little time we became--and continue to be--the international leader in innovation.
Science The Endless Frontier, written by President Truman's science advisor Vannevar Bush, remains a 'constitution' for the U.S. science community-- a seminal report, underpinned by principles which the federal government must respect in order to improve and expand our understanding of the natural and physical world. Stability of long-term funding, research grants to independent institutions, and pursuit of projects consistent with agency missions are among the tenets Dr. Bush advocated to be fundamental for U.S. federal agencies to foster research and education effectively. He also identified as a core principle that these agencies' activities and operations are best managed by scientifically knowledgeable persons, as they understand the peculiarities of research and are most qualified to select and shape mission-critical projects. These principles give our scientists the freedoms and resources they need to do their jobs, pursue their instincts and dream up the next major American innovation. Yes, our scientific enterprise, and the dynamics of our world have changed considerably since 1945, and yet, these principles have guided scientific progress consistently through these changes.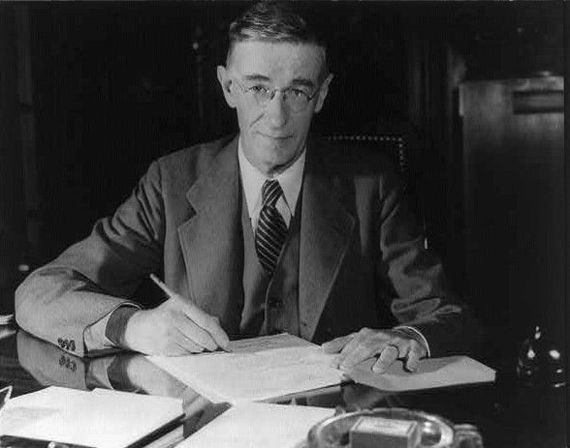 "Science offers a largely unexplored hinterland for the pioneer who has the tools for his tasks," he wrote, in describing these tenets. "The rewards of such exploration for both the nation and the individual are great."
Dr. Bush believed that America, a nation built by pioneers, possesses a unique characteristic that allows us to support a diverse array of scientific activities undertaken with the utmost integrity. This 'pioneering spirit' today remains alive and vibrant and is evident by the numerous breakthroughs we continue to make in public safety, public health and quality of life. Alongside these advances are improved policies and legal structures that enable us to protect intellectual property while sharing scientific findings, and position our nation as the best place in the world to conduct business.
Thanks to his vision we all benefit greatly from the scientific contributions provided by our research community. The Federal government supports the majority of basic research that is performed in the United States, at Federal laboratories, and in academia and industry. This basic research advances our understanding in a broad array of fields, and serves as the basis for more advanced research and development, yielding great benefit to society. Innovations and insights developed by researchers have aided federal agencies in making major breakthroughs with astonishing results: the National Oceanic and Atmospheric Administration (NOAA) can issue lifesaving weather alerts with more lead time than ever before; decades of National Aeronautics and Space Administration (NASA) research have enabled innovations that are already improving lives here on Earth such as the water processing system on the International Space Station, and aircraft that are faster, safer and more environmentally friendly; major advancements by the Department of Energy (DoE) are delivering more powerful computers, and growing solar and wind power and bioenergy industries; as a result of biomedical research supported by the National Institutes of Health (NIH), cardiovascular disease death rates have fallen more than 70 percent in the last 60 years, cancer death rates are now falling approximately one percent per year, and new therapies enable people living with HIV to enjoy a full life-span; and US Department of Agriculture (USDA) research has helped to more than double U.S. agricultural output since World War II, while the amount of land used for crops and pasturing has fallen by 90 million acres.
He saw the promise of science to change society for the better, and thanks to his vision, American researchers have built and led a burgeoning global scientific enterprise. While the pioneering spirit has not changed and the pace of technological revolutions remains strong, there are three areas where America must make headway in order to keep our rightful place as leader in science and technology:
First, we need more American pioneers to develop the innovative technologies needed to build more resilient, sustainable communities, protect human health and make progress in improving quality of life. We can do this through continued support of Science, Technology, Engineering and Mathematics (STEM) education, which is the catalyst for spurring and maintaining a highly-skilled American workforce.
Second, we need a renewed commitment for critical investments which provide the funding and resources our scientists in basic and applied research fields need to do their jobs. And in following these tenets, we need to fund projects that our well-trained scientists believe will lead to major breakthroughs.
And now more than ever, we need more policy champions to keep the trust in his vision and help promote the basic research our agencies, our research partners and our commercial industries need to keep the U.S. on the leading edge.
As chief scientists of U.S. federal science and service agencies, we are committed to keeping the U.S. at the forefront of science and technological innovation as the frontier of opportunities continues to expand. Since taking office, President Obama has made it clear that the United States will not settle for second place, and we could not agree more. We will continue to make headway in these areas, and we hope Dr. Bush's monumental vision will inspire others to do the same.

Dr. Richard W. Spinrad, NOAA Chief Scientist
Dr. Franklin Orr, DOE Under Secretary for Science and Energy
Dr. Ellen Stofan, NASA Chief Scientist
Dr. Lawrence A. Tabak, NIH Principal Deputy Director
Dr. Catherine E. Woteki, USDA Chief Scientist
Popular in the Community