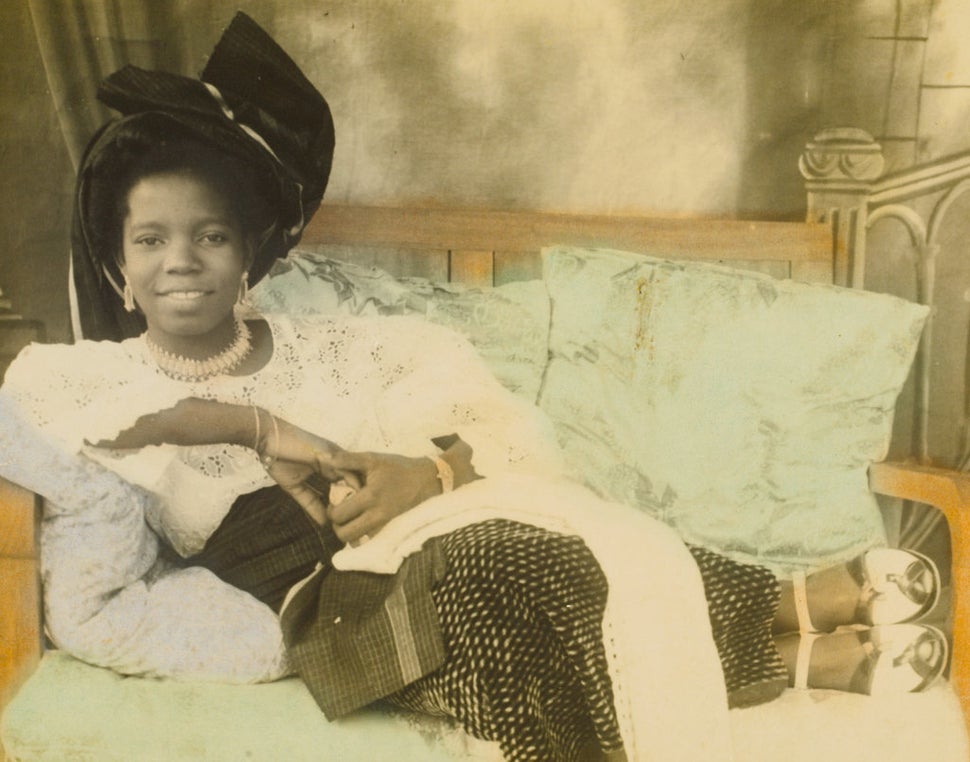 "We're connecting people with their own history, their own past, through photography," Amy Staples, curator at the Smithsonian National Museum of African Art, poetically explained to The Huffington Post.
Staples is specifically referencing the photography of Nigerian artist Chief Solomon Osagie Alonge. The photographer's work is currently on view, in an exhibition titled "Chief S.O. Alonge: Photographer to the Royal Court of Benin, Nigeria." The show attempts to tell the unique story of Alonge, who, born in 1911 in Benin City, Nigeria, became his country's first indigenous court photographer.
Before Alonge's tenure, imported British artists dominated the colonial nation's photography scene, most of whom adhered to a strict European aesthetic. The self-taught Alonge, on the other hand, immersed in the ever-fluctuating political and social environments of Nigeria, was intent upon chronicling the emerging country on his own terms. Starting in 1933, he memorialized the rising members of the royal court and the Nigerian elite, particularly the Benin Social Circle, a group of respected businessmen, teachers, and educated figures, blurring the line between tradition and modernity along the way. Throughout his 50-year photographic journey, Alonge not only documented history, he shaped Nigeria's photographic traditions, leaving room for each of these two accomplishments to inflect the other.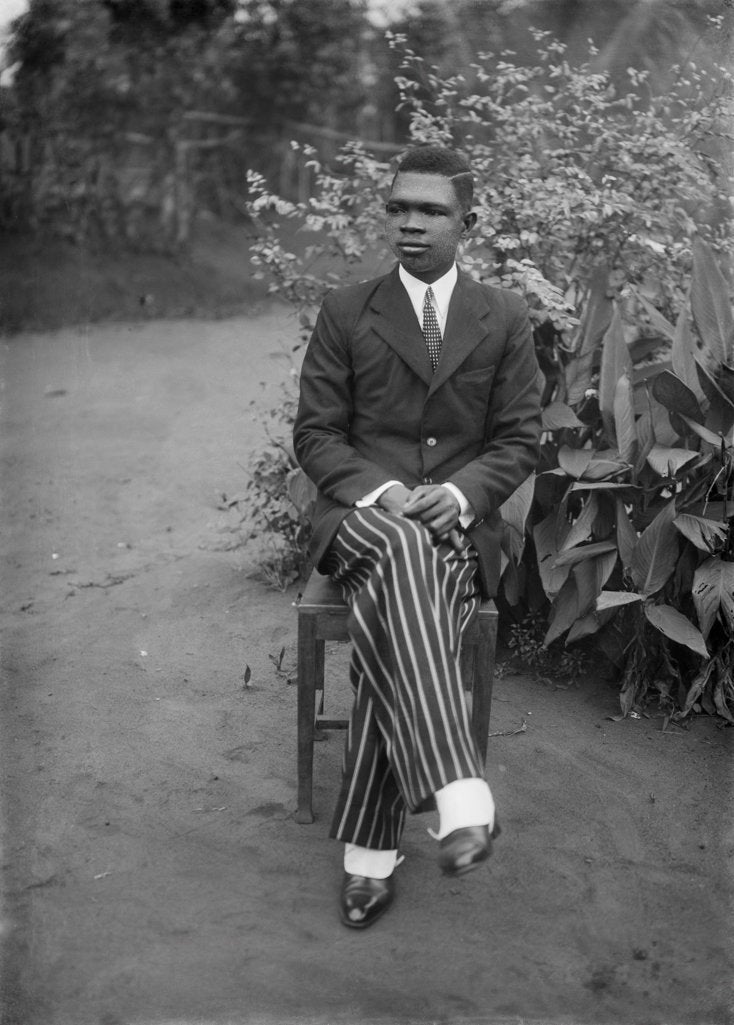 "We acquired the collection in 2009 from the Alonge family in Benin City, Nigeria, through Dr. Flora Kaplan, a professor at NYU," Staples recalled to HuffPost. "She knew Alonge, who had entrusted the materials to her personally. He had in mind that he wanted the materials to be preserved and exhibited in the United States. So this is a long-term vision that Alonge himself had before he died in 1994."
The rare collection of photographs documents the people, both iconic and anonymous, who comprised the Benin kingdom between the time Britain installed a new oba, or king, in the early 20th century to the country's first years as an independent state in 1960 and beyond. "He covered the royal court, the royal family, the cultural festivals and the oba. We knew it was a great collection in terms of its history and documentation, but also the quality of the images is amazing."
Alonge worked with Kodak glass plate negatives until the late 1960s, when he switched to large format black-and-white film. "He never shot in color, but he would hand color his photographs, a skill he taught himself. Generally he would only hand color an image if he had a personal relationship to the subject and wanted to give a gift to them. Or if it was a famous subject, like when Queen Elizabeth met the oba Benin."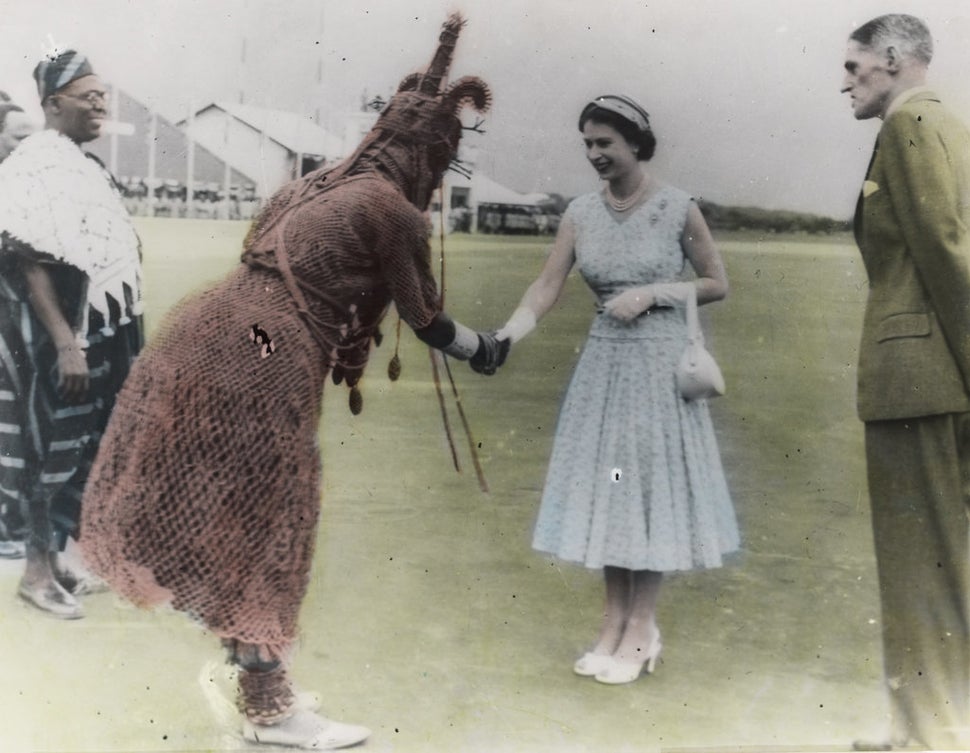 Alonge's studio portraits of the rising elite are particularly moving, including images of government officials, teachers, lawyers, doctors, professionals and businessmen. "He really had two very different aspects of his work," Staples said. "He was the official court photographer to the king, and this was much of a documentary-type photography. When you start looking at his portraits of people, that's where you start to see the artistic and composition of the portraits that truly speak about his artistry." 
I see his artistic practice more in the studio portraits, the way he collaborated with his subjects to pose their hands and feet in particular ways, to get the best image impression. Also the sense of style, sophistication and cosmopolitan nature of how people dress and comport themselves for a portrait. The whole process was really important in terms of crafting people's identities, their sense of style, dress. The question of how do you want to be seen?

Amy Staples
The images don't just capture a nostalgic look at Nigeria's past. They've forged a connection between then and now, providing for many Nigerians at home and abroad a visual history they never knew they had. "It's allowed people to connect with relatives they haven't seen in a while, or maybe never knew existed," Staples said. "The exhibit has become a pilgrimage site for Nigerian people in the diaspora. They come here, find pictures of their relatives and of course start taking out their cell phones and iPhones and tablets and sending them back to Benin. It's actually connecting and opening up a dialogue with the whole community of Benin City."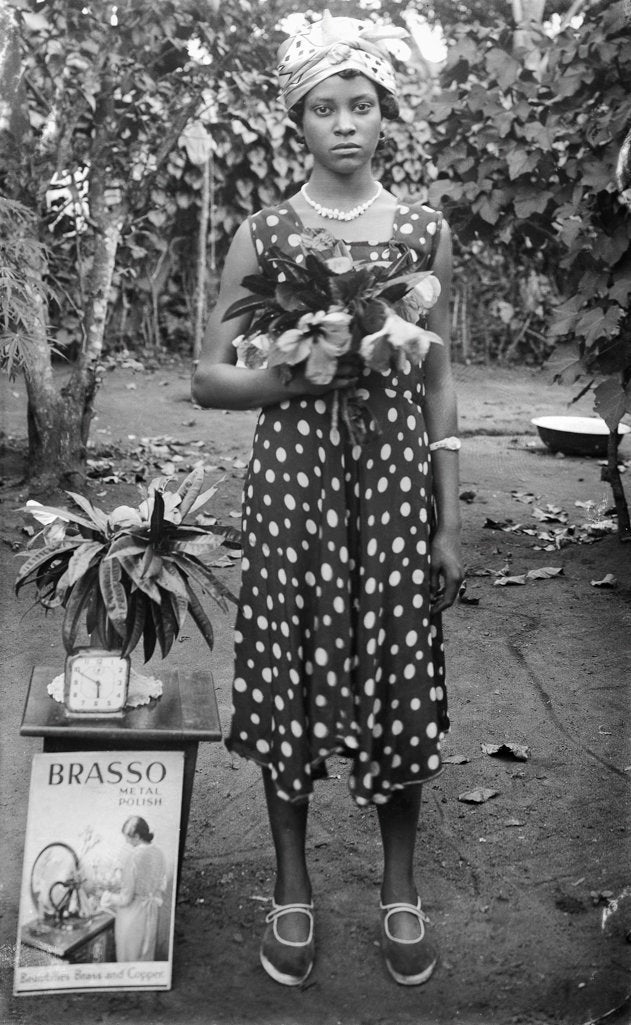 As NPR reported, one of Alonge's subjects, 80-year-old Stella Osarhiere Gbinigie, was able to revisit her portrait, taken 65 years ago, at the Smithsonian in Washington, D.C. "He was a true gentleman,"Gbinigie said of Alonge. "He was always calm. He treated us like his own children, not a client."
Next year, the exhibition will travel to Benin, hopefully providing more subjects and their friends and family to share a similar experience. As for the exhibition's run in the United States, Staples hopes it will dislodge some of the ignorant stereotypes that persist regarding African culture and history. "I think a certain kind of American audience comes in with stereotypes about Africa. In the United States, what we saw of Africa in the '30s and '40s was Tarzan swinging through the trees and cannibals and savages and no distinction about African ethnicities or cultures, they were all just primitives. We carry around those stereotypes with us."
"One of the things this exhibit does immediately is break down those barriers," Staples said. "We have these very cosmopolitan, well-dressed people from Africa in the 1930s and '40s. That immediately derails stereotypes and dissolves them."
PHOTO GALLERY
10 Architectural Landmarks You Have To Visit Before You Die
Calling all HuffPost superfans!
Sign up for membership to become a founding member and help shape HuffPost's next chapter