Meet Chierika Ukogu, a rower who made history during the 2016 Olympic Games as the first person to represent Nigeria in her sport. After qualifying to compete on this world stage, Ukogu fundraised $15,000 because the Nigerian Rowing Association was unable to support her journey financially. She competed and left the games as one of the top 20 rowers in the world, accomplishing an incredible feat. She gained even more attention 6 days after she competed, however, when rapper Snoop Dog tweeted that she had won silver overall and earned Nigeria's first Olympic medal. This mistake landed her on the front page of the BBC in addition to several other sites.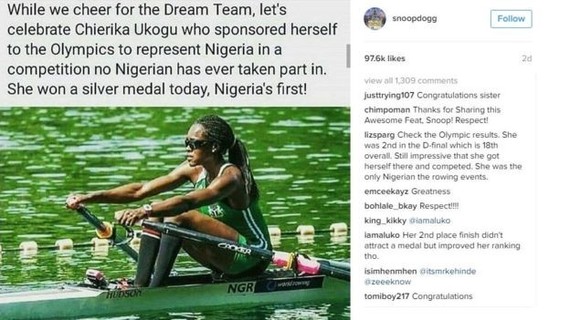 While Snoop Dog indeed messed up on a major fact, he was right about everything else. Chierika Ukogu is a woman who should be celebrated, known, and respected for her incredible history-making accomplishment. I believe everyone should be focusing more on her success, rather than Snoop Dog's mistake and because of this, I am honored to have been able to interview her for this highlight and to share more of her story with a larger audience.
Ukogu, who graduated from Stanford University in 2014 and who just began medical school at Icahn School of Medicine, started rowing in 2006 when she decided to stop competitive cheerleading and tried out for the team at her school. She says it's hard to put into words why she loves rowing so much, but she is grateful that it has allowed her to travel all over the world and meet amazing people, "these past ten years have been incredible" she states. When asked why she thinks there aren't more people of color who row she said:
I think the answer is two-fold. Firstly, rowing is a sport of means. Boats, uniforms, coaching, it is all so expensive. If we can figure out a way to meet these cost barriers, the sport would definitely be more diverse. Secondly, a lot of people of color haven't had exposure to the sport. I definitely had no idea what rowing was, before joining the team, and I was honestly a bit intimidated by my teammates that came from rowing backgrounds. My high school just happened to have a team.
She was inspired to represent Nigeria after watching a rower from Niger in the 2012 Olympic Games by the name of Isaaka. Isaaka became known as the "sculling sloth" after finishing last because he had just three months of training before competing. Ukogu says "I wanted to build off of his narrative, and just add to the representation of people of color in this sport." She certainly accomplished this, racing her best times ever in Rio. Although she is unsure if she will try to compete in the Olympics again come 2020, I hope she chooses to do so. She has given her audience and inspirational story to follow long before Snoop Dog's mistake and many look forward to seeing what's in store for her next.
Calling all HuffPost superfans!
Sign up for membership to become a founding member and help shape HuffPost's next chapter