A painstaking rescue of three abandoned chihuahuas is reminding us this week of the good that can be done and the lives that can be saved when people take the time to care.
"People had tried to catch them before, but no one could get them," Hagar, who has documented other incredible rescues before, told The Huffington Post Monday. "They were so scared. The video doesn't show you how long the process took. It took a couple of hours to be able to get them to trust me."
"It was a very tricky process," he added. "It took a lot of patience ... but I have all the patience in the world for them."
Hagar says the pups, who are all between 2 and 3 years of age, were dumped together several weeks before the rescue. Not only were the animals "filthy" when he found them, but Hagar says all had been shot at with BB guns. Pellets from the toy guns were later found embedded in Marty's and Brooklyn's skin.
"It's no wonder they were so scared," Hagar said, his voice agitated. "People have been so mean to them. … Not just abandoning them but shooting at them, too. Who would do such a thing? It's messed up."
Once he got the dogs safely in a cage, Hagar brought the trio to a vet to get them cleaned and inspected. To his delight, he witnessed an immediate transformation in the dogs. It was incredibly inspiring, he recalled.
"After a bath and a good meal, they were just the happiest animals, like they won the lottery or something," he said with a laugh.
(Story continues below.)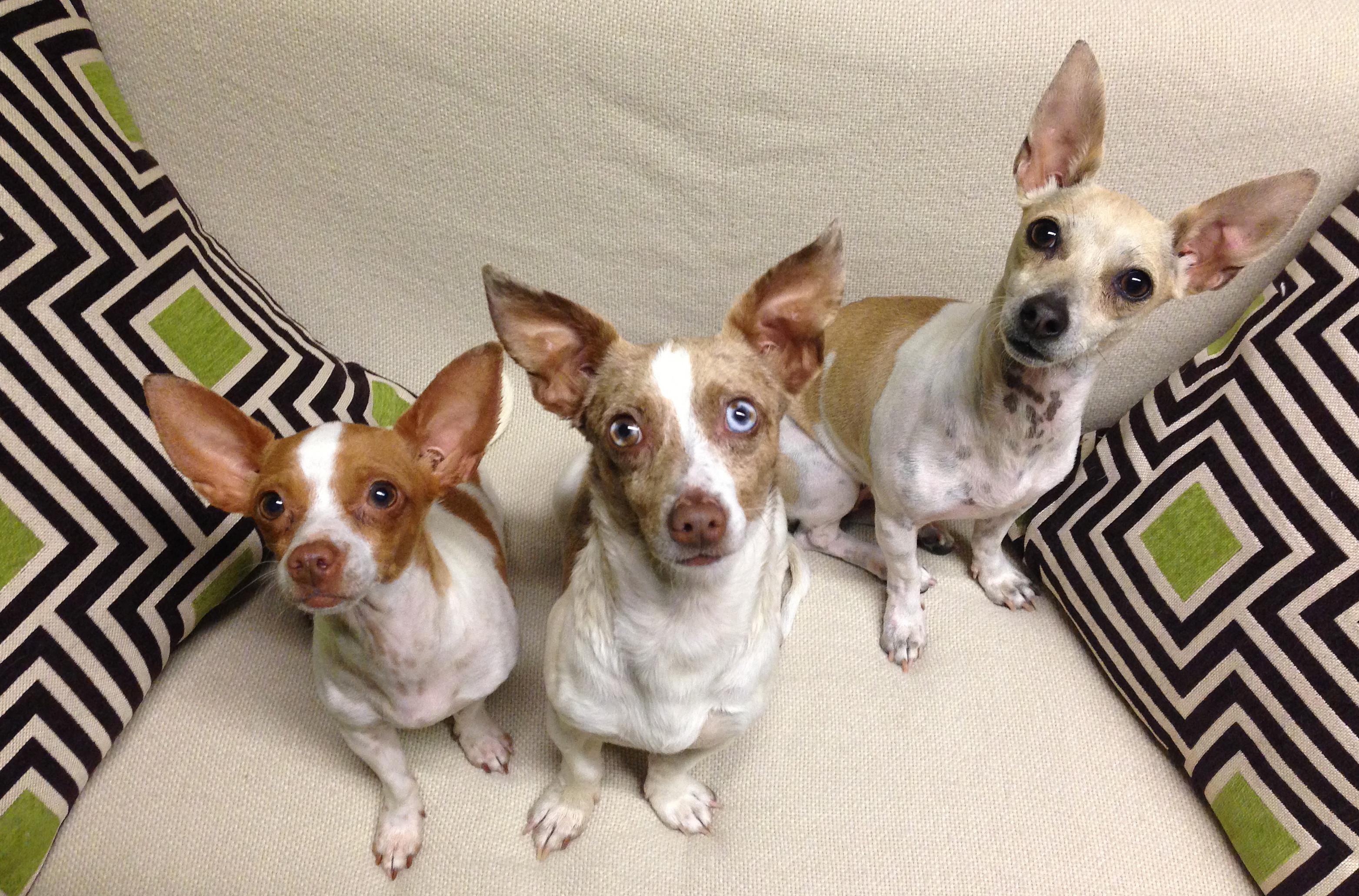 Penny, Marty and Brooklyn after a bath. (Photo credit: Eldad Hagar)
Sadly, Hagar's happiness was short-lived. Four days after rescuing the pups, Penny died of heart failure.
"It's horrible, it's really so difficult. Even making the video [of the rescue] yesterday, I just cried like a baby," Hagar said. "I've seen this so many times, but it's still so hard. You feel like it's not fair. You really just want to get them to better lives and that just didn't happen for her. It's very sad."
It was discovered during an autopsy that Penny had a malformed heart. Though her death had been inevitable, Hagar says he wishes the pup's last few weeks could have been better ones.
"At least we were able to give her a different kind of ending," he said.
Hagar is now working to get Marty and Brooklyn into a loving "forever home" together. The pair are currently in foster homes, thanks to the work of Wags and Walks, another local rescue organization.
"They lived as a pack of three and they love each other so much," Hagar said of the pups. "They keep licking each other and grooming each other. It's such a special bond they have. I really want to give them that gift [of living together permanently]."
Hagar added that he hopes this video will inspire others to open their eyes and hearts to the suffering of stray animals around them. Spending a little energy to care can and does save lives, he said.
"Here in Los Angeles, at any given moment, there are 30,000 stray dogs. They're out there, they're hiding, they're mostly so scared. But if you pay attention, you'll see them," he said.
"Even if you can't help, call someone who can -- there are so many rescue organizations out there. Or at the very least, help share videos like this one to raise awareness, or donate what you can to help. This way, animals can be spared a miserable death or being shot at or being hit by a car. If people just do a little bit more and pay attention to the environment around them, this wouldn't happen as often."
REAL LIFE. REAL NEWS. REAL VOICES.
Help us tell more of the stories that matter from voices that too often remain unheard.
BEFORE YOU GO