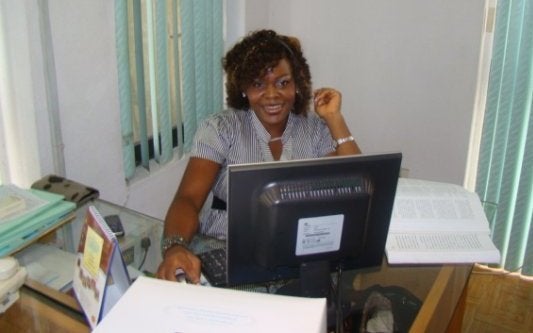 I practiced law for two years in Nigeria before I migrated to the United States in 2011. Law practice in Nigeria differs in many respect from the practice in United States. With a Rules of Professional conduct that bans attorney advertising and prohibits accepting cases on a contingency basis, except a Nigerian lawyer is enterprising, he risks realizing after law school that his law degree isn't quite a meal ticket. Chika Ugonwa is one of the ingenious few. A young woman in her early thirties, Chika practices Immigration law in Nigeria and her vision includes establishing a law firm that will serve as a one stop shop for everything Traveling/Immigration inquiry and assistance in Nigeria; having a bilateral relation with immigration firms all over the world, Embassies and High Commissions; and building a strong brand on the foundation of Trust and Integrity. In this interview, Chika shares her experience practicing law in Nigeria.
Please tell our readers a little bit about you.
I am a Nigerian Lawyer, a Graduate Manager, and an Immigration Consultant. In the past I worked with Abubakar Mustapha & Co. (Kaduna) and Threshold Barrister & Solicitors (Lagos). Presently, I am running my own firm in partnership with Reality Education Ltd (Port Harcourt), Rexcue Barrister and Solicitors (Lagos), and New Dimension Konsult (kaduna).
Okay, now that sounds interesting. You are affiliated with three law firms. What's the arrangement like and how did that come to be?
I started my Immigration Law practice in Lagos with Threshold Immigration Consult which is a subsidiary of Threshold Barristers & Solicitors. As you know, Immigration practice is built on trust and in the course of the attorney-client relationship, one gets access to clients' sensitive private and financial information. So when I moved to Abuja, a lot of my Lagos clients still sought me. My efforts to get them to work with other lawyers failed. That was where the partnership idea came from. I continued to work with my clients in Lagos while I was in Abuja. When that proved successful, I realized that I could successfully serve clients in all thirty-six states from my base in Abuja.
For my clients who are in Lagos, for example, they consult me through the phone or email. Then I do their work and send the finished work to my colleague Rexcue Barrister and Solicitors Lagos (he practices Immigration Law too) who goes over them with the clients and guides them to sign the documents.
Congratulations on your achievements so far. Has law practice been what you expected? Many people go into law school with noble intentions. Did the reality of law practice match your earlier expectations of what to expect from the practice of Law?
I don't know about 'many people.' For me, I did not really go into the law program with great expectations or any expectations. The decision to study law was suggested by someone I could never say No to. In secondary school I was good in social sciences and art, my parents wanted me to be an accountant; my grandfather wanted Law. I chose Law. In University then my major goal was not to fail my grandfather, my parents who were paying for my education, and myself. (In my family, my siblings and I are a bit competitive). Long story short: I did not have 'earlier expectations.' But having practiced for a while, I realize that we (Nigerian Lawyers) need to do more. The fate of this country to a large extent lies with the legal profession and so it suffices to say we are to a large extent part of the problem of the country. We need strict ethics and conduct regulations and compliance.
What has been your greatest challenge practicing law in Nigeria?
Law practice is a very broad concept. The challenges a lawyer encounters are unique to his/her area of practice. I practice mostly Immigration and Maritime Law (More of Immigration). I can write a book on the challenges for each but for this interview I will only mention one challenge in Maritime practice which is 'stagnancy.'
My former firm (Threshold barristers & Solicitors) had over 30 cases on different maritime matters. Apart from one of the matters that I got a default Judgement on, others ended up in settlement before I got the chance to taste my skills in trial. In court one day while I was moving yet another motion for discontinuance and adoption of parties' terms of settlement, the Judge said (jokingly) that in his 20 years in the bench he was yet to deliver a final Judgement on a Maritime case.
In Maritime, litigation is instituted just to get the shippers/and or the insurance company to settle. Hence in rare cases where the matter goes all the way to trial, there are hardly sufficient judicial precedents to rely on.
You mentioned earlier that you serve clients in all thirty-six states.
Yes. Thanks to Nigeria legal system and Judicial procedure, a lawyer in Nigeria can practice in any part of Nigeria. My Job takes me around the Country (and I hope someday beyond). We attend to clients at any location within Nigeria. When clients can take care of my travelling expenses, I fly to their cities to see them and we have our business at my colleagues' offices.
Are you surprised at how little or much your clients know about Immigration law?
Not at all; Immigration law practice is still a grey area of practice. I was fortunate to stumble into it myself. Its sounds alien when I discuss it with my colleagues. Apart from a few firms in Lagos I am not sure there are firms in other jurisdiction who engage in it. Imagine how many countries there are. Through this job, I have learned a lot and I am still learning.
What does an Immigration lawyer do?
I am sure not a lot of people know that travelling across border is actually a right not a privilege. Let me not bore your readers with sections of UN Treaties and African Charters on Human right and other citations that uphold these rights.
In summary; A country cannot close its borders from entry to citizens of other territories. There are exceptions though.
I run an Immigration Consultancy Firm. We attend to Immigration issues bothering on;
Permanent migrants i.e spouses, children, parents etc. who seeks to join families overseas across border or regularize foreigners already in the country. Temporary Migrants which includes International Students, Work permits (eg Canada Federal Skill migrant scheme, for professional migrants) etc. My firm is also an International Education facilitator. We work with schools in Europe, United States, Canada, Australia, Malaysia etc. Then we have our cluster clientele: the short time Visitors. Tourist, family visitors, Medicals Visitors etc.
It is quite an interesting job. You will be amazed at the volume of immigration cases there are out there.
In addition to the above, we also organize trainings and seminars. News are often reported about mangled dead bodies found in international flights tire compartments. Some lose their lives at Sahara Desert or at sea all in desperate attempt to illegally migrate in quest for greener pasture. In the later instance. loved ones are saddled with the agony of not knowing for sure what happened to their wards. Pain they will be forced to endure to their graves. Those who promote this inhuman practices for profit will never inform their clients on the risks involved. Through these seminars we educate the youth on the dangers of illegal migration. We also create awareness on Human trafficking. We hope to attract the government and multi-national companies and concerned individuals to get involved and sponsor some of these programs.
We also offer professional advisory services. This is very important, especially since countries keep reviewing their immigration rules and regulations to protect their borders against economic migrants and terrorists. Before anyone thinks of traveling, it is important to seek professional guidance.
We give packaging assistance; a lot of immigration process / application is done online and not many people know their way around the internet nor have the patience to be bothered with it, and the question may be a bit technical, so we do the actually application for clients who retain us to do so.
We also represent clients on appeals (via paper litigation) for clients who have been wrongfully refused. We prepare ground of appeal, witness statement(s) etc.
Further, we offer International Investors legal assistance through our partnership with other law firms abroad. We can help a client secure an investment abroad, or a foreigner secure investments here (Nigeria).
What is the most fulfilling case you have handled?
As a rule, I do not take on any case I am not passionate about. It is my passion that propels me to give my best. In my immigration practice however, one particular case comes to mind though. Client was a 17-year old boy. He lost his mother at a young age. His mother was never married to the father. He was raised by his maternal grandmother who also later became deceased. His father was a Nigerian / Belgian permanently resident in Belgium and he wanted our client to join him. There were a lot of documentary challenges. Initially it looked like a hopeless case. Our young client, without assistance (other than professional fee his father paid to the firm), did all his best to assemble necessary documentation. He made several trips from Edo (where he is based) to Lagos (our firm). The package took about 6 months to tidy up and another 6 months in the embassy. I was gearing up for appeals when the documents came out and his application was granted. It was not the hardest case but the case was fulfilling for me because in the course of packaging Jesse's application I got to learn of his life story. He had had a difficult life and I felt that he deserved a break. I was very happy he got his visa. He is doing very well in Belgium now.
I share your joy. I do find too that the cases we tend to love the most are not the ones we made most money from but the ones we helped our clients get life-changing resolutions. Given your diverse practice, have you noticed any dissimilarity between Immigration Law and other areas of law practice?
First, one of the most popular Principle in criminal law, for example, is that a person is 'innocent until proven guilty'. In Immigration law the reverse is the case. In Immigration Law, it is an applicant's duty to prove that his/her purpose is genuine before his/her request is granted. In other words, you are considered an Economic Migrant (especially if you are applying from an undeveloped country to a developed country) until evidence proves otherwise.
Second, Immigration law is not guided by Precedence. Even where two clients have the same immigration challenges, solutions are rarely the same. Every application is unique to the applicant's personal and economic circumstances.
Lagos State government recently uploaded the State Laws on the internet but requires people to make a certain payment before accessing them. What is your take on this? Shouldn't people know, say the Criminal Code, without having to buy them, in order not to break the law.
I have always been of the opinion that basic laws (criminal law and fundamental human right) should be introduced as subjects is senior secondary schools and that such laws be also made available to the masses especially since ignorance of the law is not a defence. Take this yahoo yahoo thing for example, a lot of youths who engage in it do it for the fun of it as much as for the money. They are ignorant of the fact that they are committing a felony and the penalty it attracts. But the Government as usual is focused on generating revenue at the expense of the masses' welfare.
The National Assembly did not pass the Gender Equality Bill that was presented before it earlier this year. What effect do you think passing this law would have had on women's right?
I have not read the bill though but I do not think it will have any substantive effect on women's right. I am not aware of any law that is specifically discriminatory against women. The constitution provided for Fundamental HUMAN rights. The Criminal Code did not segregate crimes or penalties on gender. I am indifferent to the bill just like am indifferent to the bill on domestic violence (when the criminal code has amply provided laws against physical and non-physical violence). I am indifferent to these laws and bills focusing on women simply because I think they amount to proliferation of laws. If we women are serious about our rights, we should stop expecting special treatment. It is you constitutionally giving right to challenge any law or practice that you feel is discriminatory towards you on basis of your gender. Any woman who seeks to challenge such laws or practice will have my support pro bono.
So if someone wants to apply for visitors' visa to U.S. are you able to do that?
Yes. Like I said the bulk of our clients falls in the Visitors (short time travelers) category. We also serve clients who wish to travel to Canada, Australia, Europe etc.
Where can people get information and resources about Maritime Laws and Immigration Laws in Nigeria?
There are plethora of books and legislations on Maritime: NIMASA ACT 2007, Sabotage Act etc. For Immigration law, it is the Immigration rules and regulation of the country a client is seeking entry to that we rely on.
You do a little bit of Maritime law. What is the relationship between depreciation of the naira and importation?
The naira depreciation is as a result of Nigeria's heavy reliance on importation. Nigeria imports almost everything because we are consumers. If importation reduces the Naira will appreciate.
What are your other interests, besides Law?
I write poems. I am also considering venturing into agriculture and my long term goal is to run a farm and get to finally call myself a farmer. Nothing says humanity than farming. I am doing some background research on animal farming and my area of interest is fishing and poultry.
I enjoyed this interview and I learned quite a lot. I believe some readers will be thrilled by the legal knowledge you have so generously given away freely. How may people contact you if they have further questions?
Our official website will be launched soon. In the interim I can be contacted Via Phone +234 8129375453, and/or email: measchika@yahoo.com.
Thank you very much for granting this interview, Chika.
You are most welcome, Anne, and thanks again for having me.
Popular in the Community