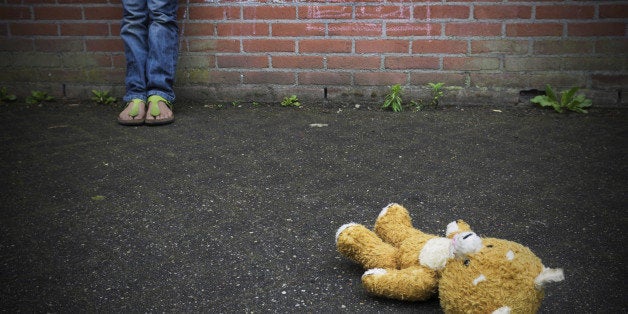 The Miami Herald series entitled "Innocents Lost" deserves a Pulitzer Prize for its investigation into 477 deaths of children that were a part of the child welfare system in the State of Florida over the past six years. More than 70 percent of the children who died were two years old or younger and completely defenseless.
The series reinforces two critical but basic responsibilities that we, as a society, owe children facing abuse and neglect:
First, we must strengthen families by preventing abuse and neglect whenever possible.
Second, we must take swift but thoughtful action that gives children the best possible chance to grow up in a safe, stable, loving and supportive permanent home.
The series also highlights another critical fact: money matters and the lives of our nation's most vulnerable children cannot be protected on the cheap.
...All children need family. Removing children from their parents' care should only be considered as a last resort when all reasonable efforts have been made to support parents to safely care for their children.
However, as the Miami Herald documents, Florida embraced "family preservation" on the cheap. While the number of children in foster care dropped from 30,200 to 18,185 during a period that featured the Great Recession and increased family stress and difficulties, the state simultaneously and tragically slashed family monitoring and support services, resulting in more children left with substance abusing, neglectful, and violent parents. Tough times are the most important times to protect children, but Florida (and as noted later, the federal government) took the opposite approach during the last few years.
According to Audra D.S. Burch and Carol Marbin Miller of the Miami Herald, while Florida's overall state spending increased by $10 billion from 2005 to 2013, child welfare funding was cut by the Legislature by $80 million and grew to $100 million after Governor Rick Scott's vetoes last year. And, while "either drugs or alcohol came up in 323 of the child deaths," the state also "reduced funding for drug treatment."
Although foster care is expensive, the fact is that keeping families together, or supporting children in adoptive placements, also carry costs, if done correctly. Where Florida failed was that it divested in both foster care and family preservation supports, including family therapy, substance abuse counseling and the close monitoring of families on the edge of economic and personal crisis.
Rather than ask a judge to order parents' cooperation with services and supervision, [Department of Children and Families] often has troubled parents sign "safety plans" -- words scrawled on a form, sometimes illegibly -- pledging to become better parents. Many times, the promises are broken, and with fatal consequences.

In at least 83 cases over the past six years, children whose parents signed at least one such written promise died. But DCF continues to rely on the documents.
Nobody should accept this outcome, and yet, it gets worse. In 49 of the deaths, the Miami Herald documented cases where investigators for the Florida Department for Children and Families (DCF), doctors, and even judges urged the removal of children from a home, but were stymied by agency lawyers or the Attorney General's office from taking action because lawyers argued there was a lack of "legal sufficiency" to overcome the presumption of "parental rights."
Supporters of the "parental rights movement" should recognize that, while parental rights are important and we must avoid inappropriate removal of children from families, we must recognize and respect that children have rights too. Failure to do so clearly results in tragic and deadly consequences.
As Carolyn Lapsley, deputy commissioner for Children & Family Services for the Alabama Department of Human Resources, said to the Miami Herald, "Child safety trumps everything. We don't have a separate family preservation policy -- that is woven throughout our approach.''
There are solutions, such as this approach by Alabama. In addition, the Miami Herald cites a number of additional recommendations, including "fixing safety plans to require making them verifiable, which means mandating drug tests, having caseworkers make unannounced visits to the home, and other follow-ups" and to "enshrine in state law that when rights of parents clash with efforts to safeguard their children, the child's safety is paramount."
Furthermore, as the Miami Herald writes and we at First Focus support:
Advocates have argued, children should be entitled to the representation of a lawyer when they enter the child welfare court system. When a child is removed from his or her parents, or when DCF asks a judge to order parents to accept help from the state, the children are the only party to the litigation who do not have the right to a lawyer.
Other important recommendations include improving transparency and providing increased salaries, training, resources and oversight for child welfare investigators.
In short, we know how to make progress and should commit to building on what works and to fix what does not. For example, at First Focus, in partnership with a number of national and state advocates for children and with support from the Annie E. Casey Foundation and the Jim Casey Foundation, we have developed the State Policy Advocacy and Reform Center (SPARC). Our goal is to create stronger advocates, better policies, and improved child well-being and outcomes. Information on a number of important issues related to child welfare can be found on the SPARC website.
But it is critical to note that states are not alone in this effort to protect vulnerable children. Unfortunately, at the federal level, funding has also been in sharp decline. According to data from First Focus' Children's Budget 2013, since 2009, funding for Payments to States for Foster Care have declined by 17 percent, funding for Promoting Safe and Stable Families has declined by 13 percent, funding for Abandoned Infant Assistance has been cut by 15 percent, and funding for Child Abuse and Treatment Act Programs have been cut by 27 percent. While there have been bright spots, such as increased spending for Kinship Guardianship in recent years, overall funding to address child abuse and neglect has declined by 12 percent since 2009 -- right in the midst of the last recession when kids need protection the most.
Federal action is desperately needed to improve child welfare financing and supports or the system will continue to falter. As the Annie E. Casey Foundation and Jim Casey Foundation point out:
Without action, systemic problems will only worsen, perpetuating inefficiencies in the system and denying children and families better opportunities to succeed. States receive federal reimbursement for fewer children in foster care each year. In addition, threats to key federal funding sources upon which state child welfare agencies rely make the potential impact of not passing comprehensive finance reform far worse than living with the unacceptable status quo. Until federal financing and desired goals are better aligned, sustained progress on improving outcomes for vulnerable children and families will remain difficult for states to achieve.
The financing proposal they put forth is intended to promote best practices in the following four areas:
Permanence and well-being, including reduced reliance on shelter and group care and time limits on foster care.
Quality family foster care, resulting from improvements to kinship licensing, targeted foster family recruitment to care for teens and better support for foster families.
Capable, supported child welfare workforce, improvements achieved by supporting training and skill development, encouraging solid casework and family engagement, reducing administrative burden and improving workforce retention.
Better access to services, with a focus on increased access to and accountability for social and therapeutic services.
According to the Annie E. Casey Foundation and the Jim Casey Foundation in their Infographic entitled "The Cost of Doing Nothing", we really can't afford to wait for action at the federal level because the trajectory in funding and support is on a pathway for continued decline. As they point out, if we fail to act to change our "antiquated federal financing system for child welfare":
Less support will be available to states to care for vulnerable children and families; and,
Federal support for the child welfare workforce will continue to decline.
I would go further and argue that the consequences of inaction, as highlighted in the Miami Herald series, can be horribly tragic and even deadly.
Our choice is clear: either more children will be lost due to parental and societal neglect and inaction or we can build a system that reflects our values, where all kids are protected and safe and have a chance to reach their full potential.
Popular in the Community