The Child and Youth Finance global Movement was launched in 2012 as a way to empower, include and educate children and youth all over the world to a life free from poverty and financial instability.
We want to ensure that youngsters of today grow up to be confident and responsible adults that believe in themselves and in the world around them. Since the launch, our partners around the world, been able to reach 18 million children and youth in 125 countries -- a wonderful success! -- with this cause.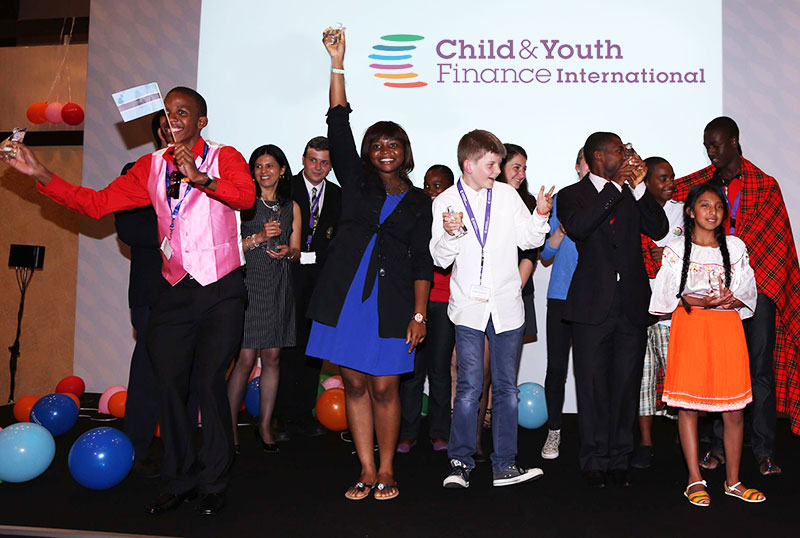 Celebrating the Movement success during CYFI Summit 2013 in Istanbul, Turkey.
However, my work with children began much earlier than this. I started up my first organization to help children with math at age 16. After a few years I started working with Indian street children, this led to the start of ChildLine -- a 24/7 help line for children that eventually spread to 146 countries. In my work I started to see a pattern of the children and youth I worked to help.
They often came from families with financial troubles, be it poverty or debt. I realized that there is a need to educate children, and make sure that they are financially literate in order to give them the opportunity for a bright future, and keep them out of the troubles that come along with a financially unstable life. This was the idea that gave life to the Child and Youth Finance Movement. And we started focusing on how we can give the adults of tomorrow the knowledge, but also the skills and self-confidence to inspire them to convert their knowledge into action, based on good and sustainable values. One important aspect of this, we found, is financial inclusion and access to a savings account.
When I started approaching banks and financial institutions about offering saving accounts for children and youth, I was met with people showing me the door, or at best I was politely denied. During the short life of the Child and Youth Finance Movement, this has changed. We are making small steps towards making financial institutions realize the value to include children and youth in their services, in order to make sure that they know and realize the responsibilities and opportunities that come along with it. They are after all the people who will set the financial environment of the future.
These steps are being taken all over the world, and one way of keeping sure we keep on walking in the right direction is via the Movements Regional Meetings. The Second CYFI Regional Meeting for the Americas and the Caribbean in Bogotá, Colombia is a proof of such progress. The meeting was held together with the Fourth Latin American Congress of Financial Education by FELABAN, and ASOBANCARIA. With the collaboration between FELABAN, ASOBANCARIA and Child and Youth Finance, this unique meeting is 2013's biggest event dedicated to youth financial education in the region.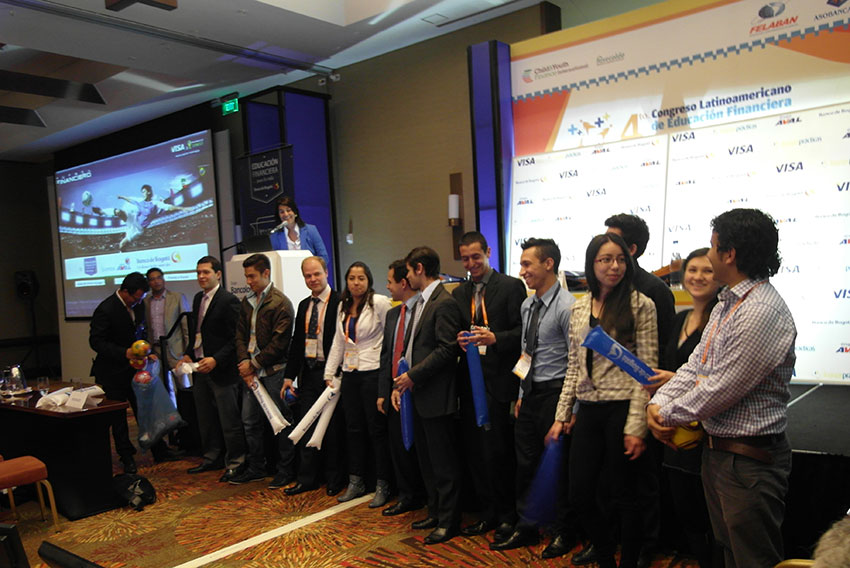 Financial Football in Bogotá, Colombia
The meeting also gave children and youth the opportunity to express their own opinions and needs to the attending high level policy makers and leaders. As the bankers and policymakers enjoyed a game of financial football with the youngsters at the meeting, the days of shut doors seems much further away.
The Child and Youth Finance Movement is currently also represented at the Microcredit Summit Campaign and Summit 'Partnerships Against Poverty' in Manila, Philippines. It is a great opportunity for us to learn more about how microfinance can be used to ensure financial inclusion for children and youth.
You see, much like the savings accounts a couple of years back, this far microfinance has mainly focused on adults and the role of children and youth have often been missing in microfinance initiates and discussions. During the Summit, The Movement got the privilege to hold a workshop on how microfinance can be made more inclusive to children and youth, and be a part of enabling them to break out of cycles of poverty and indebtedness.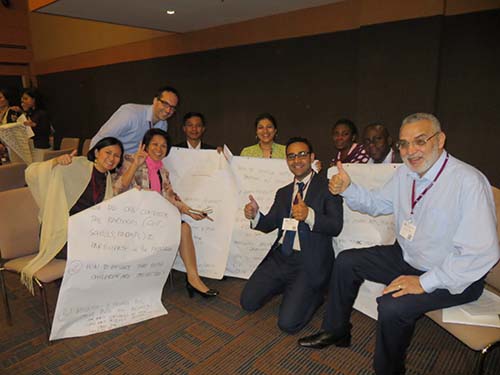 Workshop on Youth Inclusive Microfinance in Manila, Philippines
A big step to further such initiatives the Child and Youth Finance Movement is now entering a partnership with Microcredit Summit Campaign, that similarly to the Movement convenes a broad array of actors involved with microfinance to promote and share best practices and knowledge in the field and to work towards fight world poverty through microfinance.
Together we hope to bring microfinance as well as confidence, knowledge and skills as a way for children, youth and their families to rise out poverty and towards a financially stable and secure future.
Over the coming weeks we have the privilege to blog on behalf of the Child and Youth Finance Movement, here at The Huffington Post. This amazing opportunity is a part of the Skoll Foundation Social Entrepreneur Challenge, where we are participating with our own fundraiser. During the weeks we will talk about the issues we are trying to tackle, including youth unemployment, technology solutions for financial inclusions, the need for Child & Youth Finance in developing countries and more.
Popular in the Community