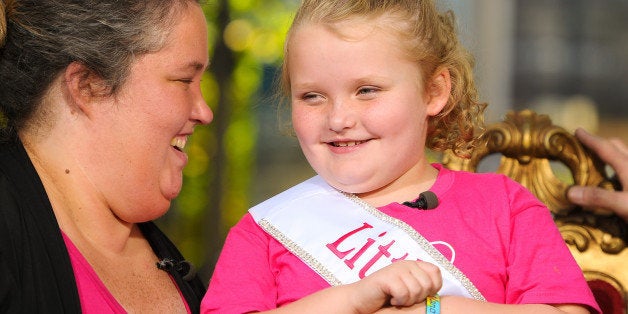 Only quite recently, to my horror, I discovered that there's a show titled, "Here comes Honey Boo Boo." I've heard about Honey Boo Boo, all those infamous quotes and pictures, but I had no idea that she had her own reality show.
This got me thinking. Why are child beauty pageants acceptable in society? Why are these television programs being aired to millions? Some entertained viewers may argue, "What's wrong with children being dressed up?" They may also ask, "Isn't it like any other competitive sport?"
Well, quite frankly, I don't see how it's excusable for girls as young as three to be sexualized and have their parents spend thousands of dollars on clothes, including bikinis, spray tans and even worse, fake teeth. (Yet, funnily enough, the only people I've heard of getting fake teeth are older people.) There's this whole intention to make toddlers look years beyond their age. One of the worst cases I heard was a mother giving botox to her eight year old daughter. Re-read that line. Eight years old.
While there are many prizes to take home, such as cars to holidays, children are receiving pressure from their parents and could quite possibly be losing their childhood. Instead of having play-dates, they're facing the pressure to win. I ask: Don't teenage girls already have enough pressure? Like most other teenagers, I have had a phase of being self-conscious. I wondered what the ideal appearance and body looked like. I compared myself to these celebrities who deceptively look flawless all the time. Child beauty pageants are basically sending a fallacious, inappropriate message to other children on how to look good, instead of actually emphasizing that what counts is on the inside.
Does attractiveness really define a person? In order to be successful and filled with happiness in life, do you need to be awarded as the most beautiful person? If I had to propose a solution, I would say to simply raise the age limit for child beauty pageants, or get rid of them all. Yes, some toddlers want to do beauty pageants, but are they mature enough to make that decision?
Instead of beauty pageants, why not try dancing or singing? Those activities allow a child to gain more self-esteem and even some discipline, but without reinforcing unattainable standards of beauty.
REAL LIFE. REAL NEWS. REAL VOICES.
Help us tell more of the stories that matter from voices that too often remain unheard.