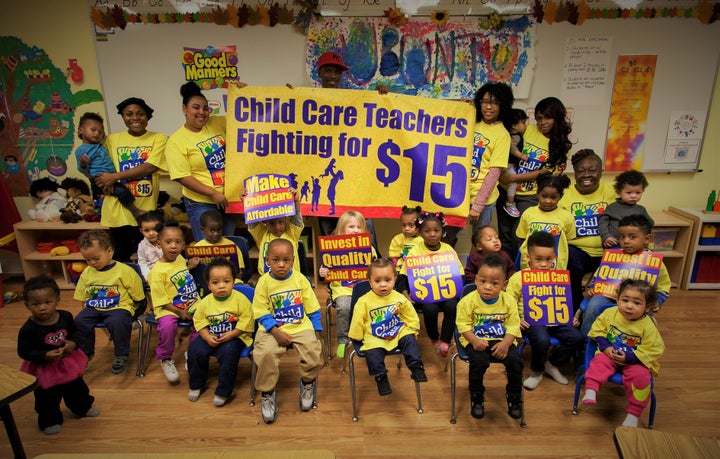 It was a triumphant day for low-wage workers' Fight for $15 campaign. Hundreds of marches in cities across the country on Tuesday were rewarded with major, day-of policy announcements and even a question at the Republican presidential debate.
But what may have gotten missed within the ranks of a fast-food worker-dominated movement is a rising contingent of child care workers demanding dignity as well.
Dozens of child care workers and the families they serve joined other low-wage workers in Fight for $15 marches, arguing that the well-being of American children is at stake in their struggle for higher wages and union representation.
The caregivers and their supporters call their particular crusade the "Child Care Fight For $15." In cities like Chicago, Detroit and Atlanta, they walked out of work to advocate for a union and a $15 per hour minimum wage. The entire workforce of at least six child care centers in Chicago participated in the protest, prompting four of those centers to close for the day, the SEIU-backed Fight for $15 reported.
The workers said their low pay and lack of benefits affect the children they supervise and instruct.
LiAnn Flakes, who cares for infants and toddlers in a Head Start-funded care center in Tampa, Florida, marched with fellow low-income workers to Tampa City Hall and other public institutions on Tuesday. After working as a child care provider for 22 years, she recently got a raise to $12.50 an hour. It's still not enough to make ends meet.
Flakes said a raise would make her a "more effective" caretaker and teacher. She'd have more money to spend on her ongoing professional training and supplies for her day care room -- expenses she already pays for using her own income.
"It is difficult," she said. "I believe in giving my job 110 percent."
Flakes' employer does not provide health insurance, and she can't afford to buy it on her own, so she goes without coverage. For a time, she bought coverage through a plan on the Affordable Care Act exchange, but found the monthly premiums too onerous.
Since Flakes doesn't have insurance, her asthma often lands her in the emergency room, sidelining her from the job she loves.
"I spend a lot of time ill, because I am not able to get the medical care I need, because I cannot afford it," she said. Flakes estimated that she owes $11,000 in outstanding hospital bills as a result.
All of the groups responsible for funding professional child care centers -- the federal government, state governments and the private sector -- can afford to pay child care workers $15 an hour, Flakes said.
"We're doing what's required of us," she said. "They should do what is required of them."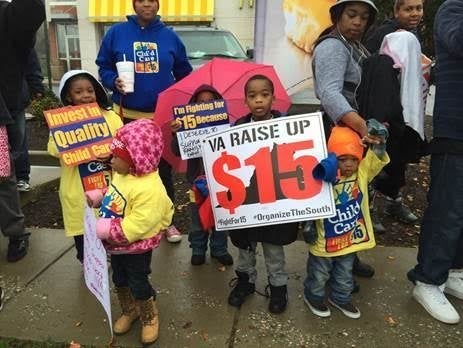 Child care workers are among the country's lowest-paid workers, despite the fact that the cost of child care services is prohibitively expensive for the typical American family. The median wage for child care workers is nearly 40 percent below the median wage for workers in other fields, according to an analysis by the Economic Policy Institute that was released last Thursday.
As a result, the percentage of child care workers living below the federal poverty level is more than twice the percentage of those in other fields. According to EPI's report, 14.7 percent of child care workers live in poverty, versus 6.7 percent of other workers.
The majority of the child care workers who demonstrated on Tuesday are employed by care centers that rely on federal or state government funding, either directly or indirectly through payment assistance for low-income parents.
In fact, because the state and federal governments provide the lion's share of many of these child care centers' funding -- funding that helps to cover workers' salaries -- child care center owners are among the Child Care Fight For $15's staunchest backers. Some owners joined their employees at demonstrations on Tuesday.
Edie Reichard, director of the state-funded Sleeping Giant Day Care in Hamden, Connecticut, spoke on a public panel sponsored by the Fight for $15 on Tuesday and testified to Connecticut's newly established Low Wage Employer Board, a state government body designed to make recommendations to the legislature on challenges facing low-wage workers. She vehemently supports workers' demand for a $15 minimum wage.
Connecticut provides Sleeping Giant Day Care with a grant of $8,000 per child, Reichard said. That allows her to pay her teachers $13-$14 an hour, and her teaching assistants $12 an hour. State funding per child would have to double to enable her to pay her employees at least $15 an hour, she estimated.
Meanwhile, there is a high turnover rate for teaching assistants at her care center because of the relatively low pay, Reichard said. Teaching assistants who have kids often miss work, since they can't afford child care for their own school-age children.
Reichard became active in the Fight for $15 after the Connecticut chapter of SEIU asked owners of publicly-funded child care centers to get involved, citing their shared interests.
Like SEIU, which is funding and organizing the Fight for $15, the care center owners want the state to increase payments to child care centers, which they say will allow centers to pay workers at least $15 an hour.
But Reichard's alliance with the SEIU-backed campaign has its limits. While she supports workers' demands for $15 an hour, she does not support their efforts to unionize, a key component of the Fight for $15's demands. Her child care center couldn't afford to manage collective bargaining with a union, she said.
She stopped short of saying she would actively oppose a union-organizing drive if it were to gather steam.
"I am not really sure," Reichard said. "I am kind of neutral on it."
CORRECTION: An earlier version of this story stated that Reichard was unable to participate in any Fight for $15 protests. In fact, she was unable to join a local strike line, but she participated in official events.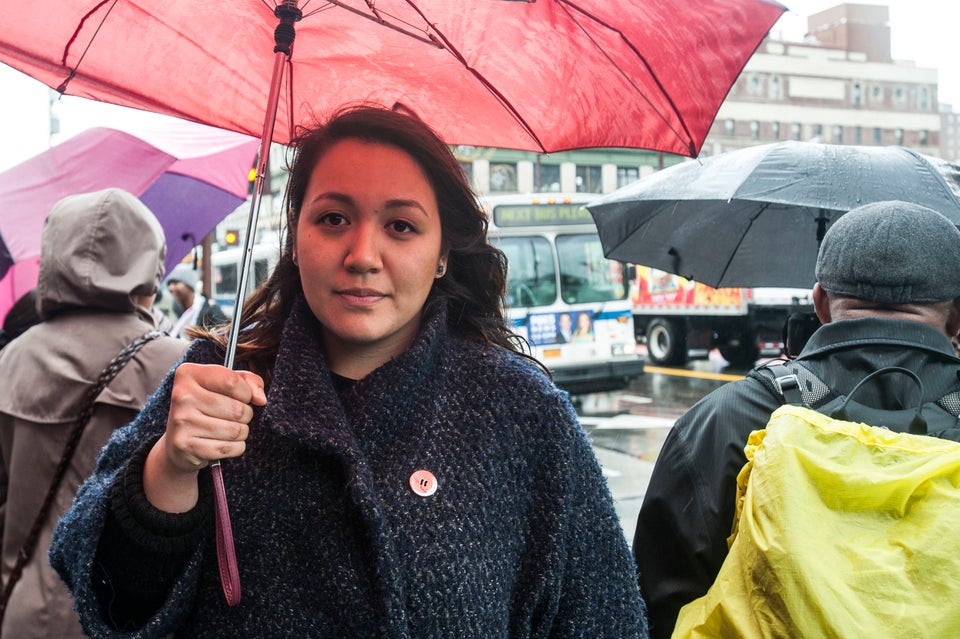 The Faces of the Fight for 15 Movement
Related
Popular in the Community