Video footage of a migrant mother being reunited with her toddler son after more than three months apart illustrates how the child and others like him have been harmed by their sudden, extended separation from their parents, according to developmental experts.
The last time the 3-year-old boy in the video had seen a parent in person was in April, shortly after he had arrived in the U.S. from Honduras with his father, who was presenting them both for asylum in Texas.
Ever Reyes-Mejia told the ACLU of Texas that his son was sleeping on the floor of a detention center when officials told Reyes-Mejia to see an immigration judge and fill out some forms. Reyes-Mejia asked if he should wake his child, but was told the interruption would be quick and that he should leave the boy sleeping.
When Reyes-Mejia returned, his son was gone.
Reyes-Mejia later found out that his child had been flown from Texas to Michigan, where he was taken into foster care. And when Reyes-Mejia was able to call his child on the phone, the boy was so angry that he refused to speak.
Father and son were finally reunited on July 10 in an ICE office in Michigan, two weeks after a federal judge in San Diego ordered an immediate stop to the border separations and fast-tracked reunification for children and parents, prioritizing kids under five years old.
Reyes-Mejia and his son then boarded a plane to reunite with the boy's mother and infant sister in Houston, who had also just been released from detention after applying for asylum.
The video depicts this second reunion.
Chandra Ghosh, an expert in early childhood trauma and the associate director of the Child Trauma Research Program at the University of California, San Francisco, says that while we don't know details about how close the parents were to the child before the separation, the video makes it clear that the toddler is in distress at the airport ― likely from the extended separation and the number of people crowding around him.
"What you can see is that you have a child in distress and a parent in distress," she said to HuffPost after viewing the video of the reunion. "And you can see that from the way that he's arching and pushing back."
Ghosh also noted the mother's intense emotional reaction and her despair and confusion that her son isn't returning her embrace and affection.
"While it makes complete sense that the grown-ups who have worked so hard would be imagining a kind of joyful reunion, for him, this is the time to push back and fall apart a little bit," said Ghosh.
The child may not have all the verbal skills he needs to put his emotions into words and sentences, Ghosh continued. But with his actions, he is communicating.
"When he's pushing away and leaving her, he is communicating to her," Ghosh said. "He's communicating both his distress, that it's not OK, and that he needs her to woo him."
Mary Beth Steinfeld, a pediatrician who specializes in child development at the University of California, Davis MIND Institute, had similar observations after viewing the short video clip.
"Some children do initially avoid parents after a separation ― as if they are 'mad' at them," Steinfeld said.
"Imagine for yourself if someone you love makes you mad and you can't talk," she continued. "You need to think about how you are going to manage your strong emotions ― she hasn't been there to comfort him for three months."
These child development experts were in no way blaming the parents for what had happened to their family. But generally, parents are their children's whole world. And when parents are taken away, for whatever reason, the child has to cope with overwhelming feelings of loss and insecurity.
Steinfeld pointed out that this video depicts just a moment in time ― and that this doesn't mean that the parent-child bond has been irreparably damaged. However, the young child does need time to get reacquainted with his parents and learn how to trust them again.
Ghosh also emphasized that mental health help for the parents is paramount after an experience like this. For the child to heal, the parents need to heal as well.
"What can make it even worse is that what happened clearly was traumatizing for the parents," she said. "In order to safeguard the kid's mental health, the caregivers are going to need mental health support and treatment."
"This family may benefit from parent-child psychotherapeutic support, and the child may display a confusing range of behaviors for some period of time, including rejection, withdrawal on the one hand or extreme separation anxiety and distress on the other hand," said Sarah Enos Watamura, a developmental psychologist who researches stress and health at the University of Denver.
All three experts agreed that any family directly affected by the Trump administration's zero-tolerance immigration policy, all likely need some level of therapy and emotional support, preferably from experts in early childhood development. Ghosh said that the U.S. government should be responsible for providing that help.
In all, more than 2,500 children were separated unexpectedly from their parents at the U.S.-Mexico border as a result of the Trump administration policy. And despite the federal court order to reunite them all by July 26, more than 500 children are still being kept from their families, according to the most recent status report from the federal government.
Related
Before You Go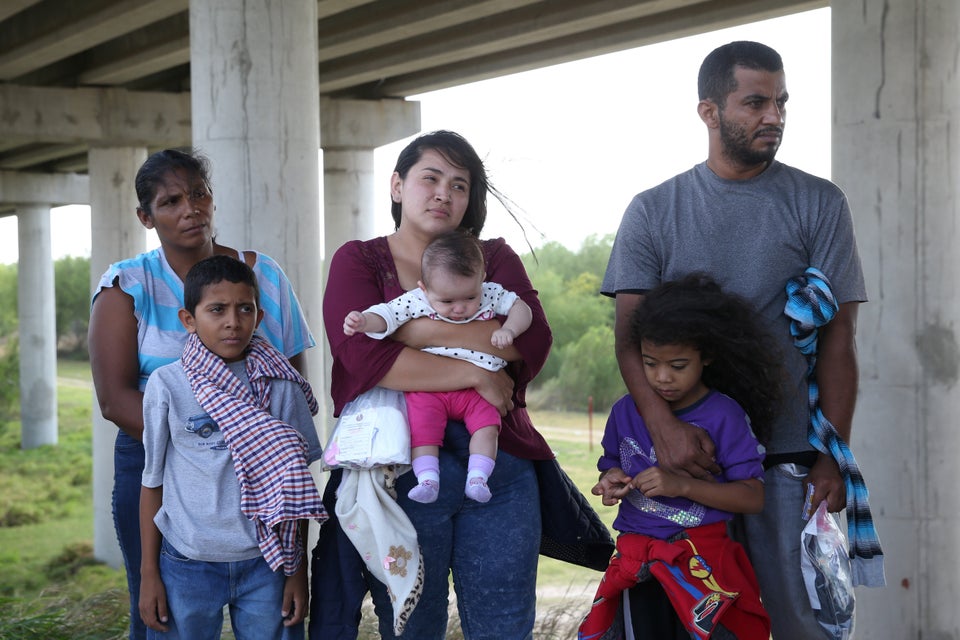 Immigrant Families At The U.S.-Mexico Border