Parents worried about the whereabouts of their children may soon have their fears alleviated by a new wearable GPS device designed specifically for youngsters.
The folks at the tech startup hereO have designed miniature watches intact with what they're calling "the world's smallest real-time cellular-connected GPS tracking device." The gadget is intended for children too young to have a cell phone.
Here's how it works: The watch's internal GPS system is connected to the hereO smartphone app, which shows parents where their children are in real-time. There is also a built-in alert system, which sends a mobile notification to let parents know when their child leaves a frequently visited location, such as school.
HereO founder and president Daniel Ivesha told The Huffington Post the idea for the watch -- designed with help from kids -- grew from a momentary bout of panic after he lost his niece in a crowded street fair in London. He said he watched his brother use a child-tracking GPS system for BlackBerry.
"Over 900,000 people report children missing each year, usually it's a kid that just gets lost or strays and that's an issue I tried to solve," Ivesha told HuffPost. "Using this technology we can solve most of these cases when the kid gets lost, we even hope to solve the more extreme cases of kidnapping by disguising the system as a watch."
(Story continues below)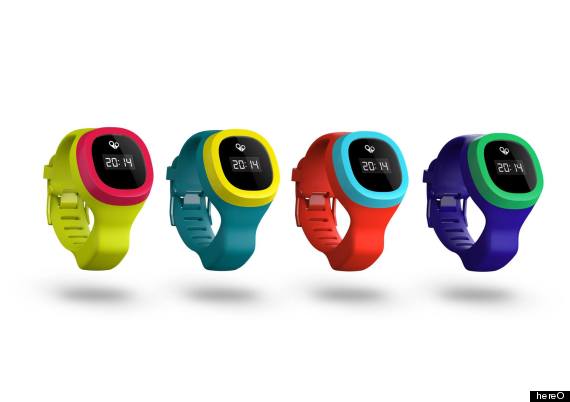 Ivesha said the cool color options and the product's tailored fit for kids ages 3-8 have made the watch a likable accessory that encourages family communication. Although he has received some complaints about the Big Brother aspect of the product, he explained the company is simply doing something positive with the technology.
"For most of those kids we met, especially nervous about going to school for the first time, we tell them we have a special watch that lets mom know where they are," Ivesha said.
The watch is slated to hit major retailers in September. In the meantime, interested consumers can order it online for $99, thanks to a promotional early bird special with the company's indiegogo campaign. Ultimately, hereO hopes to sell the watches for $149 (plus a $5 per month subscription to the watch app).
The hereO watch isn't the first GPS tracking system for kids, but its affordable price tag and wearable appeal make it a viable market competitor. Other child-tracking systems include the eZoom, which can be placed in a child's backpack. Similarly, the Amber Alert GPS is a portable safety device that both keeps tabs on children and alerts parents when they come within 500 feet of a registered sex offender's house, according to Mashable.