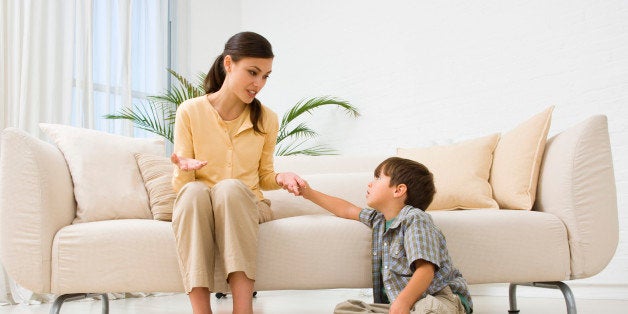 What can I do about my 7 year old? He lies to me about the silliest things. He knows he can't have food in his room but I find proof that he takes snacks in there and then he lies when I confront him.
When faced with a behavior in our child that we don't like, my advice is to ask this question: Why does this behavior make sense? I don't mean to suggest we should allow misbehavior to continue. But rather than looking for the best punishment to use when a child has disobeyed, it is best to look at what the child is gaining from problematic behavior so we can address it at its root.
When a child lies, it might be that he desperately wants something; in your son's case, perhaps he wants a snack that he isn't allowed to have. Or it could be a way of having some control over his life if he feels generally powerless.
Sometimes a child lies because when something is tempting, his ability to manage the urge is greater than his capacity to exercise restraint or follow the rules. Finally, there are kids who lose themselves so completely in their version of the truth that they actually believe the fable they're offering you.
So it is important to see lying as a symptom, rather than a willful decision to be defiant or dishonest with you--even if that's what it looks like on the surface.
Don't focus on trying to get your son to admit he's lied; that will only teach him to try harder not to get caught. Instead, create a safe space for him to speak truthfully. Be that calm Captain of the ship I talk about, helping him solve the problem you identify rather than taking his behavior personally and punishing him to keep him in line.
Mom: "Honey, I found cookie crumbs by your bed."
Son: "I dunno how they got there. I didn't eat in there."
Mom: (Not confronting him directly.) "Any idea why dad and I don't want you to eat in your room?"
Son: "I don't eat in my room, Mommy!"
Mom: "Yes, I heard you tell me that. And I wonder if you wish you could eat in your room."
Son: "Sam and Jeffrey always get to eat in their rooms. Their moms let them."
Mom: "Maybe it doesn't seem fair that you don't always get to do what they do...."

Son: "I don't like your rules. I wish you were like their moms. Your rules are mean."

Mom: "It's not so fun when you want something and I don't let you have it..."
Son: (starting to cry) "It's not fair... I wanted those new cookies and I knew you wouldn't let me have them before dinner so I took some to my room..."
Rather than trying to humiliate a child to extract a confession, the goal is to address the source of the problem. In this case, the child has been harboring frustration over rules in general, especially when compared with his buddies. By helping him feel understood, we have a better chance of enlisting his cooperation wit without compromising the feeling of closeness and connection with us that ultimately motivates kids to try their best.
There may be a related consequence of bedroom cookie-eating like a thorough vacuuming, but because you've addressed the issue from connection rather than anger, you'll generally find your little guy trying harder to do what he's been asked.