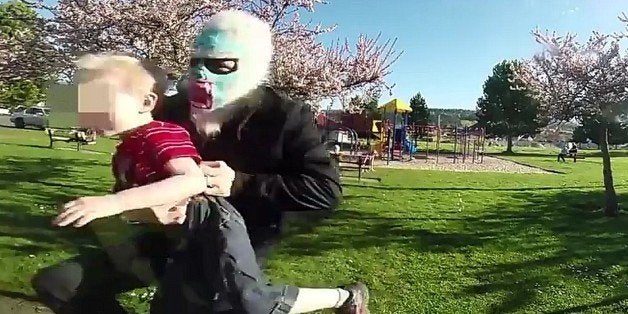 Authorities have filed charges against the twin brothers who staged a fake child abduction at a Washington state park.
Brothers Jeremy and Jason Holden, both 25, were charged Monday with disorderly conduct for the incident, which occurred at Carrie Blake Park in Sequim, Washington, on April 12.
"We're pretty surprised by the charges," Jeremy Holden told The Huffington Post on Wednesday.
The Holden brothers made national headlines when they created a video of the fake abduction and posted it to their "TwinzTV" YouTube channel.
The video shows two masked men pull up to a park as children and unwitting parents relax and frolic about. Moments later, the splendor of the day turns to chaos, when one of the masked men exits the van and runs toward a boy sitting on a bench. Within seconds, the man has the boy in his arms and is back in the van as it speeds down the road, with concerned citizens chasing after it.
Jeremy Holden said he and his brother drove around the block before returning to the scene, where they were met by a group of furious parents and onlookers.
"This is outrageous," one woman yelled after the brothers told her the kidnapping was staged.
"How the f--- would you feel if that happened to you?" another shouted.
WATCH THE VIDEO: (Story Continues Below)
Authorities were called to the scene, but charges were not immediately filed against the brothers, who claim they notified police prior to making the video.
The brothers also claim the video was not a prank, but was to help raise awareness about child abduction. The child in the video is their nephew, Jeremy Holden said.
Sequim City Attorney Craig Ritchie was unavailable for comment Wednesday morning. Speaking with Peninsula Daily News on Tuesday, he said the delay in filing the charges was a result of his recent vacation to Alaska and also the time needed by police to track down witnesses.
"For a disorderly conduct charge, I have to be able to prove that people were upset and scared and frightened -- and disturbed and I have that now," Ritchie told the newspaper.
The charge the brothers face is a gross misdemeanor, meaning they could each face up to one year in prison and a $5,000 fine, the Peninsula Daily News reported.
Regardless of the outcome, Jeremy Holden said the charges would not prevent him and his brother from making additional videos for YouTube.
"No, we're still making videos," he said. "We uploaded one the other day and are uploading another today."