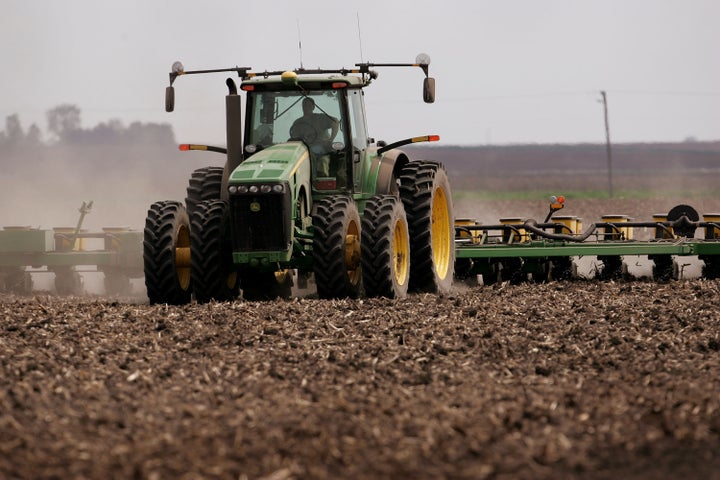 WASHINGTON -- Last week, two 17 year olds were critically injured in Oklahoma when they were pulled into a grain augur while on the job. Responders had to cut the augur to free the boys, who were flown to a hospital with severe leg injuries.
Yet the White House continues to sit on new child labor rules proposed last year by the Department of Labor that some safety advocates say could have prevented that accident.
Although the rules proposed by the Labor Department have not yet been made public, sources familiar with them say they would deem certain work activities on farms too dangerous for minors to perform, potentially strengthening laws that haven't been updated in 40 years.
The rules have been awaiting review from the White House's Office of Management and Budget for the past nine months -- an unusually long time, even in the world of federal rule making. Such rules are supposed to be reviewed within 90 days, then go on to a public-comment period.
Observers are confused in part because the changes would have minimal economic impact.
"We've been trying to figure out who's opposed to these rules," said Celeste Monforton, a former Department of Labor safety official and blogger writing about workplace safety issues. "Is it part of this administration's concerns about regulations and how they're perceived? I have not been able to discern that."
On Monday, a group of more than 25 public-health and workplace safety experts signed a letter sent to Cass Sunstein, the OMB official who oversees rule review, urging him to move the child labor rule along.
Highlighting last week's tragedy, the advocates wrote: "We understand that the Labor Department's draft rule may include proposed protections that could have prevented this incident from occurring."
"We hope this terrible event and the hundreds of other incidents that injure and kill young workers every year will compel you to release this draft proposal immediately," they added.
Meg Reilly, an OMB spokesperson, said in an email that the office doesn't comment on federal rules that are being reviewed. "But it's not uncommon for review periods to be extended for regulatory actions that require additional time for consideration of public comment and analysis by OMB and all the affected agencies," she noted.
The incident in Oklahoma comes just weeks after two 14-year-old girls were electrocuted and killed when they came into contact with an irrigator on a farm in Illinois, while another two were seriously injured in the incident. The workers were detasseling corn for agriculture giant Monsanto. The father of one of the girls who was killed has already filed suit against the company.
There are generally two sets of work safety rules for minors: Those related to agriculture and those related to all other industries. Justin Feldman, worker health and safety advocate for watchdog group Public Citizen, said he thought the agriculture-related rules are behind the times.
"It's currently legal for children as young as 12 to have their lives put in danger by working in agriculture," said Feldman. "The rules on the books now are antiquated and grossly inadequate."
Although work done in grain elevators is considered commercial rather than agricultural, safety advocates believe the rules currently under consideration would restrict grain-related duties for teens as well.
Popular in the Community