The Nigerian Senate is reeling in the backlash of a sweeping outpouring of public protests.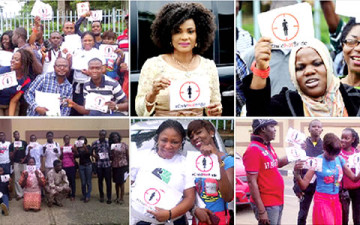 Activists and protesters are rallying on streets, tweeting and hashtagging #ChildNotBride, sharing editorials in the blogsphere and signing online petitions to voice their outrage over a constitutional clause being interpreted as a sanction for child marriage.
A recent review over a section in Nigeria's 1999 constitution that stipulates the renunciation of citizenship led a majority of lawmakers to vote to delete a clause (which has been in the constitution since 1979, according to the deputy senate president) that expands the definition of "full age" beyond those of at least 18 years to include any woman who is married, regardless of her age. That means a prepubescent married girl is of "full age" to renounce her citizenship. Senator Ahmed Sani Yerima, a former governor who introduced Shari'a Islamic law to his state jurisdiction then shot to infamy when he married a 13-year-old Egyptian girl as his fourth wife in 2010 after reportedly paying a $100,000 dowry to her parents, did not support this newly proposed limit on "full age." In what citizen activist and blogger "Saratu" describes as a "coup" and Nigeria's Senate President David Mark later declared as "blackmail," Yerima argued on the Senate floor against what he perceived as un-Islamic, forcing a reversal on the amendment. A second vote failed to remove the clause in question. Thus, it remains. "Full age" means the age of eighteen years and above and a married girl or woman.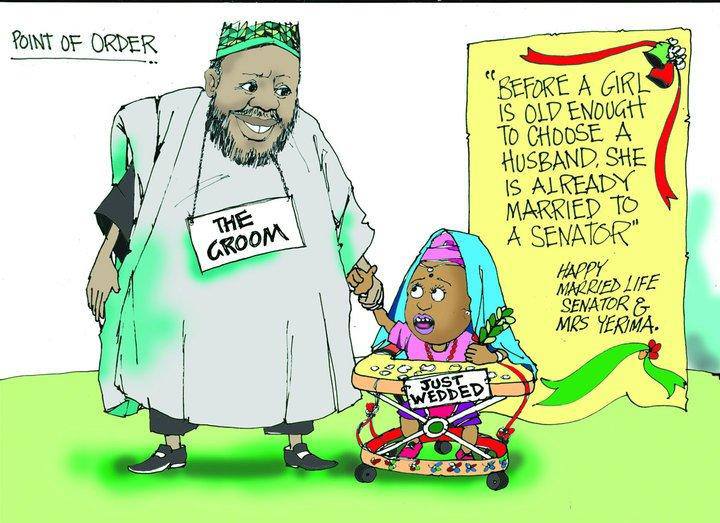 In a country split down the middle along religious lines, Muslims on one side, Christians on the other and a sprinkling of animists in between, appealing to religious sentiment is a dangerous game. An extremist insurgency with suspected links to Al-Qaeda has plagued Nigeria from its northeastern base, killing more than 2,000 since 2009. Boko Haram, the group's unofficial name that loosely translates as Western education is forbidden, wants Nigeria to embrace Shari'a as the law of the land.
Ayisha Osori, a prominent gender rights activist and 2013 Eisenhower Fellow based in Nigeria's capital city, raises a critical question in her column, "Why, in a country plagued by years of religious conflict, did Yerima decide that he needed to play the religion card?"
That card is being passed around Nigerian's public forum for a thorough examination. Some are picking it up and others are flat-out rejecting it. There's Maryam Uwais, a respected lawyer and leader in Nigeria's human rights community, who expressed a total separation from Yerima's religious interpretations, stating, "There definitely appears to be no basis, under the Shari'a, that would compel a girl to deal with matters of such gravity as the renunciation of citizenship, merely because she is married."
Uwais asserts that over half of the women in the North are married by the age of 16 and start giving birth within the first year of marriage. UNICEF stats report that 39 percent of Nigerian girls marry before the age of 18.
An online petition directed to the United Nations already has more than 26 thousand signatures. The creator of the petition, Eme Awa, hopes to present it to the UN by August 1.
Any endorsement on underage marriage, no matter how subtle, is bound to ignite furious reproach in Africa's most populous nation, where a community of activists beds the surface of the sociopolitical landscape, shaping national conversations and attempting to steer the public into a more conscious awareness. That's why civil society groups and public figures are up in arms over this constitutional amendment.
The Nigeria Women's Fund, Gender and Constitution Reform Network, and the International Federation of Women Lawyers have joined the front lines in confronting the Senate's upholding of the controversial clause citing that marriage to individuals younger than 18 goes against Nigeria's 2003 Child Rights Act (which has been passed by less than half of the 36 states), the African Charter on the Rights and Welfare of the Child and the African Union Protocol on the Rights of Women in Africa.
Among the multitude of women activists, Nigeria's first lady, Patience Jonathan has yet to lend her voice in the discussion, as the high profile Nollywood actress Stella Damascus noted in a passionate video address.
Another prominent Nollywood actress Omotola Jalade -Ekeinde expressed her concern.
"Today I am one of the most influential people in the world because I wasn't given off to marriage before the age of 18," Jalade-Ekeinde said in a speech, making reference to her inclusion in this year's Time 100.
Even the country's former vice president, Atiku Abubakar, said, "As a father, I've never given out my daughters in marriage before university graduation."
At the center of this #ChildNotBride saga is Senator Yerima. His name makes its way into frequent conversations in Nigerian circles today as much as it did back when he married the 13-year-old child. The Muslim Rights Concern nongovernmental organization is defending Yerima's religious claims with the director, Ishaq Akintola, stating that Nigerians should express more tolerance and Islam does not place an age requirement on marriage. Furthermore, Akintola boldly compares child marriage to child prostitution saying the former should be preferred, even dignified, over the latter.
Then, there are the child brides. We may not hear their voices, yet we want to empathize with them. We want to protect their childhoods and their futures. This is why in Ghana, Philomena Nyarko, the country's chief statistician, proposed to raise the legal age for marriage from 18 to 23, an age where according to Nyarko, women are more mentally and physically prepared to have children.
A global struggle has spotlighted the plight of one of the world's most vulnerable people: girls, especially uneducated girls. Nigeria has a lot of them. According to UNESCO, Nigeria holds the world record with the most children out of school -- approximately 10.5 million. Stats show that young wives usually quit school.
Nigeria must utilize this moment for practical introspection. The leaders and the populace should ask hard questions and face the hard reality. Twelve-thousand new cases of vesicovaginal fistula are reported every year, according to health reports. Most of those victims are young girls whose bodies cannot handle the pressures of childbirth. The overwhelming fear in this debate is the potential for the normalization, legalization and increase of child marriage. Religion, politics and socioeconomics play a role in this deeper analysis, but the life of the girl child is the most important.
Is it acceptable to pronounce a 12-year-girl "full age" simply because she is married? And wouldn't doing so simply be a twisted case for the justification of child marriage?
Related
Popular in the Community