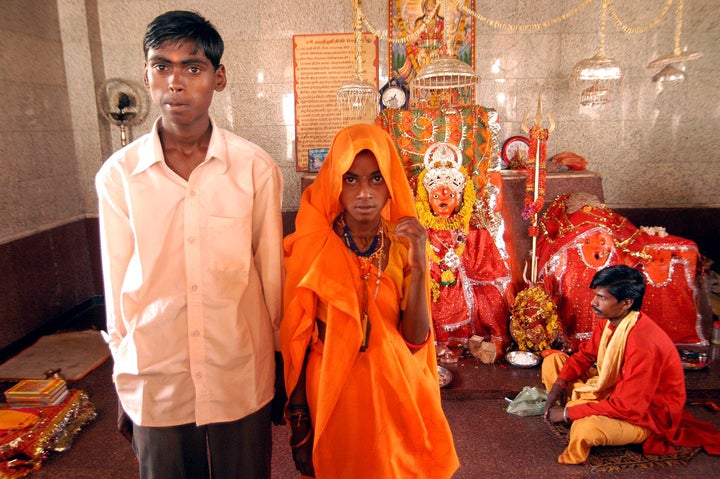 Despite her obsession with My Fair Wedding, when my daughter turns 12 next month she'll have a birthday cake and a slumber party, not a wedding cake and marriage. As an American girl, she's lucky to grow up in a culture where girls can choose who and when they'll marry, that values women's contributions to the workplace and society; where motherhood is something a girl can aspire to (or not) when she's ready, not while she's still a child herself.
Little girls getting married sounds like a reality TV mash up of Toddlers & Tiaras meets Housewives of the Developing World. Unfortunately, it's reality for 25,000 child brides (and grooms, but mostly brides) who get married every day. In the developing world, one in three girls under the age of 18 is married, one in seven is under 15 and it's not uncommon for 10 year-olds to marry men three times their age.
Ask any grade school girl if she wants to get married she might say, "Yes to the dress." Ask if she's ready to be a wife, have sex, give birth, be a mother, give up her family, friends, education and any hope for a career and she might reply, "Boys are yucky, " a sentiment shared by most little girls regardless of her culture. Ask that girl's mother if early marriage and sex with an older man is what she hopes for her daughter and her answer might be similar to mine: "Oh, hell no." They just don't have any choice.
Some readers were shocked child marriage still affects 10 million girls every year. A few, however, thought this legislation reflected American arrogance and disrespected the rights of other countries to live however they choose. But, America has a long history of championing human rights and providing assistance to vulnerable people and countries. This legislation would have protected the basic human rights of girls in countries where women are powerless. It would have gone a long way to eradicate poverty and protect America's foreign affairs investments. If only it hadn't gotten caught in the crossfire during a particularly nasty House squabble.
Fortunately, this year's reintroduction of the
(S. 414) and
provides Americans with a second chance to right a wrong. With 56 co-sponsors in the House, and strong support in the Senate, here's some of what it would do:
Express the sense of Congress that child marriage is a human rights violation, and undermines U.S. investments in foreign assistance to promote education and skills building for girls, reduce maternal and child mortality, reduce maternal illness, halt the transmission of HIV/AIDS, prevent gender-based violence, and reduce poverty.
Authorizes the president to provide assistance, including through multilateral, nongovernmental and faith-based organizations, to prevent child marriage in developing countries, and to promote education, health, economic, social, and legal empowerment of girls and women.
From an investment standpoint, preventing child marriage only makes sense. When we allocate funds from the Foreign Affairs budget for emergencies and natural disasters, infrastructure, food security, health care, education and other forms of development, we need to be certain our money is well spent. If it goes to countries where girls get married, aren't educated, have limited job skills or control over their family size, health, finances and their human rights aren't protected, then we're not getting full value on our investment.
When a girl in a developing country gets married, she drops out of school, quits working and has children.
Children raised by uneducated, unemployed mothers grow up uneducated and unemployed too.
Adolescent girls are five times more likely to die in childbirth than adult women.
The children she leaves behind are 3-10 times more likely to die within the next two years.
As one of the world's most effective humanitarian organizations, CARE is leading the charge to eliminate child marriage as part of a comprehensive strategy to help girls, women and families rise above poverty. They recognize that without the help of countries like America, women don't have the leverage to save themselves.
This isn't just an American thing. In 2010, I met with the first lady of Sierra Leone, Mrs. Sia Koromo, and the wife of the prime minister of Kenya, Mrs. Ida Obingo to talk about the White Ribbon Alliance, girls' education and child marriage. Both Mrs. Koromo and Obingo emphasized that with early marriage and without a basic education, girls are clueless about health issues that could save their lives and the lives of their children. They implored America to help impact long overdue change.
Last week in Davos, Switzerland, the World Economic Forum highlighted the movement led by The Elders to end child marriage. Chaired by Archbishop Desmond Tutu, The Elders is an independent group of global leaders brought together by Nelson Mandela, working for peace and human rights. Mary Robinson (the first woman president of Ireland and former U.N. High Commissioner for Human Rights), Jimmy Carter (former president of the United States), Kofi Anaan (former U.N. Secretary-General and Nobel Peace Laureat) and Gro Brundtland (first woman Prime Minister of Norway; a medical doctor who champions health as a human right) are among The Elders championing the end of child marriage as a human rights violation.
What can you do? Ask your senator to support passage of the Preventing Child Marriage Act. Support organizations like CARE who are on the ground in developing countries during times of crisis and stability, helping the world's most vulnerable citizens help themselves out of poverty. And if you have little girls in your life, recognize how lucky you are to live in a country where they don't have to get married before they're ready.
REAL LIFE. REAL NEWS. REAL VOICES.
Help us tell more of the stories that matter from voices that too often remain unheard.