 Pregnancy and childbirth is still the leading cause of death for teenage girls in the poorest corners of the world, and despite all the progress in reducing maternal mortality by 47 percent we have yet to save these young, vulnerable lives.
One of the biggest issues to resolve is child marriage; this is rightly front and center of the first International Day of the Girl Child on October 11, 2012. Girls under 16 are many times more likely to die in pregnancy and childbirth than a young woman aged 20 or more. We have to act to stop child marriage now.
That is why the White Ribbon Alliance for Safe Motherhood has joined the campaign against child marriage and is calling on its supporters to take the lead with one of their recommended actions. At the heart of how we save the lives of young girls is the need to ensure that the health and education systems that can protect them work well. White Ribbon Alliance members and groups in 155 countries are focused on how to ensure that the political commitments made at the top international meetings are followed through all the way to delivery on the ground with proper accountability and measurement.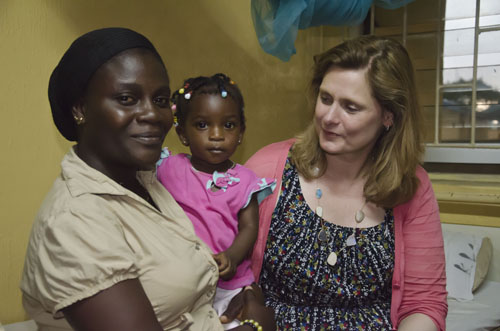 Photo credit: Mike Porter © OGSB
As director of UNFPA Dr. Babatunde Osetimehin put it:
Our political leaders (especially with regard to maternal mortality reduction in Africa) make commitments, but then it does not translate to what the Ministries of health or youth or gender are doing. And so we need to now make commitments trickle down to inform programs on the ground and ensure actual progress.

What we need now is advocacy for clear plans, advocacy for resources, and we must track resources, track implementation and make sure we evaluate what we are doing.
As we track what is happening for girls and women in Africa and around the world, we must also track who gets to go to school. We know that girls who attend school should have the opportunity for learning and personal development, but these are not the girls who are married off at age 12, 13, 14 years old.
On this International Day of the Girl Child many organizations are pledging their support to help girls stay in school. You can add your support to Plan International's RaiseYourhandNOW campaign and watch the amazing films on girl's education here. To learn more about the link between child marriage and education see the 2012 Out of School, Into Wedlock report and take your own action with the White Ribbon Alliance.
It is time to pledge your support to keep girls everywhere in school learning, and not vulnerable in early marriage and pregnancy.
Sarah Brown is the Chair of the Global Business Coalition for Education, and Global Patron of the White Ribbon Alliance for Safe Motherhood.
Popular in the Community