 Traveling around the world to visit WaterAid's global programs I am always struck by the joy I see in children's faces when they have access to a new water source. Their happiness is well founded. Safe water and sanitation are vital pre-requisites for children to thrive. A lifetime of working in international development does little to numb my shock at seeing young children struggling to survive without these basic human rights -- and little to dull my gratitude when I see basic needs met by giving children the chance they deserve.
A new report released this week by UNICEF shows that the annual number of under-five deaths worldwide has declined from nearly 12 million in 1990 to 6.9 million in 2011. "Levels & Trends in Child Mortality" is based on estimates developed by the UN Inter-agency Group for Child Mortality Estimation and highlights enormous global progress in ending preventable child deaths worldwide. This is great news, but is tempered by sobering statistics, especially for children in sub-Saharan Africa:
•The annual rate of reduction in under-five mortality has accelerated -- from 1.8 (1.7, 2.1) percent a year over 1990-2000 to 3.2 (2.5, 3.2) percent over 2000-2011 -- but remains insufficient to reach Millennium Development Goal 4 (MDG 4) to reduce by two-thirds, between 1990 and 2015, the under-five mortality rate. Achievement of the goal is most off-track in Oceania, sub-Saharan Africa, Caucasus and Central Asia, and Southern Asia.
•The highest rates of child mortality are still in sub-Saharan Africa and Southern Asia. As under-five mortality rates have fallen more sharply elsewhere, the disparity between these two regions and the rest of the world has grown.
•By 2050, one in three children will be born in sub-Saharan Africa, and almost one in three will live there, so the global number of under-five deaths may stagnate or even increase with- out more progress in the region.
However all is not lost and much can be done to ameliorate the situation. Improving access to safe drinking water, sanitation and hygiene is a key step in preventing many of these needless deaths. Known collectively as WASH, these three basic services are important factors in preventing pneumonia and, diarrhea, the leading causes of mortality among children between one month and five years of age.
Every year, around 700,000 children die from diarrhea caused by unsafe water and poor sanitation -- that's almost 2,000 children a day. In addition, one-third of all cases of under-five mortality is attributed to undernutrition; 50 percent of undernutrition is attributed to unsafe water and poor sanitation, making WASH even more critical to tackle child mortality.
Governments need to give greater priority to tackling the underlying causes of child mortality. Providing every child with access to safe water, sanitation and hygiene has a dramatic impact on child survival and produces many other benefits. Children can play and go to school instead of spending hours fetching water or caring for sick younger siblings. Their parents can go to work when chores are fewer and caregiving is unnecessary because children aren't as sick.
Going to work and reducing health care costs yields an $8 return for every $1 invested in WASH, and could make up the 5-6 percent annual loss in Gross Domestic Product that countries of sub-Saharan Africa and South Asia suffer on account of WASH related illnesses and their impact on the population. More prosperous families, communities, and nations lead to healthier people and give future generations of children so many more opportunities to look forward to.
Congress currently has the opportunity to do more for WASH, and thereby for the world's children. By providing $400 million for safe drinking water, sanitation and hygiene, as approved for Fiscal Year 2013 by the Senate Appropriations Committee and a fully funded international affairs account; and urgently passing the Senator Paul Simon Water for the World Act (H.R. 3658 and S. 641); the U.S. can expand its leadership on child survival by addressing one of the most fundamental underlying factors in preventable child deaths.
The Water for the World Act is especially critical. A bipartisan initiative led by Congressmen Judge Ted Poe (R-TX) and Earl Blumenauer (D-OR) and Senators Bob Corker (R-TN) and Richard Durbin (D-IL), its objectives are to improve the efficiency of existing US investments in safe drinking water, sanitation and hygiene and increase the coordination and transparency of these programs, so that all U.S. foreign policy objectives -- including child survival -- can better be advanced.
Please join us in supporting this important step in ending preventable child deaths by writing to your member of Congress.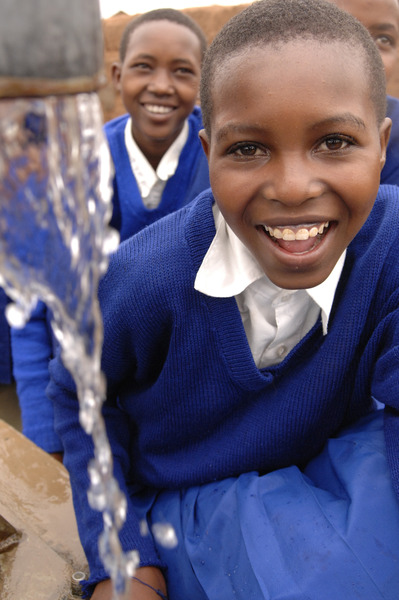 Husna Jumanne, Tanzania. Photograph credit: WaterAid/Marco Betti
Related
Popular in the Community