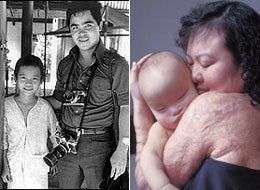 This photo, Vietnam Napalm, by Nick Ut, was taken in 1972, just after American troops accidentally dropped a load of napalm from the sky, demolishing the Vietnamese town of Trang Bang. The stark, disturbing image was awarded the Pulitzer Prize for addressing the realities of the war in Vietnam, and served as a wake-up call to millions of Americans who had not realized the damage that was being done to innocent civilians like that scared, naked child, running down the street on fire.
For millions of people who saw that image, the young girl in the photo would forever remain nameless - no more than a symbolic innocent, ruined by the atrocities of war. Most people wouldn't know whether she survived, or if she passed away moments after the click of the shutter. Her future, if she had one at all, was bound to be grim.
The reality of the situation may come as a surprise: The young, terrified girl in that photo, Phan Ti Kim Phuc, is now a 45-year old woman. She is a wife and a mother, and is now a Canadian citizen. Most surprising of all, though, is the fact that she has devoted her life to becoming an ambassador for peace, and has established a nonprofit organization called KIM Foundation International, which is dedicated to helping children who've been traumatized by war to heal, providing both medical and social services to support their recovery.
Read the entire story here.