As this tumultuous year comes to a close, we'd like to take a moment to look back on 2013's most precocious child prodigies. From breakdancers to pianists to pint-sized photographers, these are the young spirits who awed us with their talent, slayed us with their cuteness and made us feel painfully inadequate with their accomplishments.
May we humbly present the 12 tiniest, and most talented, child prodigies who made a splash in the art world this year. Prepare yourself for lots of squeals, "awww"s and spurts of low self-esteem.
1. Avery Molek, 6 years old
Meet Avery Molek, a six-year-old drummer who experienced his 15 minutes of YouTube fame in 2013. In a video that made the rounds last March, the tiny drummer can be seen shredding his way through Van Halen's "Hot For Teacher," barely missing a beat as he plays the classic song like a pro. Read more about Molek here.
2. Malik Kofi, 11 years old
At a height of just over five feet, an instrument like the cello nearly eclipses the body of 11-year-old child prodigy Malik Kofi. But that didn't stop the young musician from impressing the best of his adult contemporaries with his unbelievable classical music skills. "He's an extremely talented cellist," said Udi Bar-David, player for the Philadelphia Orchestra, "very creative, mature, has stage presence, is open to learning and has strong ideas of his own." Read more about Kofi here.
3. Hwang Min-woo, 7 years old
Although the seven-year-old boy's given name is Hwang Min-woo, you may know him as "Little PSY." The young dancing machine went viral this year after performing an impressive rendition of PSY's iconic pony dance alongside him in "Gangnam Style." He also released an electro, K-pop song on iTunes this year and is painfully adorable, especially when donning a suit and sunglasses. Read more about "Little PSY" here.
4. B-girl Terra, 6 years old
A six-year-old breakdancing prodigy named "B-girl Terra" put all adult dancers to shame in a YouTube video that circulated earlier this year. The miniature competitor took part in the Chelles Battle Pro competition in Paris, blowing away the rest of the contestants with her unbelievable windmills and headspins. Read more about the B-girl here.
5. Tyler Clemons, 4 years old
Like most four-year-olds, little Tyler Clemons enjoys banging on objects around the home. So what separates him from the rest of his destruction-prone peers? The answer: a pair of drum sticks and the label "child prodigy." In a video posted by Louisiana news outlet KPLC, Clemons grinned widely as his mother described him as a prodigious drummer. "He just wouldn't stop banging on things. All day, everyday," she says. Prodigy? We're not so sure, but we can't help but want to pinch his cheeks. Read more about Tyler here.
5. Autumn de Forest, 11 years old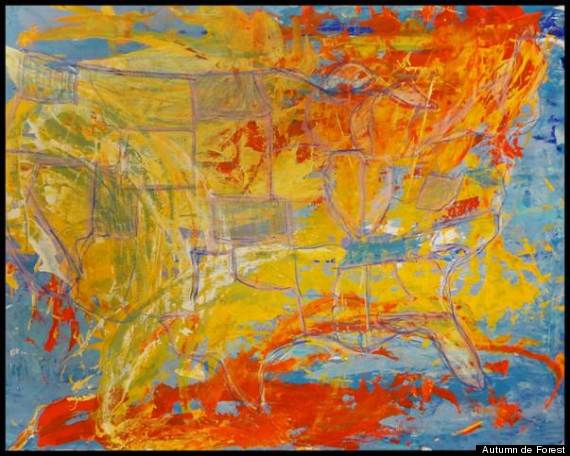 Autumn de Forest, "Jasper Map"
6. Umi Garrett, 13 years old
If you know the name Umi Garrett, it's probably due to a certain performance of hers on the Ellen Degeneres show, which undoubtedly will go down in history as one of the cutest musical performances to ever be televised. Umi, who was only eight years old at the time, won our hearts with her gifted piano skills and enviable cotton candy frock. She also has a pretty adorable Twitter account. In 2013, five years after her big break, we checked in with Umi, who was preparing herself for teenage life. Update: she continues to tour and play piano and, in her spare time, rocks out to One Direction. Read an interview with Umi here.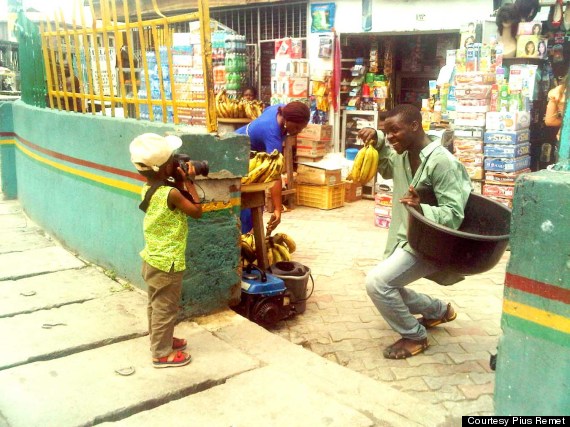 Nigerian photographer Onafujiri "Fuji" Remet made a name for himself earlier this summer when his work was showcased in a Lagos exhibition. Aside from his curious eye and ability to capture the color and motion of Nigerian street life, Remet received attention for his miniature stature -- he is three years old after all. Yes, you read that right. Little Fuji learned to man a Sony SLR before most of us could spell our names. His photos capture everything from street vendors to family portraits, from an unusually pint-sized vantage point. Fuji's early initiation to the art world can be attributed to his creative family. His father and two older sisters are artists as well. At present, the ambitious young photographer has 3,000 images to his name, according to Visual News. Not bad for a toddler. Read more about Fuji here.
8. Caesar Sant, 4 years old
Caesar Sant is a four-year-old child prodigy with a gift for playing the violin. He started learning the instrument just over a year ago and, as you can see in the video that circulated this past year, is already impressing instructors with his adorable renditions of "The Star Spangled Banner." However, beyond his talent for the violin and knack for reading complicated sheet music, the young genius suffers from a rare form of sickle cell anemia that's caused Caesar to have two strokes in a period of six months, one of which resulted in the temporary loss of mobility in his bowing arm. According to the Winston Salem Journal, his family, including neuroscientist father Lucas Santos, have turned to a stem cell bone marrow transplant -- a $500,000 procedure offered through Johns Hopkins University -- as the "only cure" for the young boy. Read more about Cesar here.
9. Rhema Marvanne, 11 years old
10. Ryan Wang, 5 years old
11. Amira Willighagen, 9 years old
When nine-year-old Amira Willighagen from Nijmegen in the Netherlands stepped onto the "Holland's Got Talent" stage, no one was expecting such a big voice to come out of such a very little girl. Her incredible rendition of Puccini's "O Mio Babbino Caro" from the opera "Gianni Schicchi" earned her a Golden Ticket from the judges that would take her straight to the live show. It's hard to believe how young Amira is, but even more surprising to learn that she is completely self-taught, and used only YouTube tutorials to learn how to sing. Read more about Amira here.
12. Malachi Samedy, 9 years old
Nine-year-old Malachi Samedy has been drumming since before he could walk. He got his first drum set at 24 months, was admitted to music school at age four, and by the time he was seven, was close to realizing his dream of performing for President Obama. "When he was younger, he would just bang on everything," Malachi's father, Nasser Samedy, says in this HooplaHa video, "My wife was saying, 'You know, he's a drummer.'" Malachi has been wowing older professional musicians with his talent ever since. What's more, he's using his talent to bring attention to causes that matter, commonly visiting children's locations to share his music and positive message. Read more about Malachi here.
Calling all HuffPost superfans!
Sign up for membership to become a founding member and help shape HuffPost's next chapter