The route between Libya and the southern shores of Italy continues to be a death trap for migrants and refugees attempting to reach Europe in rickety boats.
And of the 898 deaths recorded in the central Mediterranean so far this year, at least 150 were children, UNICEF said in a press release Friday. "Yet the true number of child casualties is almost certainly higher given that many children on the move are unaccompanied, so their deaths often go unreported."
This particular route has been more heavily trafficked in the past few months than during the same period last year, International Organization for Migration statistics show.
Almost 37,000 refugees and migrants, 13 percent of whom are children, arrived in southern Italy since the start of 2017, according to the IOM ― about 11,500 more than this time in 2016.
And this year is shaping up to be no less deadly than last year. The death toll as of April 19 was almost exactly the same as in the same period one year ago.
"It is deeply concerning that vulnerable people, including thousands of children, are risking their lives to reach Europe's shores using this incredibly dangerous route," said Afshan Khan, UNICEF regional director and special coordinator for the refugee and migrant crisis in Europe. "This is further evidence that when safe and legal pathways to migration are cut off, desperate children and families will do whatever they can to flee conflict, poverty and depravation."
Ironically, more robust search and rescue operations have compelled smugglers to make the journey even more dangerous. Instead of wooden ships, they're sending people out to sea in cheaply made rubber dinghies that are unequipped to withstand swells and long journeys.
"Smugglers are now aware that international rescue vessels are venturing further out into international waters to make rescues," said Christopher Tidey, emergency communication specialist for UNICEF. "So they have made the decision not to use seaworthy boats. They're kind of banking on the fact that people will get rescued before their boats capsize."
In addition, the dinghies require that people keep filling the engines with oil during the trip, Tidey added. When water flows into the boat, it often mixes with the oil, meaning that many of the migrants are covered in burns.
It's difficult to determine what accounts for the uptick in arrivals to Italy in the past few months compared with last year, experts agreed.
The surge of arrivals in the last few days ― more than 8,300 people were rescued last weekend alone ― is most likely tied to warmer and calmer seas, Tidey said. But that isn't the only explanation, seeing as scores of people were being rescued throughout the winter as well.
There are rumors that the European Union could strike a deal with the Libyan government to crack down on sea travel, Tidey noted, which might be encouraging smugglers to get as many people as possible out to sea now.
The conditions in Libya are also reportedly worsening, said Joel Millman, IOM senior press officer. Some migrants and refugees who had been in Libya for months, hoping their situations would ameliorate, are now leaving in larger numbers.
There are also new populations of migrants that are now passing through Libya, he added. There's been an uptick in people coming from the Ivory Coast and Guinea between 2016 and 2017. And whereas one Bangladeshi made the crossing last year, a striking 2,831 have already done so this year.
"New smuggler networks have sprung up," he said.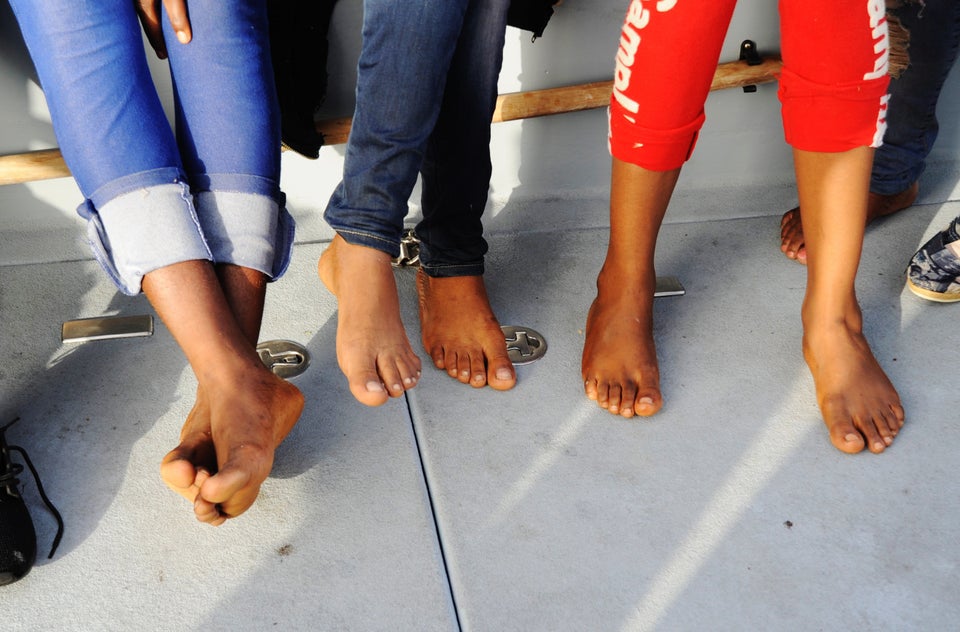 Snapshots From A Refugee Rescue Mission In The Mediterranean
Popular in the Community