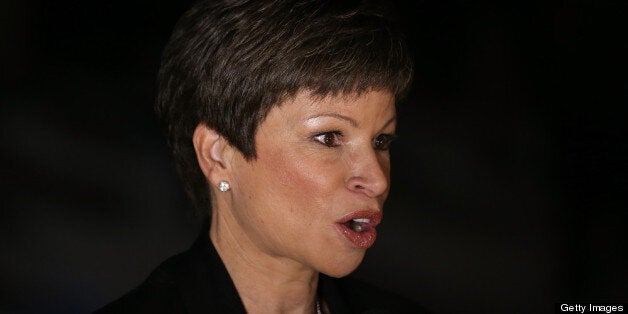 Yesterday, I was honored to attend the 7th Annual Pearls of Purpose Gala hosted by FAIRgirls. FAIR stands for Free, Aware, Inspired, and Restored, and it works to prevent the exploitation of girls worldwide with empowerment and education. At the gala, I spoke about the horror of child sex trafficking -- a crime that President Obama and his administration have been fighting hard to end for good.
About a year ago, I visited FAIRgirls. I will never forget sitting around the table with a group of girls as they used beads to make earrings, necklaces, and bracelets. At first, I was struck at how hard they each concentrated on their masterpieces, with meticulous attention to detail. But then, slowly, they began to share their stories.
As the girls described the atrocities they had suffered -- in many cases, for years -- my blood boiled. How on earth could this happen time and time again, right here in our community? How could the internet be used so blatantly as a tool to sell our children into slavery?
At the same time, I was inspired by the professionalism and sensitivity of the FAIRgirls staff and the resilience, strength, and courage of each of the girls, as well as the steadfast and tender support they demonstrated to one another. Were it not for FAIRgirls, I cannot imagine what the future of thousands of girls would be.
It still shocks me that we are forced to ever string these three words together: Child. Sex. Trafficking. There is no issue as grave and devastating. While FAIRgirls is helping to transform the lives of girls, one girl at a time, we must all accept responsibility to vigilantly ensure that no girls are exploited, abused, or trafficked in the first place. And if they are, we must provide them with loving, patient, and comprehensive care so that they do not just survive, but thrive.
President Obama's message to survivors was, "We see you. We hear you. We insist on your dignity. And we share your belief that if just given the chance, you will forge a life equal to your talents and worthy of your dreams."
From the time President Obama took office, we have worked to make sure these words ring true.
Last year, President Obama directed his Cabinet to redouble the Administration's efforts to eliminate human trafficking. Since then, the Administration has made significant progress based on a few principles:
First, the government should lead by example. So President Obama signed an executive order that strengthened our country's existing zero-tolerance policy on human trafficking in government contracting.

Second, everyone should be equipped to address and respond to trafficking. So we educated and provided tools to federal, state, and local officials to help them identify human trafficking and be more attuned to the needs of survivors. As a result of this training, we will all be better equipped to detect and stop trafficking, as well as to ensure that survivors are never treated as criminals.

Third, we need to make it easier to stop traffickers. So we streamlined current procedures for the existing T-visa process, so survivors can remain in the United States and help bring their traffickers to justice.
But we can do more, and the last few months have seen several significant milestones in this fight.
In March, President Obama signed the reauthorization of the Trafficking Survivors Protection Act, as part of the reauthorization of the Violence Against Women Act. This will make sure that survivors have the resources they need to recover and will help us bring traffickers to justice.
In April, for the first time, the President's Federal budget included $20 million focused on the needs of domestic survivors of human trafficking, many of whom are girls or young women. This amount will fund direct services such as housing assistance and counseling for survivors of trafficking. It will help train service providers and will also invest in data collection, research, and evaluation.
Later this month, the President's Interagency Task Force to Monitor and Combat Trafficking, chaired by Secretary of State Kerry, will meet to review the Obama administration's accomplishments and to set the course for the federal government response for the next year.
Finally, and perhaps most excitingly, we're building public-private partnerships to provide cutting-edge technology that can help law enforcement to identify children advertised on the internet.
We've made great progress on child sex trafficking. But we still have a long way to go, and we will continue working with organizations such as FAIRgirls until we never have to say those three words together again. Instead, we tell survivors, and organizations that serve them, four different words: "You are not alone."
Together, we can make sure every child has a chance to grow up happy, healthy, and confident -- and never in fear.
Calling all HuffPost superfans!
Sign up for membership to become a founding member and help shape HuffPost's next chapter