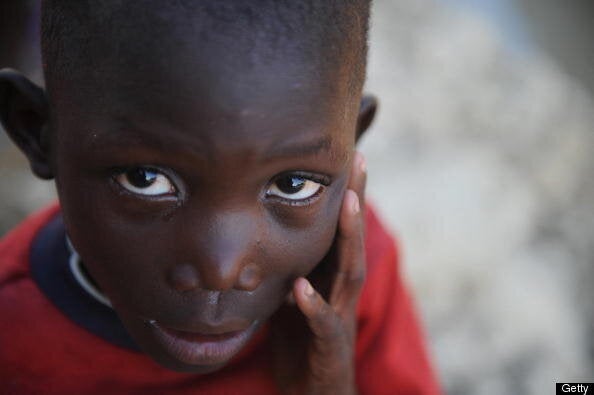 During the past summer I spent several weeks teaching in Haiti. I have vivid memories of waking up at 4:30 a.m. to the scratching sounds of a little girl, Odette*, sweeping the walkway outside my bedroom window.
As a graduate student of international affairs and social work at Columbia University, I concentrate on issues of modern day slavery and human trafficking. When I was introduced to my host family in Haiti, I immediately recognized that the youngest of the female servants was a restavek: a child slave.
The word is derived from a French term, reste avec, meaning "one who stays with." This soft language betrays the unrelenting labor, abuse, and denial of education that typifies the lives of these children.
More than 300,000 children are currently enslaved as restaveks in Haiti. They make up 3 percent of Haiti's population -- 7 percent of the total number of children in the country. According to the Jean Cadet Restavek Foundation, they range in age from 5 to 15 and are three times more likely to be girls than boys.
Most restaveks are given away by their families, who cannot afford to provide for their basic needs. They wake up before the host family to perform chores, toiling until late at night. They cook, clean, do laundry, carry heavy water buckets on their heads, and look after other children. More often than not they are emotionally and physically abused, and sometimes sexually abused as well.
My initial impulse was to check into a hotel, but I realized this was a unique opportunity to learn first-hand what a day in the life of a restavek is like. This experience would provide a texture of reality to my academic research on the subject. I also secretly hoped that there was some way that I could help this young girl.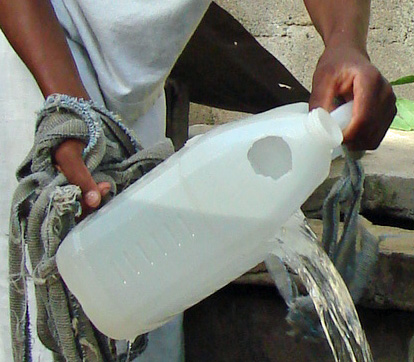 One night, while everyone was sleeping, I searched for Odette by flashlight and found her asleep on the landing of the cement stairs that led to the roof. She slept on rags among an old sink, a metal barrel, and an electrical box. Odette worked until well after dark, eating only after everyone else had been fed. Her food was usually lacking in meat, as it had all been consumed by then.
Odette was born to an extremely poor family in Vallières, a small village in northeast Haiti. She is one of eight children -- three boys and five girls. Her parents could no longer afford to care for her, so they gave her away in July. Odette is 13 years old, though I had initially estimated her to be significantly younger. Her frame is slight, her belly is distended and her hair is beginning to redden -- signs of malnutrition.
Odette's mother gave her to a great aunt who was supposed to take her to her godmother's home. Instead, the great aunt trafficked Odette to the home of the family I was staying with. She dropped Odette off and did not return. I am unaware if money was exchanged. She had been in the home for two weeks when I arrived, working as a servant for the 17-year-old daughter of the slaveholder.
I was able to interview Odette on several occasions, usually asking only a few questions at a time out of fear that the slaveholder would overhear us talking about Odette's quality of life.
When I asked Odette if she could leave she replied, "No." When I asked if she wanted to be there she replied, "No." When I asked if she ever has a day off she replied, "No." When I asked if she was paid for her labor she replied, "No." When I asked her if she wanted me to help her leave, she began to cry, and quietly stated, "Yes."
Most children in Haiti do not cry even when being beaten, something I saw happen to Odette on three occasions. I knew then that I had to do something to help her.
The day before I was scheduled to return to the United States I asked the slaveholder if I could take Odette to the Friday market. In order to ask her difficult questions about her family of origin I needed to take her away from the house and the suspicious eyes and ears of the slaveholder. In the midst of the interview Odette spontaneously blurted out, "Let me take you to my godmother!" Earlier that morning she had spotted her godmother selling wares at the market. The fact that we saw her on this day among the thousands of market-goers was a complete coincidence.
I asked Odette why she had not said something earlier. She replied, "I know she would want me to go with her, and I do not have my clothes with me." I found this incredibly ironic considering that all of her belongings, everything she owns, fit into an 18-inch cloth bag that doubles as a pillow for her at night.
When we met Odette's godmother, Odette spoke very quickly, explaining the chain of events that had led her to the market that day, where she was living, and how she was being mistreated. Odette's godmother said she would come to our home that evening with her husband to speak with the slaveholder, but she did not show up.
Time was running out, my only option for assisting Odette had slipped away. I was leaving the following day. My friend Josny, who had helped translate when I interviewed Odette, assured me that he would follow up on her. He promised he would attempt to assume responsibility for her and enroll her in school -- to help her be free.
Earlier this month Josny was able to assume informal physical custody of Odette and enroll her in school. She now lives with him and his extended family and is a member of a loving and emotionally generous group of people. She is no longer required to perform physical labor and is free to make friends and play.
The actions I took this summer in aiding Odette were minimal. They are also problematic. It is not practical or advisable to indiscriminately move slaves or buy their freedom. I am also not so naïve as to ignore the fact that the slaveholder has probably already replaced Odette with another child slave in her home.
The problem of the restavek system in Haiti is a deeply embedded cultural one. Although it is a socially accepted norm, many Haitians are beginning to protest this grave abuse of human rights. I strongly contend that the answers to solving the restavek issue lie within the Haitian people themselves. I intend to dedicate my career to helping them discover and put into practice a shifting of these deep-seeded norms and to abolishing child slavery forever in Haiti. It is an achievable goal.
*Note: The names in this article have been changed to protect the identities of those involved.
Photo of Odette at work courtesy of the author.
For more information about the restavek system and modern day slavery issues please visit:
Popular in the Community