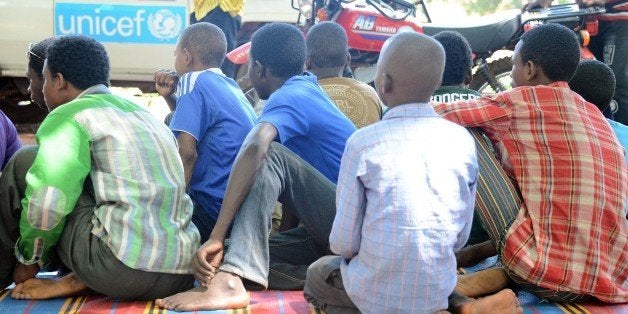 Peace talks between governing bodies, aid organizations and armed groups in Central African Republic have led to a historic number of children being freed from captors.
Last Thursday, 357 child soldiers were released from the ex-Seleka armed group and anti-Balaka militias -- the single largest release of children in the country by such groups since 2012 -- according to UNICEF.
"After two years of heavy fighting, the release of children by these groups -- on the same day -- is a real step towards peace," UNICEF representative Mohamed Malick said in a statement. "Violence and suffering can now give way to a brighter future for children."
The liberations followed a consensus earlier this month between CAR's armed groups that called for all children in their ranks to be released. The agreement came from cooperation between the armed groups, UNICEF, MINUSCA and the government of CAR.
The children received medical screenings and psychosocial support upon their release. UNICEF is working now to reunite them with family members.
Children associated with the anti-Balaka militia take part in a release ceremony in in Bambari in the Central African...

Posted by UNICEF on Saturday, May 16, 2015
Children associated with the anti-Balaka militia participate in a a release ceremony in in Bambari in the Central...

Posted by UNICEF on Saturday, May 16, 2015
Although the news marks a positive step in protecting CAR's children, the country remains in a dire state of need. Violence in CAR beginning in 2012 has been dubbed the "worst crisis you've never heard of" by UNICEF.
Conflict has displaced more than 625,000 people, and at least 6,000 children have been recruited into armed groups. And while malnutrition among kids has increased significantly, there's just one pediatric hospital in the entire nation.
The latest peace agreements, however, will hopefully be just the start to thousands more children finding freedom once again, Fall said.
"Each [one of the children] will require extensive support and protection so that they can rebuild their lives and resume their childhood," he explained.
To support UNICEF's efforts in Central African Republic, click here.
To take action on pressing poverty issues, check out the Global Citizen's widget below.
REAL LIFE. REAL NEWS. REAL VOICES.
Help us tell more of the stories that matter from voices that too often remain unheard.
BEFORE YOU GO