 The most disturbing experience I had during my recent trip to the Democratic Republic of Congo was a conversation with an 11-year-old boy in the eastern town of Bukavu. He was in a centre set up by a local NGO to help former child soldiers readjust to normal life. Some of the food that the center gives to these children comes from my organization, the World Food Programme, which is why I was there.
In many ways the boy was like my own son, who is also 11. He had a ready smile, was unable to sit still for long and loved horsing around with other boys, preferably in a way which tested authority. Before he became a 'soldier,' he used to get up in the morning and grumpily go off to school. He would wave to his parents as he went off down the road -- just as my son does to me every morning -- and then reappear a few hours later with his friends, keen to do anything except his homework.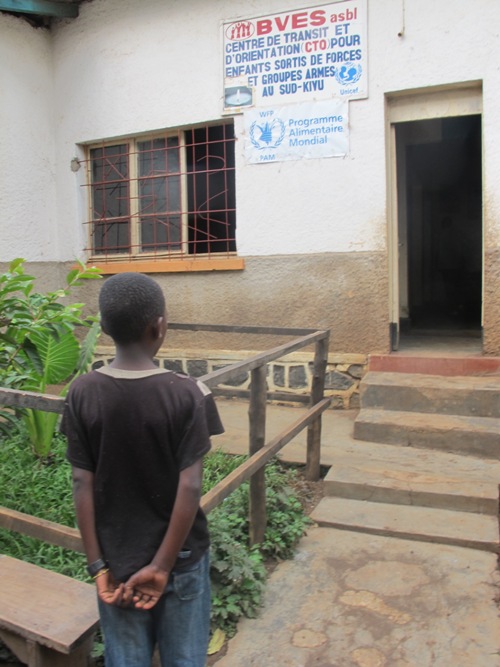 But on July 6, he didn't appear. Unlike my son, this boy was abducted on the way home from school and then spent four months living in a forest with an armed rebel group who used him as a slave and taught him how to handle a Kalashnikov.
To protect his identity, I will call him Richard (that's him in the photo on the right). With the help of an interpreter, Richard told me his story. It begins, as I said, when he was walking home from school with his friends. They were happy because exams were over and the summer holidays were coming. "As we came round a bend in the road, we saw a group of soldiers standing there, surrounded by packages and baggage. 'You can't go past unless you help us carry our baggage,' the soldiers said."
Of course, the children protested. They had to go home. But they were scared, because the men had guns and they certainly weren't playing games. So in the end, they agreed to carry the loads. They followed the men into the forest and walked for a couple of hours until they came to the rebel base.
Richard and his friends put down the things they were carrying and said they wanted to go home. But the men shook their heads. "No, you can't go back. Now you are going to be soldiers. You will stay here with us and help us. There are other kids here. You'll be OK."
Some of the children tried to run away. But it was no use; they didn't know the way home through the forest. A day later, some of the children's parents came from the village, demanding that the rebel commander give them back their children. But the commander refused, saying: "There are other children here. We won't be alone." He took his gun and fired shots into the air to scare the parents away. And eventually, the parents went away.
Over the next days and weeks, the nine children who had been abducted that day settled into their uncomfortable new life in the forest. Most of the time, they were kept busy gathering wood, making fires, preparing food and generally being servants for the older members of the rebel group. "We were taught how to hold a rifle, how to load it and how to shoot," Richard told me. They were also given a uniform of sorts.
Richard found himself acting as 'bodyguard' for the rebel commander, who called himself the 'Colonel.' He carried the Colonel's gun and generally hung around him, as a sort of assistant. Richard said that he took part in gun battles against other rebel groups. To be honest, I'm not sure if it's true. He may have been saying what he thought I wanted to hear. He even said he had killed someone in one skirmish. He didn't go into details. And I suspect that this part, at least is, untrue. People at the center in Bukavu tell me that when children have actually killed, they do not admit it readily.
Listing the things that he disliked about his experience with the rebels, the first thing Richard mentioned was that he wasn't able to wash -- presumably because there was rarely enough water to do anything but drink and cook. He said the food was terrible and that he didn't eat anything apart from a sort of root vegetable, called colocasia, which grows in the forest. He said it was hard to sleep at night because there were no blankets and the forest was full of mosquitos.
After roughly four months spent living with the rebel group, Richard managed to escape. He and a few friends walked for about 10 hours to reach a village where a local NGO took care of them until a team could come from the rehabilitation center in Bukavu to collect them.
Richard is now living in the centre, run by a Congolese organization called BVES (Bureau pour Volontariat au Service de l'Enfance et de la Sante), where he is gradually adjusting to normal life, in the company of about 25 others boys like him. His family has been contacted, and he is expected to be re-united with them soon.
Richard's story is just one of thousands of painful experiences being lived out every day in the midst of the fighting in Eastern DRC. It was especially disturbing to me because of the parallel I could not help draw with my own son and his daily walk to school.
But it is also a story with an ending which is satisfactory, possibly even encouraging. Here is a child who has been rescued and is being restored by a Congolese organization working at the heart of the crisis with determination, patience and sensitivity. So it irks me when I hear people speak of DRC as a 'basket case,' implying that sending aid there is a waste. It is undeniably an extremely challenging environment to work in. But there are good things nestling amidst the chaos, and they deserve our support.
Learn more about WFP's work in DRC here
Related
Popular in the Community