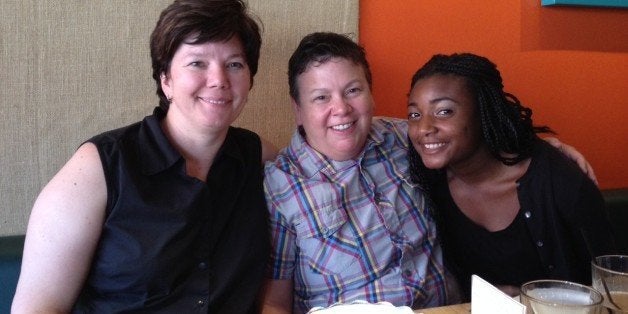 This week's Huffington Post Gay Voices RaiseAChild.US "Let Love Define Family™" installment features a Call to Action by RaiseAChild.US Founder and CEO, Rich Valenza.
It was a warm evening in Tucson, AZ toward the end of summer three years ago. I flew in from Los Angeles to attend a foster and adoption event that took place in one of those cavernous ballrooms. After dinner, two women stepped up to the microphone and took each other's hand. The crowd fell silent as Darden Bradshaw and Gail Carnako took a few moments to collect their thoughts.
"My wife and I have wanted children for a very long time," said Darden, a woman with short brown hair and a soft voice.
"Before we came here to Devereux, Arizona, we started our process at another agency in the area. But we didn't get treated very well there," she said as she paused to look at her partner and began to cry.
That is when Gail removed the microphone from its stand and finished telling their story. She continued with how they started the process to build a family at a local faith-based adoption agency. The couple was initially welcomed and encouraged by the agency representatives, she said. Then, four months into the process, after the home study and all the paper work was submitted, the hopeful mothers received a call from their faith-based agency.
"The case worker told us that in order to keep more closely with the teachings of the church that they could not certify us," Gail said with a bit of shame in her voice. "We were crushed."
On July 30th, the day before our 113th Congress adjourned for this summer's recess, Senator Mike Enzi (R-WY) and House Representative Mike Kelly (R-PA) introduced a bill they coined "The Child Welfare Provider Inclusion Act of 2014." In truth, the bill's name is deceptive. It is about exclusion, not inclusion. It is designed to allow religious foster and adoption agencies to deny services to all "nontraditional" prospective parents, including same-sex married couples, unmarried heterosexual and same-sex couples, singles who are heterosexual or LGBT (lesbian, gay, bisexual, and transgender), and people from other religions.
Dig deeper and it is clear that the "inclusion" part of the bill's title has everything to do with money. For some years now, foster and adoption agencies in California, Illinois, Massachusetts and the District of Columbia who refuse to match foster children with anyone but a married man and woman have been denied federally funded contracts. As a result, some faith-based child welfare providers have pulled out of these areas while other agencies without the discriminative policies have expanded services to cover those voids.
It is not difficult to see that The Child Welfare Provider Inclusion Act of 2014 is a misguided attempt to go back to claiming religious rights ahead of the real needs of foster children. At a time when RaiseAChild.US is successfully growing a larger, more diverse and inclusive pool of safe, loving and permanent homes for the 400,000 children in our nation's foster care system, this bill tries to shrink and selectively edit that pool of prospective parents by using taxpayers' funds to promote intolerance, discrimination and homophobia.
Today, 11 percent of the prospective foster and adoptive parents who have signed up at our website www.RaiseAChild.US are single straight women who tell us that they feel more comfortable joining training classes of mostly LGBT people than in classes with all traditional, heterosexual married couples. At RaiseAChild.US and at our partner agencies, all people are welcome, regardless of marital status or sexual orientation. It is our goal to find more good homes for the nation's foster children, not less.
In truth, this bill is out of touch with the climate and values of our country. It runs contrary to the beliefs of most people within faith-based communities and recent national polls, as well as what scientific studies overwhelmingly conclude: that there are no differences in children adopted by straight or same-sex couples. More than 16,000 same-sex couples are raising an estimated 22,000 adopted children in the U.S., according the Williams Institute at the UCLA School of Law. Societal acceptance of LGBT-headed families is growing rapidly, and scientific studies are showing that the sexual orientation of parents does not negatively affect their foster adopted children.
• A Gallup poll published in May 2014 found that a majority of Americans (63%) now say same-sex couples should have the legal right to adopt.
• A 2013 study by the Williams Institute found that family type is not a predictor of a child's psychological adjustment among early placed adopted children with lesbian, gay, or heterosexual parents.
• A 2012 UCLA study, published in the American Journal of Orthopsychiatry, found that foster kids do equally well when adopted by gay, lesbian, or heterosexual parents.
With the help of Devereux Arizona, I just spoke with Gail and Darden as they drove to a high school event with their daughter who is on the varsity cheerleading squad.
"A lot of good has happened in the past three years," said Darden. "The Devereux agency helped us foster and then adopt Markayla. Gail and I could not have imagined how full and rich our lives would become. We consider ourselves incredibly blessed to have this child in our lives."
In support of legislation that actually puts children's needs first, RaiseAChild.US has joined forces with Family Equality Council and a coalition of more than one hundred child welfare, foster/adoption, civil rights, religious and LGBT advocacy organizations in support of the "Every Child Deserves A Family Act." This legislation focuses attention on the best interests of children in the foster care system. By eliminating state laws, policies, practices and procedures that exclude potential adoptive and foster parents because of their marital status, sexual orientation, or gender identity, this bill will dramatically increase access to permanent, loving homes for foster care children. Further, RaiseAChild.US is working to meet with key U.S. Senator and Representatives to help further the advancement of this positive bill.
As we ask you to stand with us against discriminative legislation like the "Child Welfare Provider Inclusion Act of 2014," please know that we will continue to do our work to build more foster and adoptive families for the children in our nation's foster care system. RaiseAChild.US is the only nonprofit organization that encourages and assists the LGBT community in building families through fostering and adoption through free direct services, including our Parent Advocate mentorship program. We are most proud of our organization's success rate in moving all interested foster and adoptive prospective parents through the training and certification process at five times greater than the national average.
Please take a moment to contact your U.S. Senator on this list and your Representative to the U.S. House here. Ask them to oppose the "Child Welfare Provider Inclusion Act of 2014" and endorse the "Every Child Deserves A Family Act." There are 400,000 children in the U.S. foster care system who need us to stand up for them. Every child needs a safe, loving and permanent home. To accomplish that goal, we need to expand the pool of prospective parents, not restrict it.
Rich Valenza is the Founder and CEO at RaiseAChild.US, a national organization headquartered in Hollywood, California that encourages the LGBT community to build families through fostering and adopting to serve the needs of the 400,000 children in the U.S. foster care system. Since 2011, RaiseAChild.US has run media campaigns and events to educate prospective parents and the public, and has engaged more than 2,200 prospective parents. For information about how you can become a foster or fost/adopt parent, visit www.RaiseAChild.US and click on "Next Step to Parenthood."
Popular in the Community