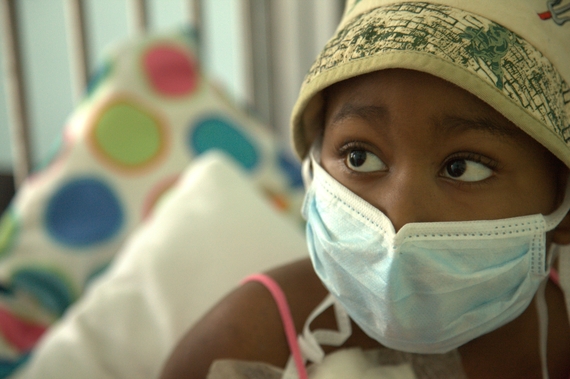 By: Dr. Sumit Gupta, Staff Oncologist and Clinician Investigator at The Hospital for Sick Children (SickKids)
Every September, families, caregivers and researchers across the world commemorate Childhood Cancer Awareness month by honoring children fighting cancer, celebrating how far we have come, and recognizing how much is left to do. Having a child diagnosed with cancer ranks among a parent's worst nightmares. As a pediatric oncologist, I have seen the identical look of shock, horror and disbelief on the faces of countless parents. Thankfully, progress in childhood cancer has been astounding. From a once universally fatal disease, over 80 percent of children with cancer in countries like Canada and the United States are now cured [1].
Knowing that, now imagine the agony a parent must feel when told that their child has cancer and that life-saving treatment exists, somewhere else. That is the situation faced by hundreds of thousands of parents across the world who reside in low- and middle-income countries (LMIC), where the vast majority of children with cancer actually live. Cure rates for LMIC children with cancer are far lower, and are an abysmal less than 20 percent in some countries [2,3].
When I first began working in LMIC pediatric oncology, I would often get the same reaction from friends, family and colleagues: "Aren't there bigger problems in those countries to worry about?" In fact, as many LMIC make strides against childhood infectious disease (e.g. pneumonia, diarrhea), cancer becomes responsible for a greater percentage of overall childhood deaths. Among upper middle-income countries like India, Brazil and Indonesia, cancer already causes 18.6 percent of all deaths among children aged 5-14 [4].
So the question is not whether it is worth fighting childhood cancer in LMIC, but rather how best to fight it. Many high-income country children's hospitals, including The Hospital for Sick Children, have formed partnerships with LMIC pediatric oncologists. These so-called "twinning" programs, involving the bi-directional flow of knowledge and sometimes resources, have had great success in increasing cure rates for involved children. Many pioneering LMIC pediatric oncologists have made impressive progress without support, through their own ingenuity and dedication.
However, such efforts on their own are not capable of reaching each of the over 150,000 LMIC children diagnosed with cancer every year. To do so will require both international agencies and national governments to act. National and international childhood cancer strategies must be designed, implemented and evaluated, stable and affordable drug supplies procured, healthcare workers trained, infrastructure upgraded, and civil society mobilized.
Here at The Hospital for Sick Children, under the auspices of the Garron Family Cancer Centre and the Centre for Global Child Health, we have launched the Unit for Policy and Economics Research in Childhood Cancer (PERCC). Through PERCC, we will conduct the health policy and health economics research required to effectively design and advocate for global action on LMIC childhood cancer. With our partners at the Union for the International Control of Cancer (UICC), we have already hosted a workshop that brought together clinicians, policymakers, and governmental officials from across Latin America to discuss how best to develop national childhood cancer strategies across the region. We have also initiated health economics projects in both Uganda and India. But far, far more remains to be done.
Twenty-five years ago, many people thought that treating HIV in developing countries would never work; it was too expensive and complicated. Today we face a similar mindset with childhood cancer. Just as appropriate resources, commitment, and partnerships were able to make a massive impact on the HIV epidemic, so too can a similar effort improve the lives of hundreds of thousands of children suffering from cancer across the world. This year, as another Childhood Cancer Awareness Month is upon us, we at PERCC and The Hospital for Sick Children are proud to be part of this new global fight.
Related