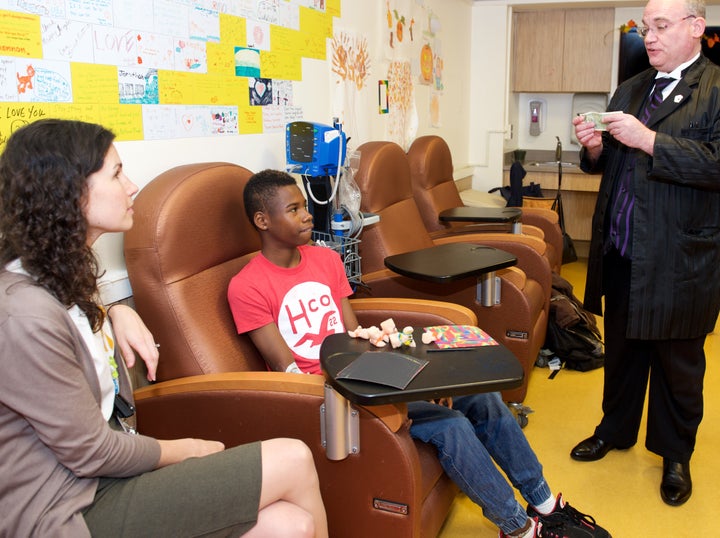 Shannon Heffernan is an important member of the Tom Coughlin Jay Fund Foundation team. She is a social worker at the Center for Pediatric Cancer and Blood Disorders at St. Joseph's Regional Hospital in New Jersey. Shannon is there to help families at one of their scariest moments, when a doctor utters the words: Your child has cancer.
Many people do not realize that cancer is expensive and while the bills do not come all at once, they do come. According to an article by E.L. Warner in the Journal of Oncology Practice, "In 2009, pediatric cancer hospitalization cost in the United States averaged $40,400, nearly five times higher than hospitalization for any other pediatric condition ($8,100)."
The kind of stress this type of financial burden can put on a family who is already dealing with the stress and anxiety of a sick child can be overwhelming. That's where Shannon comes in. She provides information and resources to families in hopes of easing that burden.
The Tom Coughlin Jay Fund Foundation is led by the former coach of the NY Giants and current director of special projects at the NFL, Tom Coughlin. The foundation's mission is to BE THERE for families who are tackling childhood cancer by providing financial, emotional, and practical support. When the foundation moved to expand their services in the NY/NJ area, St. Joseph's was one of the hospitals they partnered with, and as luck would have it, the Jay Fund team developed a strong relationship with Shannon to assist pediatric oncology families who are having some difficulties with additional expenses following the diagnosis of their child.
Tom Coughlin Jay Fund Director, Kerry Miller offered, "It's a sincere pleasure to work with Shannon; she is kind, compassionate, and smart, and to me, those traits are everything a parent needs from a social worker during challenging times."
How does the Jay Fund help? Shannon explains, "They help with the rent, the mortgage payment, the car payment, the grocery store . . . gift cards are a large request because food can be quite expensive and once you've paid everything else, there isn't much leftover. Any of the routine bills that you have to keep up with, the foundation is there to help."
One of the most rewarding parts of Shannon's job: getting to tell families that help exists. "It is very rewarding to take that burden off their plate and to see that look of relief on their face because help is there. Knowing they will be able to get through to the next month, allows them to stay focused on their child. It is a very humbling experience to have to ask for help, particularly financial help. They are having a hard enough time dealing with their child's diagnosis and coping with all the emotions and the worry and anxiety that brings, and then to have to say to someone, I can't make my rent or my lights are going to be turned off. In order to ease that process so that they do not have to be so vulnerable and expose themselves and to be able to say, don't worry, we've got you covered. We've got a wonderful partner in the Jay Fund and they can help with that. It is a wonderful privilege that I get to have."
One patient and family who sticks out in Shannon's mind is a young adult patient who went through treatments and relapsed around her 18th birthday. Trying to hold back tears, Shannon recounted: "She had been talking about her birthday for a really long time and the celebration, but she was unable to celebrate. When she was finally at a point where she could, the family couldn't afford to have a party for her with all the expenses that had come up with treatment. At that time, we also knew that she wasn't going to survive this disease and this would be the last birthday she would celebrate. The Jay Fund did an exception to help us pay for her cake, and other expenses associated with the party. Family and friends were able to come. It brings tears to my eyes because it was such a beautiful time in that room where she was able to tell her family and friends that she loved them and how each person had impacted her. I don't think that would have happened without the assistance of the Jay Fund."
Popular in the Community