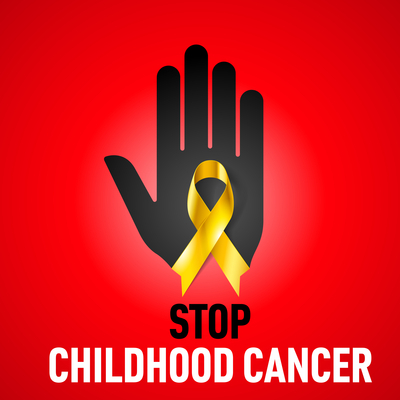 Three years ago, I didn't know that September is Childhood Cancer Awareness Month. I was in the midst of getting my girls ready to start school (third and sixth grade respectively). It had been a good summer, but my older daughter was very thin. I thought it was a growth spurt. I thought she wasn't eating enough. I thought the odd way her stomach protruded was normal, part of the awkwardness of the adolescent body. But I was wrong. There was a giant tumor growing in her abdomen and engulfing her liver. They found it on August 25th, 2012, five days before the first day of school.
My then 11-year-old spent all of September and some of October in the hospital. She started chemotherapy which was unsuccessful. By the time she had a liver transplant in February 2013, the tumor was roughly ten pounds and the size of a football.
I still wasn't aware that September is Childhood Cancer Awareness Month. That would come the following year when the cancer returned and she would need surgery to remove a tumor from her pelvis. She started 7th grade a week later. Since then, she's been on various oral chemotherapy medications -- targeted drugs that have slowed her cancer progression -- and gotten one round of radiation to zap the largest of her many lung tumors. She's not out of the woods. She's not cured. But she is doing well and gets to start high school in a week.
I'm now aware of childhood cancer in a way I never thought I'd be -- from the front lines. It makes me realize how little awareness I truly had before my daughter got sick.
In the past, I avoided looking too hard at personal stories about kids and families dealing with this disease. My mind recoiled with fear. So aside from donating to high profile cancer charities around the holidays and occasionally giving to local families or sharing fundraisers on Facebook, I didn't think too much about it. Even so, I thought I was aware. Kids get cancer and that's sad. I thought I understood. Once again, I was wrong.
When you have a child going through a serious illness, you don't want people to look away. You want people to see you, see your child. It's the only way to keep from drowning. I'm not proud that I lived in a bubble of unawareness. When I finally couldn't look away anymore, when I didn't have the choice, I learned about a lot of amazing kids. My world got wider, not smaller.
I've met parents who have taken this tragic diagnosis which often involves the loss of a child, and turned it around. They have chosen not to look away even after the fight has ended for their child. Childhood Cancer Awareness Month is an opportunity not to look away. It's also an opportunity for giving, and there are lots of ways to do this.
There are many charities that help families who are in the midst of treatment, or are still reeling from the shock of a cancer diagnosis. Other charities help fund much needed research. They are worthwhile places to donate during September. Here are just a few.
Maddie's Mark Foundation -- Maddie had a rare and lethal form of brain cancer called DIPG (Diffuse Intrinsic Pontine Glioma). She died a few days after she was diagnosed. She was 5 years old. This amazing local New York charity was founded by her mother Erin. They grant wishes to very sick children and (full disclosure) they redid my daughter's room giving her a dream teen bedroom that I couldn't possibly have afforded on my own.
Fly A Kite Foundation - This charity was founded by David Bernstein and his wife Deena. Their son Zachary passed away from DIPG last year. Zachary was an artist and used art as a form of expression throughout his illness. The Bernsteins founded the Fly A Kite Foundation to honor Zachary, and to help children by providing custom art packages for children with pediatric brain cancers. These packages are intended to provide a creative and therapeutic outlet for children suffering from diminished motor function. Kids love receiving them too.
Alex's Lemonade Stand - Per their web site, their mission is to raise money and awareness of childhood cancer causes, primarily for research into new treatments and cures, and to encourage and empower others, especially children, to get involved and make a difference for children with cancer. This charity was founded by Alex herself who was diagnosed with a brain tumor before she was 1 year old. Alex passed away in 2004 at the age of 8, but she raised more than 1 million dollars to help find a cure for her disease.
Of course these aren't the only charities that directly help children with cancer or help fund research to find a cure for the disease. There are many, many more. Seek them out. Read their stories. Donate to them. But whatever you do, don't look away.
Related