For most patients and families, childhood cancer represents an uphill battle.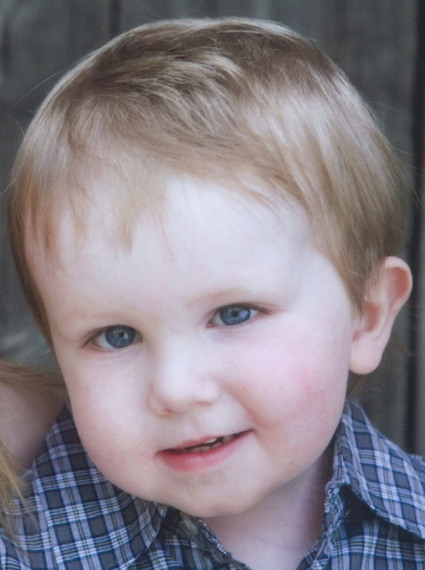 Shawn McKechnie, Deceased
This year there will be almost 15,800 new cancer diagnoses and almost 2,000 deaths for American children up to age 19. Those who die average age 8. Even though survival rates for some pediatric cancers are improving, incidence of invasive childhood cancers has increased by about 29 percent over the past 20 years, to one in every 330 children.
Over half of the new cases will be acute lymphocytic leukemia (blood), brain and other central nervous system tumors and neuroblastoma. Some brain and blastoma diagnoses may be terminal at diagnosis. The children who survive may face torturous treatments.
According to the American Childhood Cancer Organization, almost three quarters of survivors experience such "late effects" as heart damage, secondary cancers, lung damage, infertility, cognitive impairment, growth deficits, hearing loss and more that require monitoring for their entire lives. Many die subsequently of treatment-related conditions.
Treating children is particularly complicated because children's bodies and brains are still growing so quickly. There are over 40,000 children (ages 19 or under) in cancer treatment every year. Some medications are so toxic that pediatric patients can't tolerate the recommended full course of life-saving treatments.
Causes of pediatric cancers aren't known, and there are few tolerable or proven treatments for some cancer forms. In the past 20 years, the US Food and Drug Administration (FDA) has approved only two drugs developed specifically for children. Some work is being done to "repurpose" adult treatment drugs for pediatric use, but the kinds of genetic mutations that exist in children's cancers tend not to exist in adults with the same diagnosis, so adult drugs might not work even if it was known what dosages were safe for children.
Sue McKechnie, Shawn's mom and Childhood Cancer Awareness Editor of the Cancer Knowledge Network , contends that the magnitude and complexity of the pediatric cancer challenge demand more than simple public awareness. In a recent blog post, she stated that
Every day in North America. more than a classroom full of kids are diagnosed with cancer. That's every single day. Yet childhood cancer is under-acknowledged, and research towards better treatments and outcomes for these kids is woefully under-funded.
The facts that Sue cites and the image of her beautiful son are potent enough to take your breath away. Sue and her husband observed and participated in 18 months of treatment procedures for Shawn, including:
Two major brain surgeries; one that stretched over 15 hours while surgeons carefully removed as much of the brain tumor as possible, and the other that included a bone graft where hip bone was harvested to replace a piece of vertebrae removed during the initial tumor excision.
A Minerva cast, worn for four months, to limit movement while his body healed.
Insertion of a permanent shunt to regulate fluid inside his brain.
Daily radiation treatments where sedation was required.
An experimental drug trial that forced him to drink apple juice mixed with a chemo cocktail.
Frequent "needle sticks" for injections, insertion of IV lines and the use of feeding tubes inserted through the nose to the stomach.
Insertion of a PICC line (Peripherally Inserted Central Catheter) into his chest to give longer-term infusion access to major blood vessels.
Constant tests including CT scans, MRIs (complete with terrifying loud noises) and x-rays.
After all of this and more, they learned there was no more that could be done to save their three-year-old son's life:
We watched helplessly as Shawn lost each one of his abilities in the last few months of his life. Gone was the ability to walk and then the ability to use his arms. Slowly he lost his ability to talk, to move and even eventually to blink and swallow. Then of course his ability to breathe which took his life as we held him in our arms.
Despite some research progress, only 3-5 percent of National Institutes of Health cancer research funding targets children's disease, and budget dollars dedicated to overall cancer research funding have declined by 23 percent since 2003 in inflation-adjusted purchasing power. Private organizations like the Children's Oncology Group (an NCI-supported consortium of over 200 pediatric cancer research hospitals and 9,000 pediatric cancer experts), St. Baldrick's Foundation and St. Jude are trying to fill the void, but they too struggle to fund all of their high-potential research initiatives.
For parents like Shawn's, Childhood Cancer Awareness month (September) and Brain Tumor Awareness month (October) are periods when stirring and emotional stories may be shared, but there is rarely enough action to change the outcome for these children and those who will follow.
For any parent who has been part of such a heart-wrenching episode, awareness of childhood cancers is insufficient to change the balance of power between children and the cancers that they face. They're emotionally taxed in a battle that feels overwhelming. They face financial challenges as they strain to sustain their incomes while at the same time they care for their children. They get little sleep but continue seeking a cancer-free future for their children. And they watch their children struggle to live, let alone develop to fulfill their full potential.
For Shawn's parents, and Doug's and Eric's, and so many more, the time for action is long overdue. It's time for every responsible private citizen and particularly every parent to demand that legislators fund a comprehensive plan for reversing the public health crisis of childhood cancer that's been hiding too long in plain sight.
Calling all HuffPost superfans!
Sign up for membership to become a founding member and help shape HuffPost's next chapter