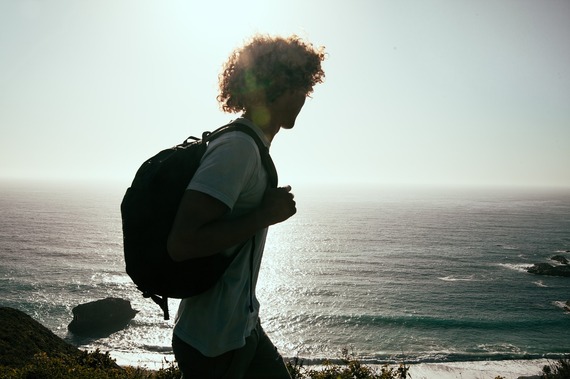 Children's cancer is just something we don't like to think about or talk about. It's too painful. Too ugly. Too scary.
You know how it feels as a parent when you have a close call with your kid? A near miss car accident or a bad fall off the playground equipment? Your life and all its worth buzzes like an electric shock throughout your heart. For a split second you see the hell of a life having the most precious blessing ever bestowed upon you ripped away. Vanished forever. You feel sick. Breath escapes you and doesn't return. A strangling force pushes up at your throat.
Then you gain clarity. It didn't happen. Its going to be OK. You get to keep the life you love. Just a close call.
Watching a child with cancer is a lot like those brutal moments, but it happens every single day. Many times a day. You are reminded brutally of this fragile balancing act, this delicate war before you. Reminded with no break what is at stake. You realize who has gone before you and lost. No better or worse are you than they.
And between the wretched chocking, heart on fire feeling, you must fight. Fight for this child who is not just a part of you, but is part of who you are, who you will be. Fight for all the joys and tears and struggles and heartaches they should get to taste. Wishing you could give up your path now so they could follow their's. A life not filled with words like neutrophils, hemoglobin and methotrexate scar tissue. Words no child should be writing into their color book.
And as I write this I am pretty sure nearly no one wants to hear and try to feel what it feels like for cancer parents.
Its heavy some days and its heavier to carry for some than for others. Maybe it has to do with how you choose to carry the burden, and with which parts of your heart and soul you choose to engage. The most fragile parts of our soul tire easily. We try to carry the burden front and center of our hearts so close to the fragile parts. We tire and falter quickly at the weight of it. If instead we carry the burden on our backs as a heavy load to carry behind us it can be done. We can carry the load for someone we love like this for miles.
Here is something you can do. A weight you can put in your backpack and carry for others easily for miles. There is a new cancer bill to benefit kids. Cancer funding for kids is only 4% of national cancer funding. Children with cancer are at a huge disadvantage compared to adults with cancer. This bill can help. You can help. Please consider supporting this bill. It will take five minutes out of your day to carry just a little part of the burden.