Childhood Cancer is the leading cause of death by disease among children. It is a heartless disease, and to add insult to injury, it is an expensive disease. Tom Coughlin Jay Fund Foundation photographer Jodi Crandell has had the privilege of capturing many moments with her lens, including beautiful and powerful images of families who are battling pediatric cancer. September is Childhood Cancer Awareness month, and Jodi agreed to share some of the moments she and her camera have snapped for the Tom Coughlin Jay Fund Foundation. In her own words, Jodi tells the significance of each image, piecing together a beautiful tapestry of patients and families fighting a cruel disease.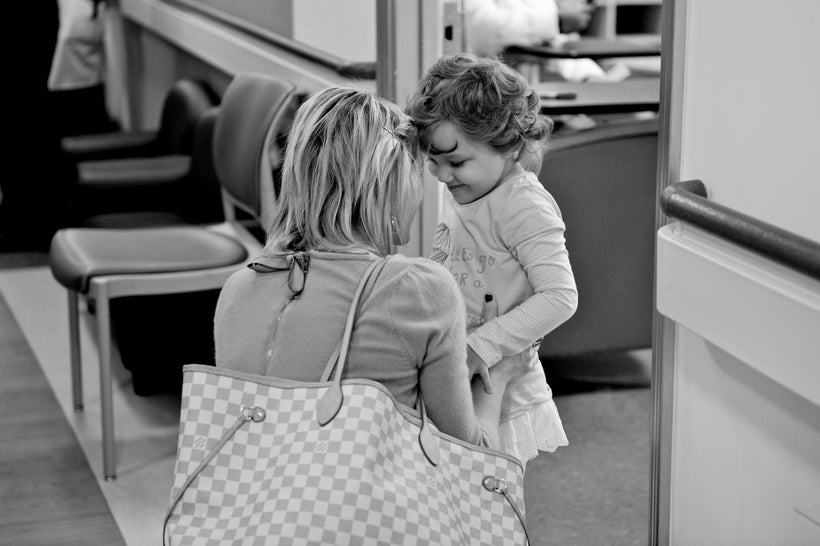 "I think this might have been one of my first photos when I was visiting at St. Joseph's Hospital during the holidays. That day, this little girl just captured everyone's hearts. She was so cute, and I believe she was at the end of treatment. As we were leaving, Kate Snee got down on her knees and just had a conversation with her. I captured it just because I didn't know what they were talking about, but the little girl has a smile on her face. It was just a precious moment and a beautiful end to the day. The way Kate has her hands on the little girl is so maternal. And the little girl just had such a light about her. It felt like Kate was wishing her good luck on the next part of her life's journey."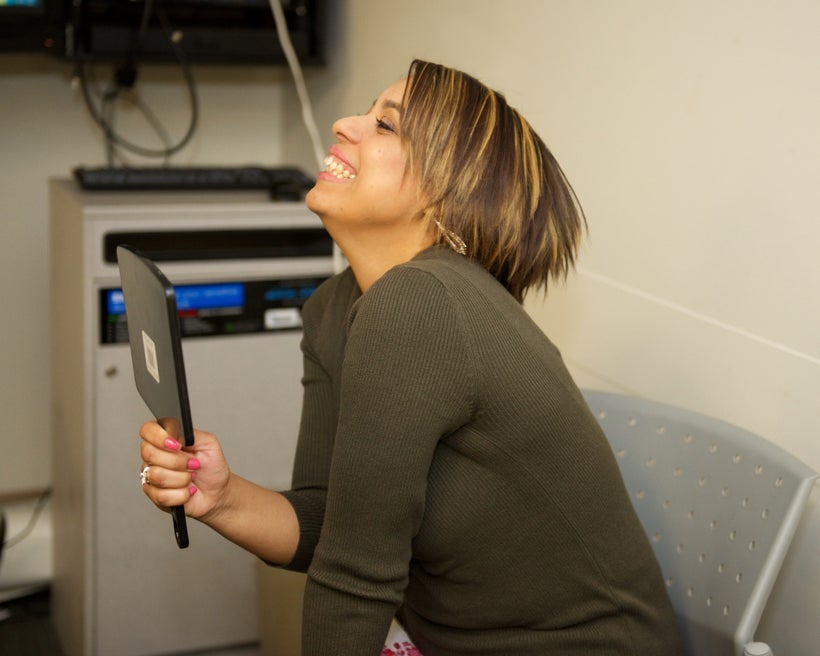 "This was from this year's Tom Coughlin Jay Fund Foundation's Mother's Day event at St. Joseph's Hospital in New Jersey. The moms got their hair, make-up, and nails done. This mom's hair was very curly, and of course these moms have no time to do anything. And it was one of those days where she came in just tired and exhausted, and it was like one more thing to do. But when they leave that room, you just see the light in their faces. The moment this woman looked at herself after she had her hair and make-up done, the expression on her face was like, 'This is me. I haven't seen me since my baby's been sick.' She just lit up. I think her child was also ending treatment so it was a good day."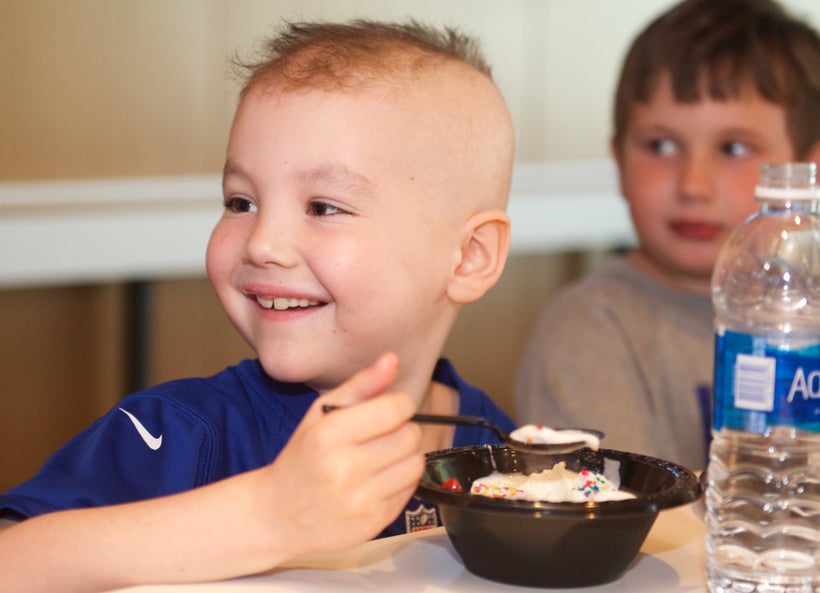 "This picture is of eight-year-old Joey at the foundation's annual Sundae Blitz at Giants Stadium, and it is the exact moment Mark Herzlich, who is Joey's idol, walked into the room. Joey was eating his ice cream with his buddy, and all of the sudden it was like they knew a presence walked into the room, and that's the moment he turned and the look on his face is like, 'My idol is here. I've been waiting for him to show up.' This is a huge contrast from when we first met Joey. We met Joey during the holidays and they didn't want anyone to go into the room. But the social workers convinced the family to have Tom and Judy visit. Everyone had tears in their eyes at the end of the visit because it was a tough one, but it was so great that they met Tom and Judy. I know the family is grateful for the support they've received from the Jay Fund. Joey is still going through treatment, but this moment will stick with him."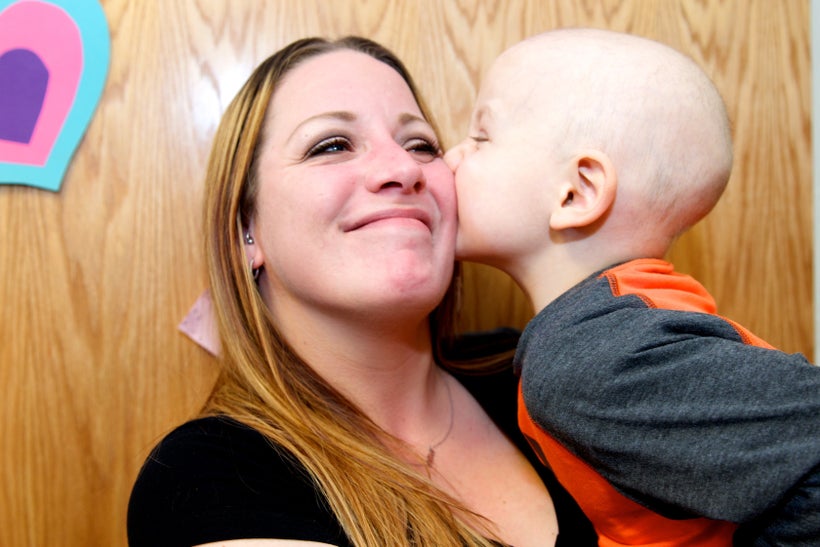 "This was a Valentine's Day party at St. Joseph's and from the moment we got there, this mom just had tears in her eyes. She was stuck to his side all day. I don't know what kind of news she received, but he just planted this sweet, wet kiss on her face, and I think that just solidified the day for her. It just melted her and touched me that he did it. I don't know what was going on with them that day, but that picture was full of so much love. It just captured the day for me."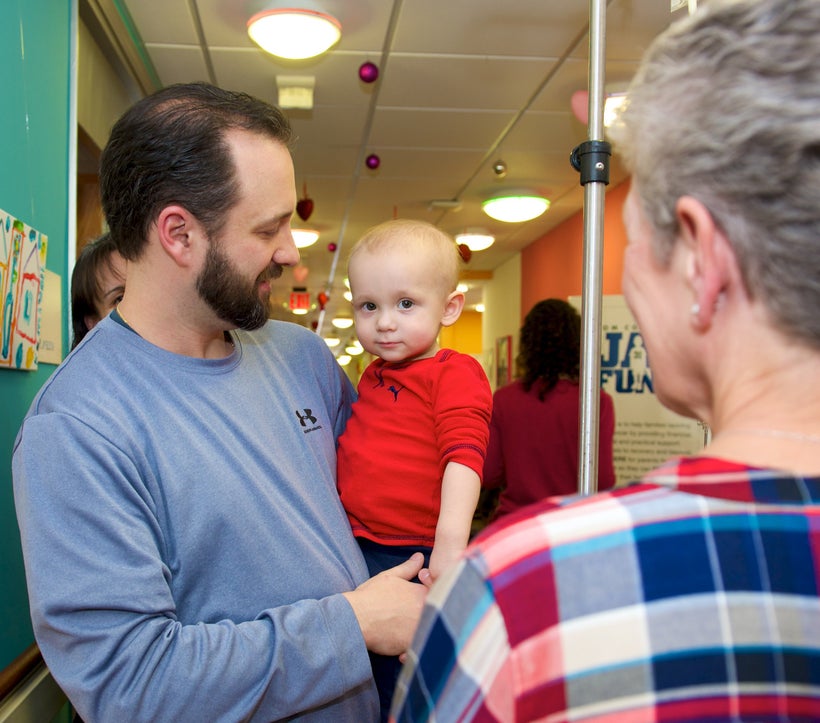 "This child was in hospice when I took this photo. His name is Andrew. He was 15 months old and that just wrecked me. It's just not fair, but that moment touched me. You wouldn't know from looking at him that he was that sick, but he was. Look at that face. It's so heartbreaking. Such a cruel disease. Sadly, he passed away. These moments are the gut-wrenching ones that bring me to tears."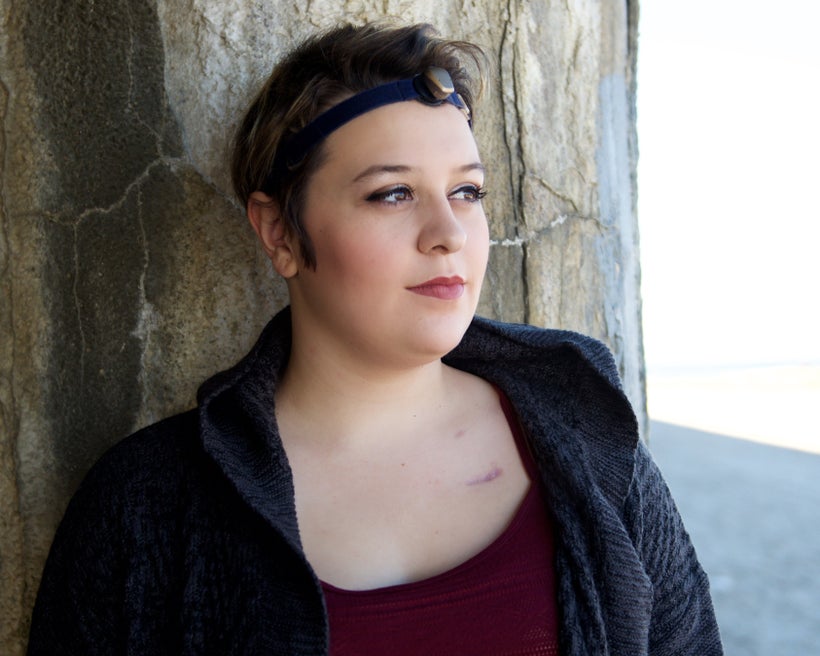 "I met this young lady's mom at a Momcology retreat. This girl just graduated high school. She has stage four cancer and has been battling it for years, and continues to battle it as she readies to go to college next year. She's a drama kid – incredible voice. We all met at Asbury Park and this photo just caught me because it is as if she is thinking, 'Where's my life going? I'm sick. I can't hear.' The thing on her head was to help her hear. I believe her cancer is in the sinus area and has spread in her body. She was looking out to the ocean and it made me wonder what was going on in her mind. She's still sick, still going to treatment, but nothing stops this child. She is an incredible inspiration."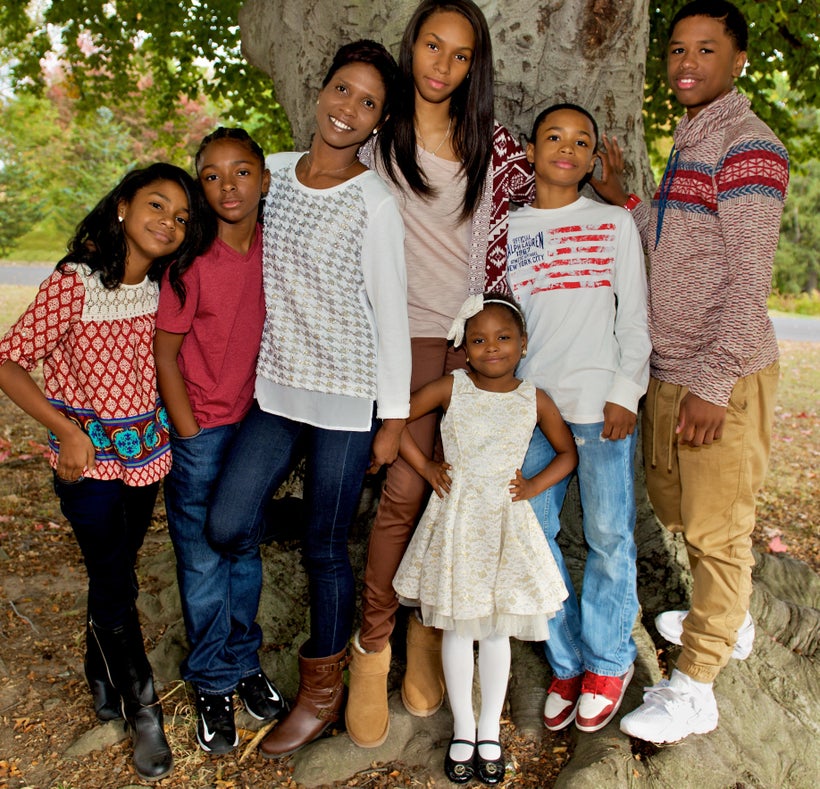 "I met this family at St. Joseph's, and it was the little girl who was sick. But in this picture she is all better. No more treatments and she's healthy. This picture solidified for me that her piece of the puzzle is complete. The little girl is healthy and their family is whole. And what a gorgeous family!"
REAL LIFE. REAL NEWS. REAL VOICES.
Help us tell more of the stories that matter from voices that too often remain unheard.
This post was published on the now-closed HuffPost Contributor platform. Contributors control their own work and posted freely to our site. If you need to flag this entry as abusive,
send us an email
.