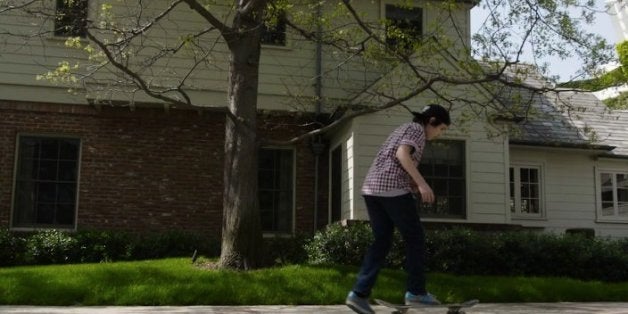 Fundamentally, this article is about an incredibly sweet boy named Daniel, who is caught in a system not of his own making. As always, when meeting some of the impossible number of children in foster care, I think about the benefits they, and society as a whole would reap, if each of these young people were living in secure, loving homes. The goal here, is just that...finding a permanent family for Daniel.
In this year's presidential campaign the 1994 crime bill is a hot-button issue because although it had some good elements and reduced some of the out of control crime of that period, it resulted in too many people being put into prison for long periods of time. We could probably put a dent into mending that problem without even a change in legislation (not that we don't need it...we do!), by addressing the needs of our youngest citizens before they become adults.
This is not to say that all kids who go through the system will spend time in jail. It is to say, that all kids who do not have at least one steady, loving adult in their lives will have a much more difficult time navigating the world when they age out of the system and even before they age out.
The "lucky" kids have deeply committed foster parents and live with them just as children who are not in the system live with their parents. The majority though, are bounced around from home to home, neighborhood to neighborhood, school to school, for their entire childhood.
Children are entitled to a secure upbringing. It's called childhood and it is their birthright. The reason people aren't given adult status until they're 18 in this country, is because we recognize that children aren't able to care for themselves and make appropriate decisions concerning their own welfare. They need guidance, and they need love.
The Children's Action Network's mission is to make visible this under-looked section of the population by creating videos of foster kids who are eligible for adoption talking about themselves...their hopes, desires and dreams. If you're looking for an amazing kid to round out your family, consider adopting out of foster care. Guaranteed, that child will you return your love in spades. The love you take...
Daniel is 13, eager to please, full of hope, and just beginning to really think about the consequences of his actions, and how they affect those around him. At the moment he is living in a house where there are a couple of younger children. He told us he noticed that if he sets a good example, they stop fighting with each other, and copy him. This is empowering to Daniel and in turn, inspires him to do good things. He likes cooking for them, mostly breakfast...eggs, pancakes, and sausages. Yum! He'd like to be adopted, and dreams of having younger siblings he can be a model for and older ones he can be friends with. He likes to draw and skateboard and read, and would love to go to Harry Potter World.
This is an ongoing series profiling some of the 100,000 children living in foster care who are eligible for adoption. The videos are produced by the Children's Action Network. You can learn more about these and other kids at childrensactionnetwork.org.
Related
Popular in the Community