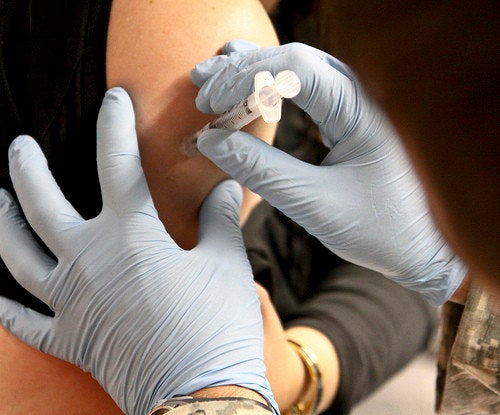 This week I'm hosting some of the most distinguished names in world affairs in my homeland of Norway. The United Nations Foundation Board of Directors, presided over by Ted Turner, has been meeting with government, corporate and non-profit leaders to discuss how innovation can drive progress in global health and international development. Together we have been asking some of the tough questions about the future of our world. We are focusing our talks and our energy on the future.
But our conversations have also looked back... to something important that happened just last week. While you may have not heard about it in the media, something happened last week that could change the future for millions of children around the world.
While most of us were busy with our everyday routines, earlier this month, global leaders and experts came together in London at the first pledging conference held by the Global Alliance for Vaccines and Immunization (GAVI), to commit $4.3 billion -- exceeding initial targets. With this funding, GAVI will be able to save the lives of more than 4 million children by 2015.
When I became the head of the World Health Organization in 1998, I was dismayed to see the reality of global health up close. In towns and villages around the world, 3 million people were dying of vaccine-preventable diseases every year. Immunization rates had hit a plateau and, in some areas, were even falling. In sub-Saharan Africa, fewer than 50 percent of all children were being immunized.
Something had to be done to stop this trend, so childhood vaccinations rightly became one of my main priorities. We needed a partnership that could transcend national borders and company walls. Donor and recipient governments, the UN and other aid agencies, the private sector and civil society groups had to figure out how to get new and underused vaccines to children in developing countries if we were going to save lives.
In 2000, with funding from Bill and Melinda Gates, GAVI was formed. The organization was tasked with accelerating global investments in immunization, which would allow for the introduction of new and underused vaccines in developing countries with a GNP per capita below $1,500. I still remember Bill Gates' moving speech to the World Economic Forum in Davos, Switzerland, as he explained the potential impact and importance of a concentrated investment in vaccines.
Today, GAVI is instrumental in getting vaccines to children who need them most in poor, hard-to-reach areas. The organization pools developing countries' demands in order to buy vaccines through UNICEF's global procurement system. 85 percent of the money goes directly to purchasing vaccines, while 15 percent is used to make the delivery of vaccines within these countries more effective. Countries receiving GAVI funding are required to pay a gradually increasing share for the vaccines.
We have seen amazing results. In its first decade, GAVI helped prevent more than 5 million deaths through supporting immunization against hepatitis B, whooping cough, measles, polio and other deadly diseases. Global immunizations rates have climbed steadily in the past decade and are now at their highest level in history.
Even though we have seen so much progress, approximately 2 million children worldwide still die of vaccine-preventable diseases every year; almost 20 percent of the children born every year are not being reached with lifesaving vaccines. Imagine if this was your child -- and his or her life could be saved for just a few dollars a year.
That is why last week's news is so important and why we must maintain this momentum if we are to reach every child with lifesaving vaccines as quickly as possible. To help, the UN Foundation will be launching a new global vaccines campaign in September to engage and inspire Americans to provide children in the developing world with immunizations against deadly diseases.
Vaccines are truly one of the best investments we can make to give children a healthy future and avoid the economic and personal tragedy of an early death or a lifelong disability. They are cost-effective and protect the recipient for a lifetime. Join me in September as we launch this new campaign to give every child a fair shot at living a healthy life.
Gro Brundtland is on the board of directors of the United Nations Foundation and is the former Prime Minister of Norway and the Director-General Emeritus of the World Health Organization.
Related