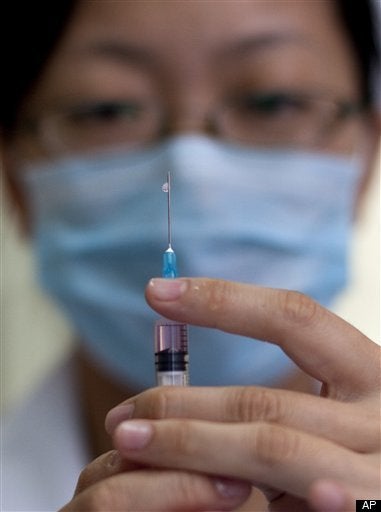 During my 20-year tenure as the Chairman and CEO of MTV Networks International, I witnessed the ability of music to inspire hope and transform lives around the globe. Whether it was broadcasting U2's concert in Sarajevo a few years after the civil war tore the country apart, or inspiring a new generation of music after the fall of the Berlin Wall, or taking part in meetings with Bono and Nelson Mandela in South Africa, I've seen rock and roll transform history.
While music has done its part to shape previous decades, I have always ensured that my work in the entertainment business would connect with issues of greater importance such as global health. Vaccines not only shape decades, they save lives and help people live a healthy life. Each year more than 1.7 million children die from vaccine-preventable diseases. That's the equivalent of the population of Philadelphia or Phoenix. It's one child every 20 seconds.
Childhood immunization has the power to change this, and there is no question that vaccines are among the most powerful, cost-effective public health interventions on the planet. They have rid the world of smallpox, brought polio near extinction and provided the hundreds of millions of us lucky enough to receive them with a healthy shot at life.
Despite significant progress made in reducing childhood mortality, however, millions of children in low-income countries continue to die each year from diseases such as pneumonia and diarrhea that could have been prevented with safe, effective vaccines available now -- vaccines that most of us take for granted in the wealthiest countries and which are much cheaper than hospitalizing a sick child. We have the unprecedented opportunity before us to change this, thanks to the GAVI Alliance -- a public-private partnership that finances vaccines for developing countries that they could otherwise hardly afford. Since its inception in 2000, GAVI has helped immunize nearly 300 million children in more than 70 countries, saving an estimated 5 million lives -- in my book, an astonishing record of success.
Today, GAVI convened donors, governments and private industry at a pledging conference in London to raise US$ 3.7 billion to continue this work for the next five years, and to help achieve Millennium Development Goal 4, a two-thirds reduction in global child mortality by 2015.
During GAVI's recent round of applications, 50 of the world's poorest countries expressed strong interest in introducing new and underused vaccines -- a huge step forward -- and GAVI announced today that they have raised much of the money required to help them do so. Donors have strongly committed and we are now witnessing a strong movement for vaccines. With these contributions, GAVI can immunize in the next five years a quarter of a billion children against childhood diseases including the two leading child killers: pneumonia and diarrhea.
Now that government leaders have pledged to do their part, I believe CEOs outside the vaccine industry should do the same, by committing to making health their business. We all have the power and responsibility to shape a brighter future in developing countries over the next 10 years -- and the business case is just as clear as our humanitarian obligation. Providing funding for immunizing children not only saves lives -- it improves productivity and drives economic growth, which are both critical to ensure that the next generation grows up healthy and that businesses can prosper and grow.
Therefore, I am calling on CEOs and corporate executives to join me in the fight to reduce child mortality by helping GAVI to deliver the power of vaccines to those children who need them most. We found many creative ways to impact global health at MTV, and I will work with those executives willing to join the fight to develop plans, large or small to assist this effort.
We are at a tipping point in the fight against childhood disease. Developing country leaders are investing in their health systems and expressing demand for vaccines like never before; vaccine manufacturers have committed to lowering prices they charge to GAVI; an army of activists and advocates are mobilizing around the power of vaccines globally, and GAVI donors have already signaled their willingness to step up to the plate at Monday's pledging conference. Will CEOs also agree to join GAVI in this fight?

Popular in the Community