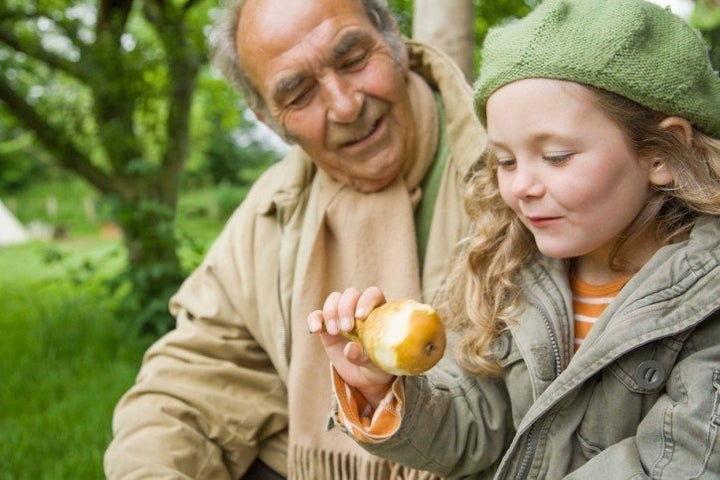 When I was a very young child, my grandfather taught me about memory loss. Although vascular dementia robbed him of his short-term memory and some of his actions were considered to be unusual and even challenging, he never lost his capacity to love, to nurture, or to teach me many important life lessons.
One of my favorite things to do with my grandfather was to spend time with him while he worked in his garden. I especially liked the cucumber patch. After rinsing off the vegetables, he would slice them with his small pocket knife, and we would enjoy them as we sat together on his bench beneath the apple tree.
My grandfather provided me with unlimited hugs and love, taught me how to care for pets and was living proof that even someone with advancing memory loss could still engage in life in a meaningful way. My fond memories of him inspire the work I do every day.
Individuals with memory loss benefit from being with children because of the innocent spirit and joy that children bring to their world. Often, the simple ways children can embrace those with memory loss teach us all some very important lessons:
Children seem to have the natural ability to be fully present in the moment and are able to change what they are doing in an instant. People with memory loss can benefit from a child's spontaneity and ability to just go with the flow.
Possess Resilience
Children have an incredible way of bouncing back. They no doubt will feel saddened or worried when a person with memory loss can no longer recall their name or be able to do the things they did with them in the past. They might even become upset or frightened upon seeing their loved one showing signs of anger or frustration. It's remarkable that, in the face of all of these challenges, children have the ability to cope and will show incredible understanding and patience. HBO's "The Alzheimer's Project" includes an enlightening segment produced by Maria Shriver entitled "Grandpa, Do You Know Who I Am?" This very moving film demonstrates the capacity for children to be understanding and candidly open while interacting and caring for grandparents with Alzheimer's disease.
Be Creative
Children tend to be much more creative than adults because they naturally know how to think outside the box. They can transform an ordinary walk outdoors into a fully engaging sensory experience for a person with memory loss. As they stop to look up at the sky and see animal shapes in the clouds, carefully observe a butterfly, smell a flower or listen to crickets chirp, children are able to bring a sense of wonder and fun to the life of a person suffering from Alzheimer's.
Be Playful
The world is their playground and children just naturally know how to engage in things that bring joy and laughter to the people who need it the most. Recently, two young children visited one of our Reminiscence (memory care) neighborhoods, and within minutes they were busy serving popcorn and playing games with the residents. Every resident in their presence was smiling and having a great time. It was a great example for us adults to follow.
Be Centered
Seniors with memory loss benefit from being with people who have "switched off" their own internal thoughts in order to be centered, fully open and receptive. While children tend to do this naturally, most adults must consciously center themselves by taking a moment to clear their mind or breathing deeply prior to engaging with their loved one. Centering creates better communication and more enjoyable visits.
While there is a lot we can learn from children, we must also be attuned to the needs of children when it comes to helping them understand memory loss. Children are very perceptive. Therefore, they are usually aware that something is "not quite the same" when someone begins showing signs of Alzheimer's disease or some related memory impairment. Their curiosity results in asking many questions about Alzheimer's disease, why it affects a person the way it does and how they should respond. There are a number of resources available to help parents address these concerns. The National Institute on Aging (NIA) provides a wonderful list of resource books geared toward children and teens. Another excellent resource is a Parents' Guide from the Alzheimer's Association, which helps to explain Alzheimer's disease and how it affects not only the person with memory loss but also the child who cares about them.
There may be a tendency to shield children from loved ones who have memory loss. However, with the right education, children benefit greatly from helping to care for those with Alzheimer's disease and other forms of dementia. Similarly, adults can be inspired by children, who seem to have the intuitive gifts that make them wonderful caregivers.