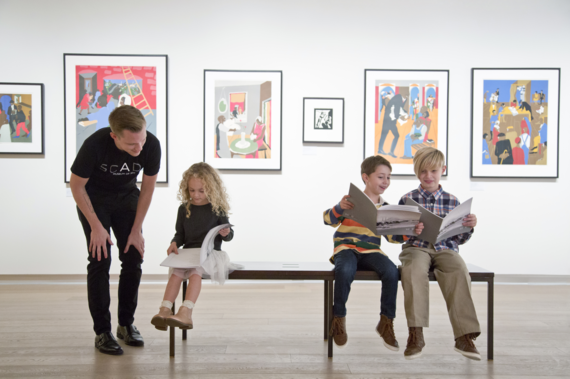 When I learned that all five of the Illinois State Museum facilities were recently closed amid the state's budget crisis, I thought of the many schoolchildren who may now never have the opportunity -- possibly a life-changing opportunity -- to experience these museums. Children deserve a chance to visit museums, and they depend on parents and educators to provide them that chance. When we limit access to elevated environments, we run the risk of denying children important academic gains and learning skills.
Back in the 1970s when I was an elementary school teacher in Atlanta, I organized a field trip to the New Orleans Museum of Art to visit the "Treasures of Tutankhamun" exhibit. After spending many late nights planning the itinerary and after securing dozens of parent signatures, we loaded into a yellow bus for the seven-hour drive south. During that bumpy and noisy trip, I sometimes questioned if it would be worth it -- and yes, I sometimes questioned my own sanity! (In retrospect, I should have waited until after the bus ride to teach them the lyrics to Steve Martin's "King Tut.") But the moment I saw all of my students lined up in front of Tutankhamun's gold mask, all of their mouths agape, I knew that an enthusiasm for art and culture had begun.
One student asked me, "Where did they find this?" It was a simple question, but it expressed a curiosity that may not have surfaced in the classroom. When the students were face-to-face with artifacts that had traversed thousands of years and miles to meet them, their desire for answers was immediate. Through that exhibition they learned about history, geography, archaeology, painting and sculpture - and I learned that students best absorb information with teachers beside them, exploring together. As my educator-mother always said, "To teach is to learn twice." That lesson has guided me ever since, both as a parent and as the president and founder of the Savannah College of Art and Design.
To encourage school-group visits, more museums should develop and promote their educational resources with curriculum guides that help teachers provide engaging lessons. For example, at the recently opened SCAD FASH museum in Atlanta, curriculum guides to the inaugural exhibit, "Oscar de la Renta," present knowledge and instruction aligned with National Core Arts Standards. One exercise for grades 9-12 instructs students to use historical connections to describe how selected de la Renta dresses worn by U.S. first ladies might reflect certain eras. Similarly, at an exhibition of African art at the SCAD Museum of Art in Savannah, an exercise for grades K-4 instructed students to find symbols of light and darkness in the artwork on display, and later interpret them via their own drawings.
These lessons provide a model process for students to engage with artwork not only during current visits, but also in subsequent encounters with art.
Parents and educators must seize opportunities to share museums with children through field trips, family outings, and other group excursions. Bottom line: Museum visits open the doors to transformative experiences that will have a lifelong effect on our children. Here's why.
1. Children who visit museums retain factual information.
As I remember details from that field trip to New Orleans, so too are young students likely to remember their experiences in museums. A study from researchers at the University of Arkansas found that up to 88 percent of K-12 students who visited the Crystal Bridges Museum of Art in Arkansas recalled historical details from the paintings they viewed when they were surveyed several weeks after the visit. The students were not tested on or instructed to memorize details that were presented during tours, yet they retained the information.
Why would so many children remember factual details from paintings? As I discovered with my students, art makes history immediate. Ancient artifacts showed that teen Tutankhamun was a living, breathing person with tangible status and power. Students in the Crystal Bridges study viewed Eastman Johnson's painting "At the Camp - Spinning Yarns and Whittling," which depicts a group of men huddled over a glowing fire in a cold, dark forest. When the students were told that the men were abolitionists making maple syrup to undermine slavery (which was widely used on sugar plantations), they learned a story that's difficult to forget.
2. Museum tours promote critical thinking skills.
Educators are increasingly focused on the importance of critical thinking, which is recognized by the Partnership for 21st Century Learning as a key learning and innovation skill. Recent changes in standards and curricula emphasize critical thinking, and museums are an optimal environment in which to develop it. When museum docents lead children on tours, they facilitate dialogue that indulges students' curiosity and encourages them to ask questions and share ideas and opinions. Such skills are vital exercises in developing critical thinking.
The Crystal Bridges study found that students who visited the museum demonstrated improved critical thinking in essays they later wrote in class. When shown a new painting, the students drew upon additional details from the art to support their claims. There is ample opportunity to translate these gains into other areas of study, especially when teachers model an active pursuit of knowledge. In New Orleans, I gazed upon Tutankhamun's treasures with as much wild-eyed wonder as did my students. They saw me ask questions of the docents and initiate dialogue that revealed answers. We were learning together, and after that trip, my students were more involved in class discussions and inquired more often and with more confidence.
3. Children who get an early start are more likely to return to museums.
According to a 2015 report from the National Endowment for the Arts, those who went to art museums as a child were three to four times more likely to visit as adults. The Crystal Bridges study also found that students who visited the museum were more likely to return than were their peers. Furthermore, attendance at art museums as a child is correlated with higher levels of education as an adult.
All this suggests, simply, that children enjoy museums. Whether or not they understand the educational advantages, students reap the rewards well beyond their first visit. Each return trip engenders new learning opportunities. Those who go to museums regularly benefit from their connections to these vibrant cultural spaces and support the museums' presence in the community. A child's first visit could launch a lifetime of symbiotic connectivity to the arts.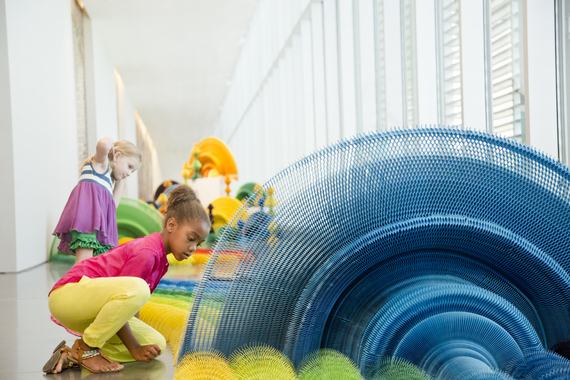 Every day I encounter university students who are building their interest in the arts into fulfilling careers. That day at the museum with my elementary students still resonates in a way that has transformed my approach to teaching and encouraged the birth of a university built on a strong foundation in the arts. Ford W. Bell, former president of the American Alliance of Museums, once remarked, "At their core, museums are educational institutions, as essential to our communities as schools, libraries and utilities."
May we all grasp the value of museums with such clarity, and lead young people to do the same. More museum visits by children will enhance their academic development, improve their education now and in the future, and ensure a healthy, active tomorrow for our museums -- an invaluable treasure for all.
Paula Wallace is the president and founder of the Savannah College of Art and Design. Prior to SCAD, she was an elementary school teacher in Atlanta Public Schools for eight years.
Related
Popular in the Community