I am a father who passionately cares about the health and well-being of my child, and of all children. As the associate director of Campaign for a Commercial-Free Childhood (CCFC), I work to protect kids from predatory corporate marketers. I know all too well how corporations undermine parents' efforts to raise healthy children. The good news is that together, parents and advocates around the world are coming together to expose and end kid-targeted marketing.
Children's minds are still developing, making them particularly vulnerable to marketing techniques. Research demonstrates that children under the age of 8 don't understand advertising's persuasive intent. That's why I'm deeply troubled by the proliferation of new digital devices and the deregulation of policies that have unleashed a flood of kid-centric marketing targeting our society's youngest, most impressionable minds.
The wide range of marketing tactics corporations use to target children is simply staggering, and the consequence for children are devastating: from childhood obesity to eating disorders, from precocious sexuality to youth violence, and more.
One of the most egregious offenders, peddling some of the worst junk food out there, is McDonald's. Its founder, Ray Kroc, once said: "If you had $1 to spend on marketing, spend it on kids."
And you can be sure that's just what McDonald's has done, relentlessly targeting young children to create lifetime customers. In 2010 alone, McDonald's spent about $115 million advertising Happy Meals, shamefully using toys to lure kids to its restaurants and hook kids on junk food.
And that's not the only way McDonald's targets young kids. Increasingly, McDonald's uses sneaky and creepy digital marketing to target children online. And a few years ago, CCFC even caught McDonald's advertising on children's report cards in Florida.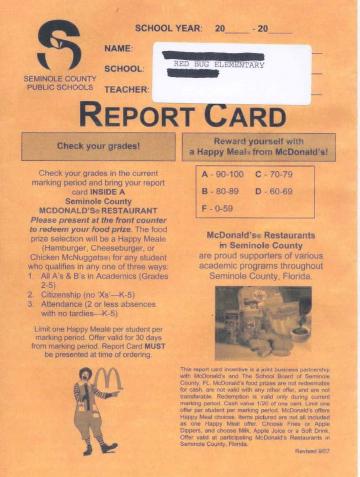 It can be pretty tough for one father -- or any caretaker -- to compete with McDonald's enormous and expensive marketing machine. Sure, we can all take steps to limit the amount of marketing entering into our homes and reaching our kids. But systemic change will not happen until we address the vast sums of money and resources corporations like McDonald's spend each year to undermine parents' efforts to instill healthy eating habits in their children.
Fortunately, the public climate is palpably shifting. More and more parents are coming together to hold these corporations accountable for egregious, exploitative marketing practices. Just this past Mother's Day, for example, thousands of moms partnered with Corporate Accountability International to ask McDonald's CEO, Don Thompson, for a special Mother's Day gift: to stop marketing junk food to their kids. That powerful message was echoed just a few weeks later at the McDonald's annual shareholders' meeting. There, two moms and a father joined the organization to deliver statements on the floor, demanding CEO Thompson put an end to McDonald's predatory marketing to children.
I'm heartened so many moms are taking McDonald's to task. And that's why I'm joining parents around the world to tell McDonald's I'm not lovin' its predatory marketing of junk food to kids.
Our grassroots movement of parents and health professionals is undeniably gaining momentum, but we need to keep the pressure on the corporations exploiting children's health for profit. As a father, I urge you to stand up for your child's right to a commercial-free childhood and take action today to hold McDonald's accountable.
For more by Josh Golin, click here.
For more health news, click here.
Related