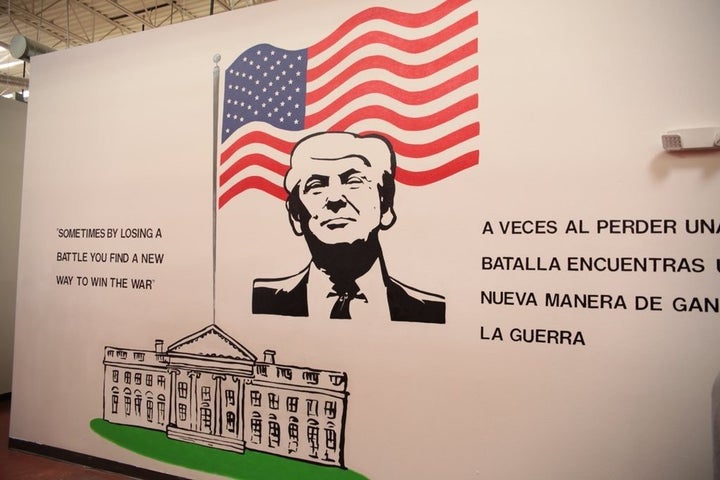 At a Texas facility holding nearly 1,500 migrant children, a mural of President Donald Trump with a quote about his past attempt to evict New York tenants greets the children detained there.
On Wednesday, MSNBC reporter Jacob Soboroff joined other reporters in a tour of the Brownsville facility, which detains up to 1,500 boys, ages 10 to 17, who have been separated from their parents by the U.S. government. In the building ― an old Walmart ― administrators give children two hours of outdoor time, provide them with limited space within the facility and instruct them to go to bed at 9 p.m.
The U.S. Department of Health and Human Services, which runs the facility, released sobering photos that show the grim conditions. But one image in particular stands out: a mural of Trump with a quote from his 1987 book, "Art of the Deal."
"Sometimes by losing a battle you find a new way to win the war," the quote, printed in both English and Spanish, reads.
Trump's plan ― to tear down the building to make way for a luxury high-rise condominium complex ― was shattered after a group of tenants threw lawsuits at him that took years to finally get settled. When the dust finally cleared, Trump lost and the tenants kept their homes
Another mural featuring former President Barack Obama is accompanied by the quote: "We are and always will be a nation of immigrants. We were strangers once, too."
While government officials called the facility a "shelter," Soboroff told MSNBC's Chris Hayes that it's more like a prison.
"You know, Chris, I have been inside a federal prison before," Soboroff said Wednesday. "I've been inside several county jails. This place is a called a shelter but effectively these kids are incarcerated."
"I kid you not, one of the first things an employee of the shelter said to me is, when we walked inside, 'Can you try to smile at these kids because it's weird to see people from the outside.'" Soboroff said. The employee added: "They feel like animals locked up in cages being looked at."
Popular in the Community